The top 10 things to do on a luxury trip to Indonesia
Indonesia, an archipelago comprised of more than seventeen thousand islands, is known for its richness in culture, exotic cuisine, and an extensive variety of ethnicities and cultures. Described by Lonely Planet as 'the last greatest adventure on Earth', Indonesia is a country that will appeal to any traveler. Whether you want to discover the 'Ring of Fire' and climb a volcano on horseback, witness the ancient art forms of the batik painting, leisure in one of the many luxurious boutique hotels, or enjoy a fine dining experience in some of the most stunning locations that Indonesia has to offer. Here are my top ten things to do when traveling through Java, Indonesia main central island.
1) Dharmawangsa, Jakarta
This is by far my most favorite hotel to stay at when visiting the capital of Indonesia. Known for its elegance and traditional Indonesian interiors, staying at Dharmawangsa is like staying at a Sultan's private residence rather than at an ordinary five star hotel. The rooms are spacious and the bathrooms are luxurious. The hotel prides itself for its twenty four hour butler service and their traditional Indonesian cuisine is simply exquisite. Their excellent service and 'can do' attitude was demonstrated when I asked if I could swim in their inviting pool after their closing hours, to which my host responded "sure, just make sure to tell one of the staff so we can be on standby for you".
2) Dine at Samara Restaurant, Jakarta
Samara belongs to a chain of exotic boutique restaurants and hotels spread across Java. Each property is unique in their design and atmosphere. The owner is an avid art collector, and has turned his passion for celebrating beauty into creating charming boutique hotels where his international art collection can be properly displayed and enjoyed. Samara is known for its extensive menu celebrating dishes from the various regions of Indonesia. The wide variety of exotic sounding dishes will have you coming back for more.
3) Stay at D'Omah Resort, Yogyakarta
Hop on a domestic flight from Jakarta to Yogyakarta, also known as the the cultural heart of Java, and stay at the elegant boutique hotel D'Omah Yogya, which used to be the private residence of Mr. Warwick Pursur, also known as the Jim Thompson of Indonesia for his work in introducing Indonesian art and handicrafts to the West. Each room is tastefully designed and decorated by the owner himself and comes with private swimming pools. D'Omah is a great sanctuary to be based in while visiting Yogyakarta and surrounding environments. An absolute must is to try their traditional "rice tafel" experience where food will be brought to you by a succession of waiters dressed in traditional garments.
4) Borobudur, Yogyakarta
Visit the UNESCO World Heritage site of Borobudur, a ninth century Buddhist monument and three-dimensional mandala. Borobudur portrays the life story of the Lord Buddha through beautifully carved stone panels, buddha statues, and stupas and has some of the best carvings that I have come across while traveling through Asia. The early morning light of Borobudur is magical and allows for great photography. My advice would be to climb the neighboring Menorah hill during sunrise and fully appreciate the grand splendor of Borobudur from a distance. You can then either proceed to drive to the base of Borobudur and wander around the temple and climb its multitude of layers or choose to go there during sunset and get some beautiful close up photographs of the carvings and religious figures when the day is less hot and the lighting is magical.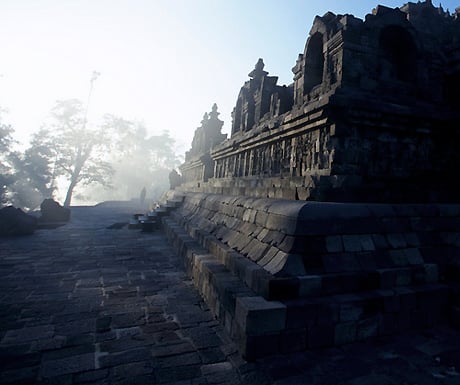 5) Stay at La Plataran Resort
When in Borobudur stay at the tastefully designed French owned boutique resort, La Plataran. It is located high in the hills and has sweeping views of the ancient heritage site of the Borobudur Temple. The staff are an absolute delight and the restaurant looks out onto the Borobudur temple and the surrounding mountains.
6) Sunset at Aman Jiwo
Enjoy cocktails during sunset at the the Aman Jiwo resort, a five star hotel that belongs to a chain of exquisite proper ties all over Asia. Aman Jiwo is situated amidst rice paddies and offers views of neighboring Mt. Merapi and Borobudur.
7) Solo
Make a stop in Solo and experience one of the oldest batik traditions in Java. Visit the charming Kauman street by Becak (rickshaw) and stroll down the streets that lead to homes in all various shapes and colors. Kauman is known for its small family owned batik shops selling beautiful traditional handmade textiles. If you are in a creative mood, you can take a two-hour batik making workshop and experience the work and intricacy of batik making first-hand. While in Solo stay at the eco-boutique resort
Rumah Turi
.
8) Private Candle Light Dinner, Penantaran Temple
An absolute once-in-a-lifetime experience is to have a private candle light dinner on the grounds of the Penantaran temple. Serenaded by a flute player and Javanese dancers gracing the night with their traditional tunes and movements, dining at Penantaran will be a romantic dinner you will always remember.
9) Cooking class in Malang
Make a stop at
Tugu Malang
 – boutique hotel which has the same owner as the Samarra restaurant in Jakarta. Tugu Malang property is my favorite one from the whole collection (Tugu Blitar, Tugu Bali, and Tugu Lombok). Tugu Malang has some of the most exotic looking art and its bakery, gift shop, and wine bar are definitely not to be missed. One of the activities they offer is an Indonesian cooking class. Their staff are enthusiastic and passionate about introducing you to their cuisine and will guide you in the morning through the local market scene where you will learn about the names and proper ties of the various herbs and spices that you will be using in your cooking. You will then return to the hotel where they will have an outside kitchen set up and ready for you to start creating some local Indonesian delights.
10) Climb Mount Bromo
One of Indonesia's most spectacular volcanoes, Mount Bromo is located in the East part of Java, and is one of the most accessible to climb. Stay at the stone built lodge, Java Banana, and catch the morning sunrise of this magnificent volcano before driving to the base of Mount Bromo. You then have the option to proceed the last fifteen minutes by foot or horse to the edge of the volcano where you will have the thrilling experience of watching the wisps of smoke rise out of the crater into the air.
Cristy Elmendorp is Managing Director of Soma Journeys.
If you would like to be a guest blogger on A Luxury Travel Blog in order to raise your profile, please contact us.
Did you enjoy this article?
Receive similar content direct to your inbox.