Few cities have the energy and intensity of Bangkok. With 12 million people, it's long been a big player in terms of size, but investment over the past 30 years has turned it into a bustling metropolis on a par with Singapore or Tokyo. And when it comes to food and nightlife, it's one of the best cities in the world.
These days it's a one-of-a-kind destination, a place of colourful markets, upscale malls and exquisite palaces and temples. It's a travel-brochure cliché to describe somewhere as 'a place of contrasts', but nowhere fits the label better than Bangkok: here wild orchids and bougainvillea grow alongside shiny glass high-rises, while monks in saffron robes wander past neon-lit signs.
The city attracts backpackers and wealthy travellers alike, and for that reason has a huge range of hotels, from backstreet B&Bs to luxury 5 star hotels. And there's no shortage of places for visitors to while away an afternoon. Here you'll find fascinating museums, exotic wildlife parks and some world-class spas. But the real must-sees are the temples. These are three to visit:
The Grand Palace
In a country of 30,000 temples, The Grand Palace is considered the ultimate. This huge complex at Bangkok's centre has been official residence to the kings of Siam – now Thailand – since 1782. The current king lives elsewhere but, such is its grandeur, he still uses it for official functions.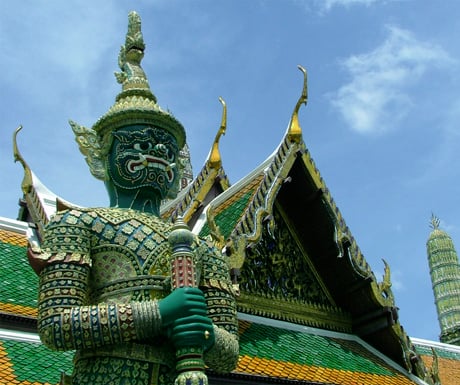 The palace itself is huge, covering an area of some 218,400 square metres, so you'll need a good day to cover it. It isn't just one building, but a collection of halls and pavilions separated by manicured gardens and courtyards. There's plenty to feast the eyes on, including a solid-gold throne in the Vinichai Hall, and the famous Emerald Buddha, which dates back to the 14th century.
Be warned, there's a strict dress code – feet, shoulders, legs and midriffs must be covered – but there's a kiosk where you can borrow clothes if necessary. And watch out for illegal ticket touts outside – they look official, but are usually anything but.
Wat Arun
Rising majestically from the banks of the Chao Phraya river, Wat Arun – or the Temple of the Dawn – is one of Bangkok's most striking landmarks. It's an awesome piece of architecture, with an 80-metre spire covered with ornate Chinese porcelain and coloured glass. Lower down, stone demons and monkeys prop up smaller spires, known as prangs.
Inside you'll find paintings and sculpture, together with some impressive murals. There's also a Buddha designed by King Rama II, who ruled in the early 1800s. His ashes are stored at its feet.
To see the temple at its best, go at sunset or at night, when it's beautifully spotlit. Or, better still, see how it earned its name and visit at dawn.
Wat Pho (also known as Wat Po)
Take a water taxi to Wat Pho, the third in the 'trinity' of Bangkok temples. You'll find it in the Old City, practically next door to the Grand Palace. The big draw here is a reclining, 40-metre gold Buddha. Even its feet are incredible, being three metres long and decorated with intricate mother-of-pearl patterns. The building also houses a thousand images of Buddha, more than any other temple in Bangkok.
The temple, which dates back to 1788, is the birthplace of traditional Thai massage, and still operates as a centre for education, teaching religion, literature and science.
4 other temples to see in Thailand:
Wat Phrathat Doi Suthep, Chiang Mai
Take the funicular or, if you're feeling energetic, climb the 306 steps to this sacred site, located on a mountain just outside the city. It's worth the trip – along with fabulously ornate statues, you'll also see some knockout views of Chiang Mai.
Wat Yai Chai Mang Khon, Ayutthaya
This ancient royal monastery dates back to the 14th century. Here you can find peace in the gardens or gaze up at the colossal, awe-inspiring Buddha statues.
Wat Mahathat, Nakhon Si Thammarat
This is the most important temple in southern Thailand. It's full of important shrines and relics, the most important being one of Buddha's teeth.
Wat Ko Keo Suttharam, Phetchaburi
This temple is best known for its murals, painted in the 1730s, which represent – among other things – the first Westerners to visit the area.
Albert Lafuente is a Director of Sales and Marketing at GHM Hotels.
If you would like to be a guest blogger on A Luxury Travel Blog in order to raise your profile, please contact us.