By
Paul Johnson
on Jan 29, 2013 in
Accommodation
,
Croatia
,
Czech Republic
,
Eastern Europe
,
Europe
,
Events
,
Featured
,
France
,
Hotels
,
Italy
,
Spain
,
Switzerland
,
Travel Miscellany
,
United Kingdom
,
Vacation Rentals
,
Western Europe
With Valentine's Day not far away now, how do you plan to celebrate? Whether you're looking for a romantic retreat among the snowy mountains that surround St. Moritz or a stay in a prime location on St. Mark's Square in Venice, we think you'll find something here to whet your appetite…
Kempinski Hotel Adriatic, Istria, Croatia
Located in a picturesque Istrian countryside setting with stunning views of the Adriatic Sea, Kempinski Hotel Adriatic is the ideal destination to whisk away your loved one this Valentine's Day. There's plenty to do for couples looking for something extra special this February. Explore the nearby vineyards and olive oil farms, or simply relax and unwind in the 3000 square metre duplex spa which includes a heated indoor pool and a Roman bath complex.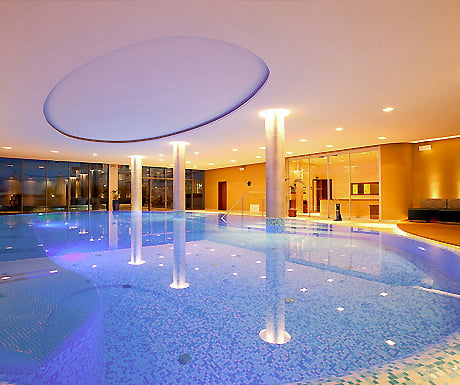 Istria is home to beautiful natural landscapes, picturesque ancient towns and villages. Whether you're keen to explore the traditional Mediterranean culture of the local area or enjoy the peace, luxury and relaxation of the hotel, Kempinski Hotel Adriatic will be sure to make your Valentine's Day one to remember for years to come.
AR Diamante Beach Spa Hotel, Calpe, Spain
AR Diamante Beach Spa Hotel is situated just 200m away from Levante beach, perfect for romantic long walks with your loved one this Valentine's. Decorated in a luxurious avant-garde style with spectacular glass walls, the hotel is modern and stylish. Its bright design ties in perfectly with the beach holiday ambiance. Couples can also visit the nearby Calpe Rock, where they will experience stunning views of Calpe and the surrounding areas. AR Diamante also boasts three outdoor swimming pools, two a la carte restaurants, La Scala – modern cuisine focusing on Italian and Mediterranean dishes and La Pergola, a café bar and a piano bar. The property also features one of the biggest spas in the Valencian region with more than 2000 sq m of modern facilities, including Finnish sauna, Turkish and Roman baths, various therapeutic showers and the latest treatments to ensure you have a relaxing trip.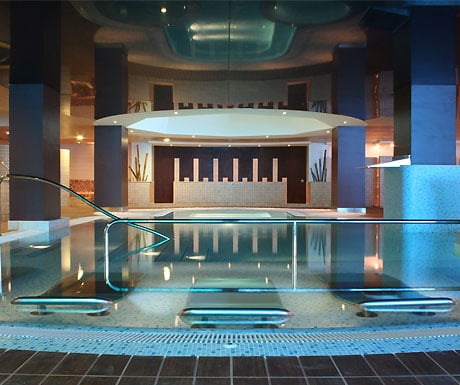 AR Diamante has put together a Romantic Luxury offer for Valentine's Day which includes a sumptuous breakfast, a special dinner buffet with live music on Saturday, a romantic and festive gala dinner on the 16th February 2013 (65 euros supplement per person, and includes an open bar and orchestra) and all taxes. This package starts from £83 per room per night and is valid on Valentine's weekends 8th-10th and 15th-17th February 2013.
Grand Hotel Kronenhof, Pontresina, Switzerland
Valentine's guests staying at the Grand Hotel Kronenhof on the "Time for Two" package are picked up from Pontresina station by the hotel's chauffeur-driven car and taken to the Grand Hotel Kronenhof, where Champagne on ice is waiting in the room to toast the start of their romantic break.  Champagne can be followed by a visit to Kronenstubli, the hotel's intimate, wood-panelled restaurant, with one Michelin star, serving international food with local flair.
For pure relaxation, the "Time for Two" package includes two hours' use of the Kronenhof's private spa suite, where the couple can enjoy a hydrojet bath together, before lounging on a double water-bed while watching the snowflakes fall outside against a dramatic backdrop of snow-capped mountain peaks, followed by a simultaneous 25-minute aroma massage and a rasul ceremony in the steam bath.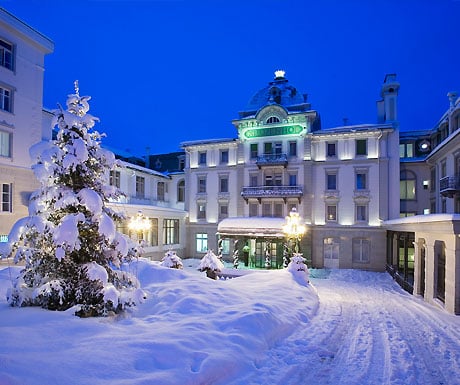 Possibly the most fairytale element of the package, however, is a ride along the tree-lined Val Roseg in the hotel's very own horse-drawn carriage, with a mug of Gluhwein and warm blankets under which to snuggle.  The perfect opportunity for a proposal, perhaps?
The three-night package costs from CHF 1240 per person and includes three nights luxurious accommodation, gourmet half-board (including sumptuous breakfast buffet and gourmet dinner in the one star Michelin restaurant Kronenstübli, welcome Champagne, a private horse-drawn carriage to Val Roseg and exclusive use of the private spa suite for two hours.
Canaletto Suites, Venice, Italy
My Private Villas, a luxury property owner club with estates all over Europe, offers an elite opportunity to enjoy the most romantic city in the world: Venice. Set with a stunning view to Saint Mark's Square and Basin, Canaletto Suites is the perfect destination to whisk away your loved one away this Valentine's Day. It's a great experience waiting for you and something extra special this February.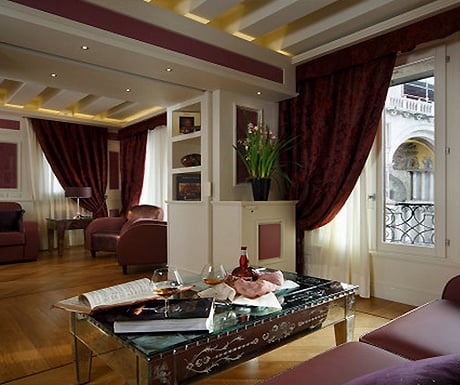 Once the grand home of Canaletto, arguably Venice's most famous landscape painter in the 1700s, the Canaletto Suites comprise five exclusive apartments overlooking the iconic Saint Mark's Square in Italy. All suites are served by expert staff who enhance every stay. Housed in the same building that hosts the piazza's famous clock tower, and just steps away from the sparkling basin, the property is both conveniently located and steeped in history.
These newly renovated luxury apartments charm travellers with a distinct hybrid of classic and modern aesthetics. Fine draperies and sparkling Murano chandeliers hang high, rounded out by stately wood floors and more Murano furniture. Botticino marble bathrooms and saunas create relaxing en-suite spa experiences.
My Private Villas will also be pleased to offer a 10% discount to all readers of A Luxury Travel Blog.
Kempinski Hotel Hybernska, Prague, Czech Republic
Kempinski Hotel Hybernska is the ideal setting for a romantic getaway this Valentine's Day – located in Prague, one of the most romantic places in Europe. The combination of modern interior design and historic architecture, wonderful restaurants and a unique private garden, along with spacious and elegantly furnished accommodation provides the backdrop to a perfect stay at the Kempinski Hotel Hybernska.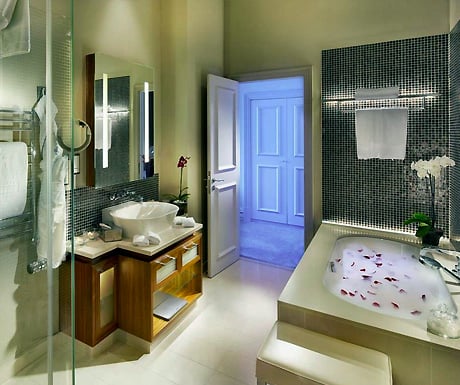 From just 215 euros per room per night you and your beloved can enjoy three nights in a room category of your choice, a free upgrade to a Suite category, a four-course candle-lit dinner at the Le Grill Restaurant (including a glass of Chateau Radyně sparkling wine), Kempinski breakfast served in the Le Grill Restaurant, a Valentine's flower decoration and a bottle of Italian Prosecco in the room.
One by The Five, Paris, France
One by The Five is a luxurious and hedonistic single-suite hotel that enchants its guests with a video camera for couples to make use of privately and a ready made cocktail station with all the ingredients for a special 'love elixir'. Clouds and fibre-optic stars surround the suspended 'floating' designer bed, whisking guests into a weightless and celestial atmosphere. Walls are hung with red velvet and mirrors.
Couples can create the date of their dreams in the privacy of this one-suite hotel. With a 24-hour concierge on hand to cater to your every need, and a number of added extras including the choice between 5 sensuous fragrances to be diffused into your room, guests will be treated to a bespoke Valentine's experience like no other.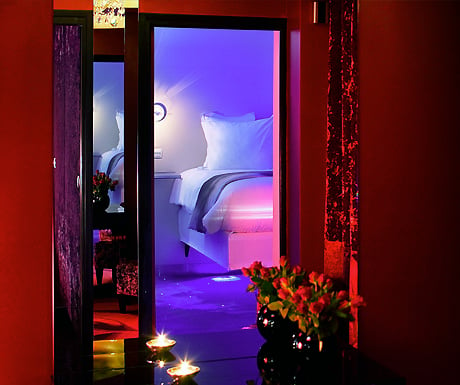 The hotel is located in the 5th arrondissement of Paris, so very near the Latin Quarter, plenty of bars and brasseries and walking distance from the famous Rue Mouffetard, the Jardin du Luxembourg and the Pantheon. The Louvre, Notre Dame and Eiffel Tower are all easily accessible by metro.
Café Royal, London, England, UK
Nestled between the elegance of Mayfair and the creativity of Soho, Café Royal is also positioned under the starry-eyed gaze of the Statue of Eros (Greek god of love), making it the perfect place to enjoy a night of romance.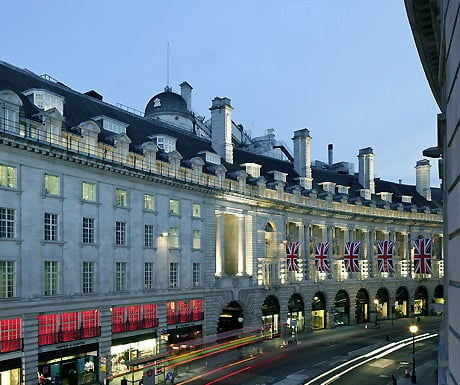 Café Royal has hosted some famous romantic encounters throughout its 150 year history – the Grill Room is renowned for being the place where Oscar Wilde fell in love with Lord Alfred Douglas, for example.
The hotel's Valentine's Day Package includes an overnight stay in a luxurious Portland bedroom, a chilled bottle of Taittinger Champagne and chocolates in your room on arrival, and a five-course Valentine's dinner for two and glass of Champagne in the Ten Room.
Jura Lodge, Isle of Jura, Scotland, UK
If you really want to get away from it all at Valentine's, then look no further than Jura Lodge.  Set on the Isle of Jura in the main village of Craighouse, this remote retreat offers you a wonderful opportunity to truly get away from it all and enjoy beautiful views across to the Scottish mainland.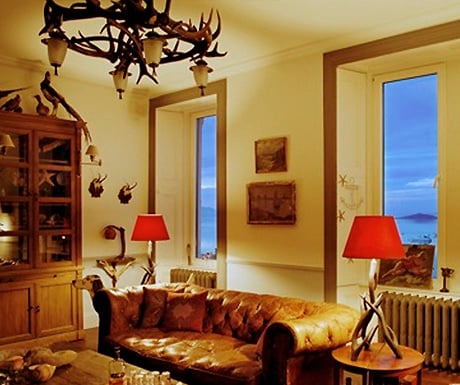 We visited the property back in 2011 – click here if you would like to read more about the accommodation and the area.  Stays at Jura Lodge start from £2,500 per night with a minimum stay of 3 nights.
The Argentario Resort Golf & Spa, Tuscany, Italy
The Argentario Resort Golf & Spa is nestled between Tuscany's rolling hills and the beautiful Mediterranean coastline, near the charming seaside town of Porto Ercole. From its luxury design rooms, to its gourmet restaurant, to its 2700 sq m spa, the resort offers a panoramic and romantic setting that will make your Valentine's Day unique.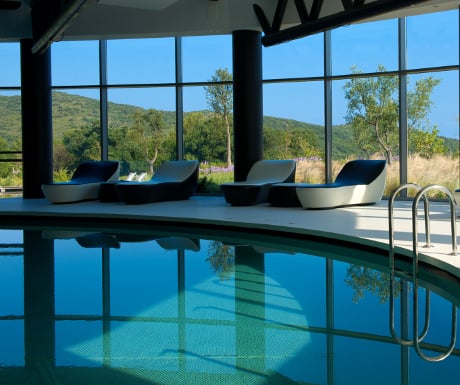 Rooms feature panoramic terraces with views that extend over the golf course up to Orbetello Lagoon and the Gulf of Talamone. The restaurant uses genuine products from local farms and from the resort's own organic vegetable garden. A special Valentine's dinner will be served here, in a cosy ambiance with fireplace and candlelight.
Thanks to the mild and sunny climate in the Argentario Promontory, you will be able to enjoy some rounds of golf on the eco-friendly course. For spa lovers, do not miss the romantic "Espace Suite", where couples can enjoy a totally personalised experience in their own private spa!
Kendal Cottages, Kendal, Lake District, England, UK
Lastly but by no means least, our very own luxury riverside apartment on the banks of the River Kent has availability this Valentine's. This perfectly positioned property is sandwiched between two of the country's most beautiful National Parks – the Lake District and the Yorkshire Dales.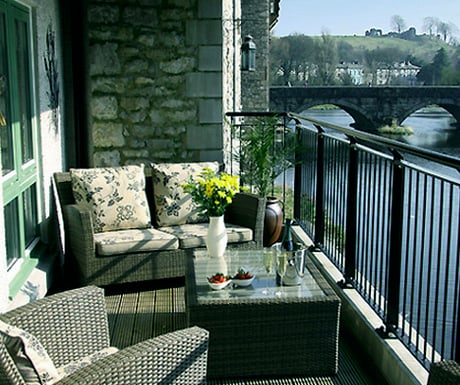 The apartment's own balcony looks down the River Kent towards Kendal Castle beyond.  This is where Catherine Parr, Henry VIII's sixth wife, is said to have lived prior to moving to London.  The interior has been finished to a high standard – Valentine's couples will have the space and freedom sometimes not available with a hotel room because the property can actually sleep up to 4 people, and has a separate dining area, living room and kitchen. There are a number of good restaurants within a short walk, including a choice of Mediterranean, Thai and traditional English food with Turkish influences.
Stays from 11th-15th or 15th-18th February 2013 have been reduced to just under £300 (or £380 for the whole week) making this a very affordable luxury getaway.