By
Michelle Stonehill
on Jan 31, 2013 in
Asia
,
Attractions
,
Czech Republic
,
Eastern Europe
,
Europe
,
Going Out
,
India
,
Mexico
,
Middle East
,
North America
,
Regions
,
Turkey
,
United Kingdom
,
Western Europe
,
Worldwide
If laying on a beach isn't your thing and you're not one for adrenaline-filled action but are looking for something a bit more unusual than the museums or standard tourist attractions, then this is for you. Hidden amongst some of the World's most popular destinations are some of the strangest tourist attractions in the world. Here is our take on 5 of the best.
1. Karni Mata Temple, India
Known as "the rats temple" Karni Mata in Deshnoke, is an ornate Hindu temple which was built in homage to the goddess of rats. The temple has intricate marble panels which line the entrance and luxurious gold and silver decorations throughout. There is however, a unique twist which make it one of the most unique tourist experiences in the World. Here the rats rule!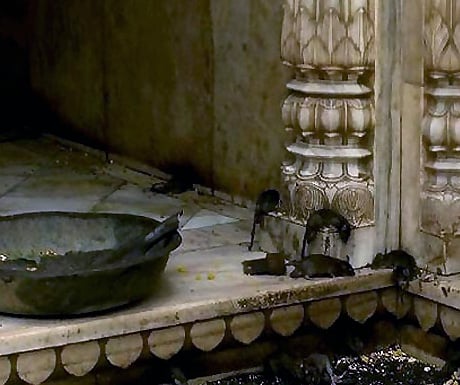 Along with tourists from all over the World and Hindu visitors hoping for blessings are thousands of rats which are actively encouraged to live in the temple. Once you get over the phobia, walking (without shoes) amongst the living carpet of rats is actually quite thrilling and is considered a blessing if they run across your feet.  Just make sure to wear a pair of socks if you're squeamish and watch your step. Also keep an eye out for the albino rats which are considered very lucky.
2. Island of the Dolls (Isla de Las Munecas), Mexico
Isla de Las Munecas has to be one of the strangest tourist attractions in the World. Certainly if not the strangest, it's up there and definitely one of the most freaky. Situated on an island within a series of canals south of Mexico City, The Island of Dolls was created by Don Julian Santana who chose to live alone on the island despite having a family on the mainland. The island is said to be a shrine to a girl that Don Julian saw drowning, while others just think he was mad.
Walking around the island, you are greeted by a collection of grubby dolls, with dead eyes and missing limbs hanging from the trees. Over time the dolls faces have started to decay, which only adds to the strangeness. Despite its freakiness, the island see up to 50 visitors a day from all over the World.
3. Sedlec Ossuary, Czech Republic
Known as the church of bones, Sedlec Ossuary is one of the strangest chapels you'll ever visit. This small chapel looks quite normal from the outside but step inside and discover that it is decorated with more than 40,000 human skeletons. Despite its macabre theme, Sedlec Ossuary is actually quite spectacular with some of the highlights being the family coat of arms and the big central chandelier, both of which are also made from human bones.
Back in 1278 people desired to be buried here due to there being 'holy soil'. Unfortunately, the grave yard soon became full and the basement was used as an ossuary. Then in 1870 a local woodcarver was appointed to put the bones in some order, which you can see today. This is definitely one for the person that thinks they've seen everything!
4. The Hair Museum of Avanos, Turkey
In a cavern underneath his pottery shop, Turkish potter Chez Galip has a very unusual museum which is regarded as one of the weirdest museums in the World. Over the years he has collected 16,000 plus pieces of women's hair, all tagged with where the original owner was from.
Apparently, it all started over 30 years ago when one women due to leave Avanos left something for him to remember her by. Now, women who visit each year from all over the World leave a piece of their hair and every year 10 are picked from the walls to win and all-inclusive weeks holiday in Cappadocia. If you fancy visiting the more bizarre, then this is a must.
5. Brighton Sewage Tour, UK
Hidden underneath the vibrant city streets of Brighton is one of the World's best examples of Victorian civil engineering. Brighton's sewage system was a major undertaking of its time and this hour long tour takes you under the streets, where the sewers reveal their Victorian past.
The subterranean adventure starts under Brighton Pier and takes you in to the dark depths of Brighton's underworld, emerging from a manhole cover in Steine Gardens by the Royal Pavilion. Covering some seven miles of smelly but magnificent Victorian engineering and learn all about its past. Not the most sanitary experience or small free but definitely not to be missed.
Michelle Stonehill is a Managing Partner of Brighton Holiday Homes.
If you would like to be a guest blogger on A Luxury Travel Blog in order to raise your profile, please contact us.