Top 5 luxury honeymoon destinations in Europe
Your wedding may be one of the most special days of your life, but make no mistake – if there's a time that's really all about you and your new partner, it's your honeymoon. Now that you're finally free of hectic plans and schedules, it's time to relax, rejuvenate, and spend some blissful time together as a married couple before you get back to real life. Whether you want to dance your nights away or sun your days up by the sea, the following luxurious locations may prove the ideal honeymoon getaway for you.
1. Tuscany, Italy
Boasting beautiful scenery, amazing vineyards, historic cities and art, and some utterly lovely medieval hill towns, the region of Tuscany is a must-visit for couples looking to immerse themselves in a gorgeous historical setting. Take day trips to Florence, Siena or Pisa, visit such famous spots as the Leaning Tower of Pisa or the Florence Cathedral, frequent the vineyards or just wander around sampling some of the best cuisine in Italy. The area boasts a wealth of activities, sights, and places to stay – get pampered to perfection one day and look through ancient buildings the next; it's entirely up to you!
2. Aix-en-Provence, France
If you're yearning to visit France but unwilling to put up with the hustle and bustle of Paris, Aix-en-Provence may be the perfect place for your French-based honeymoon. It's got all the charm of a small town with all the hip cosmopolitan flavour of bigger cities, dotted with equal parts cafés, markets, and students from surrounding universities. Chic boutiques rub shoulders with Ancient Roman (yet ultra-modern) thermal baths, and Provence and the Cote d'Azur aren't far off if you fancy a quick trip.
3. Ibiza, Spain
Famous in equal parts for its gorgeous sandy beaches and amazing nightlife, Ibiza is the best place for newlywed couples looking to lounge by the beach during the day and party it up every night. The amazing beaches also offer ample opportunity for diving and boat rides around the island, or explore the land by foot. Accommodation ranges from boutique hotels to luxury villas, perfect for a truly relaxing getaway.
4. Santorini, Greece
Prefer your sandy beaches with a more old-world flavour? Sounds like the Greek island of Santorini is your best bet. Made up of craggy rock faces and whitewashed churches, the views of and around the place are simply stunning. Check out the famous black sand beaches, or if you're more of an archaeology buff, scope out Ancient Akrotiri. Its surrounding towns are a treat to explore, which you should definitely do if you can tear your eyes away from the view.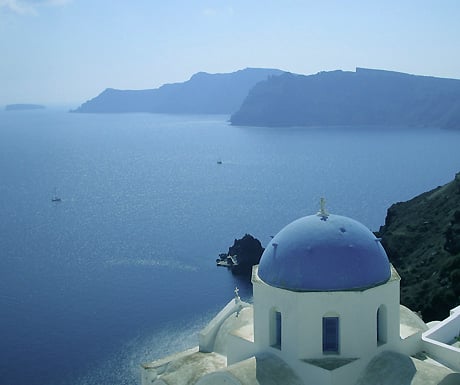 5. Lagos, Portugal
Lagos offers a wonderfully well-rounded honeymoon experience for couples who simply can't make up their mind what they want to do most. Walking along beautiful stretches of white sand? Check. Walking along scenic cliffs? Check. Walking along Old Town? Check. Exploring caves and grottos? Check. Exploring sea caves and shipwrecks? Check. Just don't forget to pack for all your different activities!
Know of any more luxurious honeymoon locations that are perfect for relaxing? Share them in the comments!
George Burdon is Managing Director at Dynamic Lives.
If you would like to be a guest blogger on A Luxury Travel Blog in order to raise your profile, please contact us.
Did you enjoy this article?
Receive similar content direct to your inbox.