Nothing spells romance like an intimate dinner for two but who says Valentine's Day is the only time that calls for something spectacular? For times when even booking the best table at the hot new restaurant just won't cut it, you can always count on nature to provide the unforgettable.  Here are our five top ultimate dining experiences that are guaranteed to add the wow factor to any romantic occasion.
1. The Great Wall, China
If you're looking to impress then look no further— one of the world's largest and most famous historical sites, China's iconic Great Wall needs no introduction. Cutting a path through the lush mountains you'll have a dramatic panorama of sweeping hills and valleys as you luncheon undisturbed in your private Great Wall watchtower. As well as your personal staff waiting on your every hand and foot, you can choose to turn the romance up a notch with some live music to accompany your meal. Dining doesn't reach a grander scale than this.
2. The Aurora Borealis, Iceland
The Aurora Borealis, or the 'Northern Lights' as it is more commonly known, is one of the world's most incredible natural wonders and makes for a sensationally romantic backdrop to an evening soirée . Dine by candlelight beside a glacial lagoon dotted with floating icebergs, or perched atop cliffs hanging over the Atlantic Ocean and surrounded by icy waterfalls—a country of staggering beauty, Iceland is filled with intense and otherworldly landscapes that are bound to take your breath away.  After a delicious dinner, stepping outside your snug luxury tent to find the Northern Lights dancing overhead is an experience that truly lives up to its 'unforgettable' tag .
3. Son Doong Cave, Vietnam
If you're idea of romance comes laced with adventure, then dining in the world's largest cave is bound to seduce. Only discovered in 2009, there is still much of the magnificent Phong Nha cave system that is yet to be explored, so you really feel like you're entering a lost world. Only accessible by boat, just getting to the cave is itself a magical journey. Imagine gliding through the emerald waters of Halong Bay (itself a UNESCO World Heritage Site) before entering an underground corridor of ancient columned stalagmites through to a vast chamber filled with hundreds of flickering candles. Here you can wine and dine in your own mystical grotto while bats waltz high above.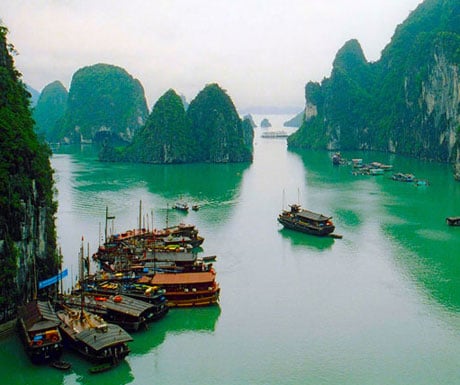 4. Angkor Wat, Cambodia
Tangled deep within Siem Reap's tropical forests, the majestic temples of Angkor Wat are one of Cambodia's most treasured archaeological wonders. Walking along a candlelit path amongst the historical splendour of these ancient temples makes an awe-inspiring start to any occasion. Here you can experience luxury that recalls the glory of the Khmer Empire, once the most powerful in all of Asia, with traditional musical performances to accompany the fine Khmer cuisine. With your private waiter on hand to make sure your glass is always full, spend the evening sipping champagne under a velvet sky and gazing at the temple reliefs flickering in the candlelight—this is palatial dining worthy of its 'ultimate' status.
5. Ubud Hanging Gardens, Bali
Hidden amongst smoky volcanoes wrapped in verdant rainforest, this has to be one of our best kept secrets in Bali and the perfect location for a private romantic tryst. Experience Zen-like luxury as your personal waiter serves local delicacies under the gentle glow of oil lamps. To get you into the romantic spirit, take an after-dinner stroll through tropical rainforest to the holy water temple where a priest will perform a purification ritual, followed by a foot massage on the riverside bamboo deck. After an evening here under the stars, no one would be able to resist the exotic charms of this unique resort.
Tom Marchant is Co-founder of Black Tomato.
If you would like to be a guest blogger on A Luxury Travel Blog in order to raise your profile, please contact us.