Sydney is a stunning city built around the world's most beautiful harbour. The iconic Sydney Opera House and world famous Bondi Beach are stand-out jewels in the middle of the city. However on the luxury hotel front we fall a little short of other capital cities around the world! Below is a list of the top 5 hotels that you will definitely enjoy.
1. The crème de la crème – Sydney Park Hyatt
This hotel has recently undergone a complete renovation and became the most luxurious and expensive hotel in Sydney. The location and service levels in the Park Hyatt are second to none. All rooms have spectacular harbour / Opera House views.
Rooms start at a spacious 40sqm, new interiors reflect a natural feel with rich layers of chocolate, cream and beige hues. Rooms are modern, yet luxurious & elegant. Bathrooms feature a dual vanity, wet area with rain shower, deep bath tub and a separate powder room featuring a heated "Toto" toilet. Bliss.
Rooms at the Park Hyatt Sydney start from $800 per night, which is a lot for Australia but on par with other 5 star luxury hotels around the world.
For a truly fancy stay, opt for one of the signature suites; all with private balconies to enjoy the best Sydney has to offer. Suites start from $1,800 per night.
The hotel's location and service are the absolute best in Sydney!
2. A hotel with amazing views – Shangri-La Sydney
Shangri-La has also undergone a serious renovation in the last couple of years, which has allowed it to feature on the Top 5 list. The views from the Executive Suites in this hotel are amazing and the hotel is much better priced than the Hyatt (rooms start from $400 per night and suites from $600).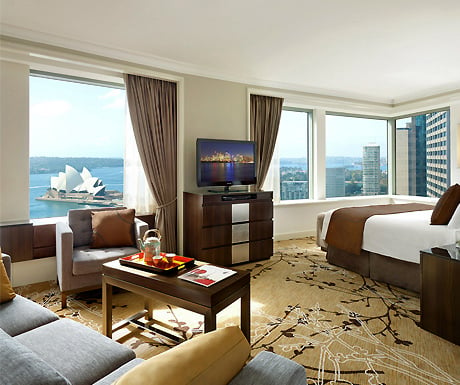 Rooms are a little on the simple side while the suites are fantastic – spacious, earthy toned interiors with large marble bathrooms and spectacular views all around.
The indoor pool – the best in Sydney – is warm, pretty and of good size. It's a perfect retreat for families with children.
3. The best Sheraton I have ever been to – Sheraton on the Park
Don't be put off by the Sheraton brand (they are often run of the mill hotels but not this one).
Sheraton on the Park has an air of grandeur and sophistication. Most of the rooms face Hyde Park (the best view if you can't get the harbour view) and are very well priced (with the specials being offered on the hotel website all the time you can pick up a Hyde Park view room for $300 or an Executive Suite for $450).
These rooms and suites are not brand new but still very modern with marble bathrooms and new furniture. Suites have ample sofas that could easily accommodate 2 kids.
Service is very friendly and executive lounge always has nice people to chat to. The location is excellent, right in the middle of CBD action, close to the best restaurants and shops.
An excellent Sydney pick at a good price!
4. The new kid on the block – The Darling Hotel
Condé Nast Traveller has named this brand new hotel one of the Top 60 Best New Hotels in the World.
It offers 171 rooms, all beautifully detailed. Rooms are a little on the small side, 35 sq m (start from $320 per night), but the Jewel Suites are divine (from $529). All suites have water views from floor to ceiling windows, are beautifully furnished and have all the modern luxuries.
The only downside (or bonus depending on the point of view) is that this hotel is part of The Star casino complex. However, this could be overlooked given a pleasant location, brand new rooms and an excellent room rate. The Star has a couple of excellent restaurants to enjoy too – Sokyo & The Black.
The 16-room day spa is exquisite; it features Sydney's first hammam and offers a variety of treatments to please any discerning spa aficionado.
5. For a weekend stay – Emirates Wolgan Valley Resort
This resort stands in a class of its own, both by natural beauty, luxury and price.
It is an all suite resort in a breathtaking location, 2.5 hrs away from Sydney, in the Blue Mountains. If you can afford a little side trip from the city, we highly recommend it. It is not cheap (suites start from $1400 per night) but truly worth it.
The suites are magnificent and very well designed. They are warm, plush, with earthy tones, wood and stone. All suites feature a fireplace and a four-poster bed and a private pool!
All meals are prepared from local ingredients and included in you room rate as well as 2 nature based activities like horse riding or bush walking.
The Timeless Spa is the best in Australia. This space is very knowledgeable, with respectful, professional staff offering the most relaxing treatments in the most beautiful setting.
Marina Noble is Founder of The Lux Traveller.
If you would like to be a guest blogger on A Luxury Travel Blog in order to raise your profile, please contact us.