By
Paul Johnson
on Mar 16, 2013 in
Accommodation
,
Europe
,
Events
,
Featured
,
France
,
Greece
,
Hotels
,
Italy
,
Middle East
,
Portugal
,
Regions
,
Resorts
,
Spain
,
Switzerland
,
Travel Miscellany
,
Turkey
,
Vacation Rentals
,
Western Europe
Looking for inspiration on what to do or where to go this Easter? Then look no further! We've saved you the legwork by compiling 10 great ideas for a luxury European break during the festive season. Perhaps you'd like to experience a traditional Spanish Easter celebration or wish to find somewhere with guaranteed skiing this late in the year?  You'll find both these and more in our top 10 places to visit this Easter.
Villa Hurmuses, Mykonos, Greece
Looking for a unique, fun and restful place to spend Easter 2013? Are you wondering where to spend your upcoming Spring break? Then look no further than the Villa Hurmuses, in Mykonos, Greece. With a 24 hour staff that is more than happy to accommodate you in every way possible, they go the extra mile by being your personal tour guide as guests enjoy the week-long Easter celebration in Mykonos.
Enjoy staying in a master bedroom that offers a private balcony, and overlooks the gorgeous ocean. Couples can enjoy the romantic ambiance of their cosy rooms, while taking in the unique sights, smells and tastes of the island's Easter festivities – and all conveniently located a short distance away from your villa. While you bask in the sun, learn about the culture and are greeted by friendly locals, you can feel confident that you are staying in immaculate accommodation.
Grand Hotel Kempinski Geneva, Switzerland
Located on the shores of Lake Geneva, Grand Hotel Kempinski Geneva is in the perfect location to take in the beautiful sights and sounds of the city. Just a stone's throw away from Old Town and Flower Clock and well within reach of some of the best luxury boutiques and hip restaurants Geneva has to offer. It's a view that is made even better with Jet D'eau, the iconic water jet that climbs above the Geneva skyline, situated directly across from the hotel.
Easter is drawing ever closer, so if you need a well deserved luxury break then Kempinski Geneva is the place to be. The children will be entertained by the Kempi Kids' Club, equipped with early-learning games and a TV, Wii and lots more! Take the effort out of airport transfers with the hotel's transfer service. Choose from limousines, people carriers or, if you are feeling especially glamorous, a gleaming Ferrari. Arrive and leave in style for an Easter break you are not soon to forget.
When not in the hotel, you can be exploring the magnificent sights and sounds that Geneva has to offer. Visit the awe-inspiring cathedrals, the United Nations and Red Cross headquarters, and you can even swim in the famous lake at Pâquis Baths. For swimming fun the whole family can enjoy, you can visit the Aquaparc where the water and the air are heated to 28°C for that tropical feeling and all attractions are open all year round. If swimming doesn't appeal then Forestland is a fantastic place to take the kids for the day to let off some steam. This adventure circuit is equipped for children and adults alike featuring activities like branch climbing and forest jumping.
Hotel Alfonso XIII, Seville, Spain
Seville is one of the places to be in the run-up to Easter. This is down to Semana Santa de Sevilla (Holy Week), an important traditional event. Expect processions of sculptures (or pasos) depicting scenes of Christ's suffering along with images of the Virgin Mary. The city will be crowded with this huge spectacle for several days but the highlight is on Thursday when the procession that finishes at the Cathedral on the dawn of Good Friday begins.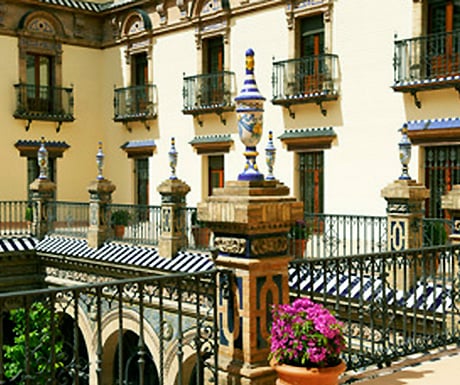 Be in the heart of the action with a stay at the Hotel Alfonso XIII, A Luxury Collection Hotel from Starwood Hotels and Resorts Worldwide.
Penthouse Zen, Zermatt, Switzerland
If you're looking to get in a bit of skiing before the snow melts, then Zermatt is a good place to go as it's home to some of the highest slopes in Europe. And if heading for Zermatt, look no further than Chalet Zen's new sister property, Penthouse Zen. This catered chalet accommodates 6 guests in 3 bedrooms and is just 100m from the piste and main ski lift up to the glacier.
You'll be spoilt with uninterrupted views of the Matterhorn, access to all the Zermatt and Cervinia ski areas, but be within walking distance of the village. What's more, Easter week has been reduced from 15,000 to just 11,000 Swiss francs.
Gloria Golf Resort, Belek Turkey
Gloria Golf Resort is located in Belek, in the midst of nature and beautiful pine trees of the Turkish Riviera, where you can expect lots of sunshine all year long… including at Easter.
The resort features a unique environment, where families are especially welcome, by having one of the largest playgrounds in the region with GOGI KIDS CLUB, an indoor playground, a zoo, game and entertainment areas, an aquapark and various activities for kids of all ages. Along with its child-friendly atmosphere, the hotel offers a 45-hole golf course, selection of restaurants, sports centre and an unusual entertainment concept put together by its own creative team so parents can enjoy their well-deserved break. While the Mediterranean coast is warming up nicely, you can spend the Easter in a luxury villa with your own private pool or a family suite and have a chance to transform Easter into a wonderful holiday in the exclusive lifestyle of Gloria Golf Resort, combining luxury and nature with superior service quality.
ChicRoomBarcelona, Barcelona, Spain
Follow the white rabbit to the magical city of Barcelona. Easter is the best time to spoil yourself and your loved ones with a weekend getaway and ChicRoom Properties will ensure you find the perfect accommodation to whisk you somewhere over the rainbow. Zen Paseo de Gracia is a delightfully sophisticated apartment that will make your Easter trip an unforgettable experience.
You will find many fabulous restaurants in this area, as it's ideally located in the modernist neighbourhood in the city centre, meaning this fabulous apartment is on the doorstep of Barcelona's thriving restaurant and bar scene and just a stone's throw from the world-class shopping of the famous Paseo de Gracia.
Cortijo El Carligto, Andalucia, Spain
The only thing bigger than Carnival in Andalucia is Semana Santa, the Holy Week leading up to Easter Sunday. With vibrant daily processions akin to a mix between a festive parade and a solemn ceremony, it's a cultural experience no to be missed. If you see no more than one of the distinctly coloured, hooded and robed 'cofradias' (religious guilds) lumbering under the weight of the ornately decorated and sanctified floats, it will have been worth your visit.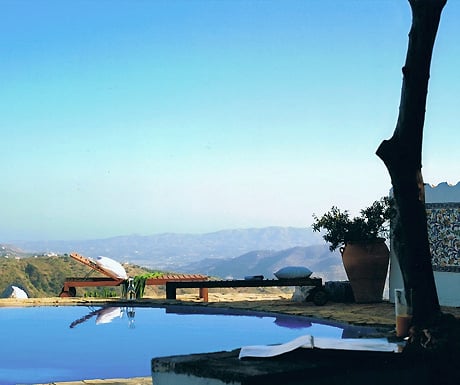 The luxurious and stylish private country estate, Cortijo El Carligto, offers the perfect base for exploring this phenomenon. With all of the services of a five star hotel, including a private gourmet chef, concierge and spa treatments, you'll want for nothing; and you may never want to share space with strangers in a hotel again. Situated in the foothills of the Sierra Tejeda mountains, the majestic landscapes make you feel a million miles away, while the sea views remind you that you are a mere 25 km from the beaches and within easy reach of the cities of Malaga, Granada and Cordoba to explore it all. If you'd like a little help getting the most out of the Easter festivities, El Carligto can even provide you with a personal guide for inside access.
Château Les Carrasses, Languedoc, France
Escape to the South of France this Easter and enjoy a luxurious break at Château les Carrasses, a 19th Century vineyard estate in the unspoilt Languedoc region. Blending the privacy and independence of a self-catering villa or apartment, first class facilities and the service and atmosphere of a private club, Château Les Carrasses is a rare find.
Boasting a sunny Mediterranean climate, fairy tale backdrop and superb facilities – winery, brasserie and bar, beautiful vines, clay tennis court, infinity swimming pool, boules court and more, the Château has managed to create the idyllic holiday experience for families and couples looking to in experience the 'Art de Vivre' for which the region is renowned. Spring is a glorious time to visit and guests will be spoilt for choice for things to do – from relaxing on the sun terrace with a good book, enjoying a bbq and lively boules tournament in the grounds, taking a bicycle ride along the Canal du Midi or participating in the big Easter Egg Hunt taking place in the beautiful garden on Easter Sunday……….. There is also much to discover locally, highlights include a family self-drive barge trip on the canal du midi (where all ages can have a turn at driving); horse-riding at local stables; a visit to the petting zoo to see the baby lambs or a chance to compete on the ropes courses through the trees. No trip to the Languedoc is complete without visiting some of the local vineyards and wine tastings can be easily arranged. (On Easter Monday there will be lots of exciting outdoorsy activities for kids – such as bow and arrow making, flower pressing and even fairy tracking).
Villa Linucia, Algarve, Portugal
In a superb location right next to the famous beach of Praia da Gale, life at Villa Linucia is old-style and very relaxing, the Algarve at its best.
There is plenty to do nearby: paths through the garden lead to different parts of the beach which goes on for miles. Boat trips are available nearby and there are many world-class golf courses within about 20 minutes drive. Or you could stay at the house, relax in the heated pool, play on the hard-surface tennis court or spend time in the large and superbly-kept gardens which might just make the perfect venue for your easter egg hunt. A good cook is provided and several excellent restaurants (including the famous Vila Joya) are within easy walking distance.
Hotel Villa Carlotta, Sicily, Italy
Located in Taormina most panoramic area at 5 minutes walk from the pedestrian old town, overlooking the sea and the renowned Capo Taormina rock formation, Giardini- Naxos bay and the majestic volcano Mount Etna, Small Luxury Hotels of the World member Villa Carlotta Hotel has an intriguing history which dates back to the 19th Century when it was an aristocratic private villa. Today, this stunning chic hotel is an elegant retreat with 23 rooms and suites and 4 luxury serviced apartments, full of charisma and character with fabulous food, one outdoor pool (open from April, so perfect timing for Easter) and the most glorious sea views you can find in Sicily.
Jane Austen once said that there is nothing like staying at home for real comfort. That may have been true in 1815 but today, this small luxury boutique hotel supersedes the pleasures of home, providing both five-star indulgences and what might be the ultimate luxury: an excuse to explore the sweetness of doing nothing, or at least to hang the "out of office" shingle and slow down. A complimentary minibus is available to Taormina beaches in 5/10 minutes.
The ambiance here is one of laid back glamour with gentle pale-coloured interiors and contrasting silver paintings and sculptures that give the hotel a stylish Mediterranean look and feel. At this super friendly hotel you can spend a relaxing Easter holiday, a romantic escape or your memorable honeymoon. In the roof top terrace with breathtaking view a renowned Sicilian buffet breakfast is served every morning until late, while candle-light a la carte dinners are served in the evening.