Award-winning destination spa, Ananda in the Himalayas, has added three new Tibetan experiences to its extensive spa menu. According to ancient Tibetan texts, the human body is based on five cosmic elements: earth, water, fire, air and space. These elements need to be in harmony for good health to flourish. After significant research in the area of Tibetan health and wellness systems, Ananda collaborated with UK based organic skin care brand, ILA, and a Tibetan Lama to uncover the inner workings of this traditional medicine.
All three of Ananda's new treatments aim to restore energy and harmonise the five elements by strengthening and repairing the body's natural free flow of energy. Carefully selected organic and wild-grown essential oils (many of which are native to the Himalayas) are used throughout the treatments to purify the five elements.
The three new treatments are as follows:
Tibetan Ku Nye Massage (75 minutes)
This massage utilises lymphatic massage and acupressure techniques, starting with the back moving on to the back of legs, front of legs, and chest by kneading, knuckling, rubbing, and tapping in order to work on muscles and tendons. Hot salt poultices are used over the meridian points using Himalayan salt, cardamom, lavender and jatamansi to totally restore the nervous system and stimulate the free flow of energy in the body. The treatment finishes with a spine-tingling head massage.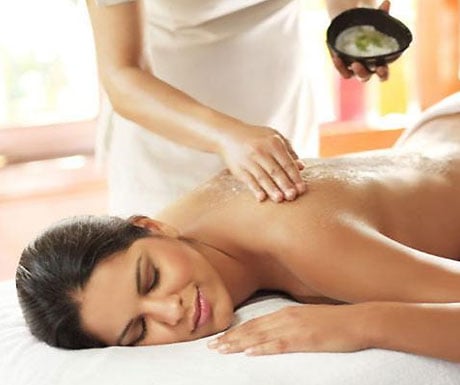 Tibetan Ku Nye Facial (75 minutes)
This facial begins with a rosehip and honey scrub to exfoliate and prepare the skin for a Seabuckthorn elixir. Seabuckthorn oil contains a rare Omega 7, which supports cellular structure and regeneration and has long been used for treating various skin conditionssuch as burns, scars, scalds and eczema. Deep lymphatic drainage and acupressure with hot poultices restore a glowing radiance to the skin before a lavender and honey mask is applied to eliminate wrinkles.
The Tibetan Ritual (115 minutes)
In this bespoke ritual the client completes a questionnaire, which helps the therapist decide, which of the five elements are out of balance and which essential oil blends to use to readdress this. The treatment envelops the whole body starting with a head, hand and foot reflexology to energise the meridians. Massage, meridian massage and light techniques purify the body while hot poultices emit negative ions to create a feeling of bright energy. The client is advised to rest for an hour as the essential oils and treatments continues to work for up to 12 hours.