Suite name: The Tudor Suite
Hotel name: The Milestone Hotel
Location: London, UK
Size of accommodation: 585 sq ft
Cost per night: £1,100
What makes it special: Decadence personified, the Tudor Suite not only offers 24-hour butler service and a private Bentley on demand, it has its very own minstrels gallery above a separate sitting room.
A 3.3m-high ceiling is adorned with Victorian stucco plasterwork and a Grade-II listed minstrels' gallery features a low plaster relief of putti by Sir George Frampton, who is best known for his statue of Peter Pan in Kensington Gardens. Recently refurbished in sumptuous hues of cream, taupe and gold, the Tudor Suite is a feast for the eyes. Wherever you look, you'll find stunning décor and magnificent architectural detailing.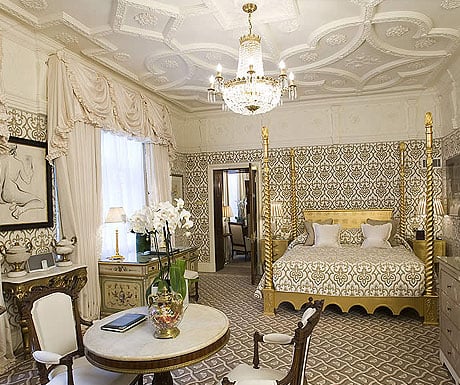 President of the Red Carnation Hotels group Beatrice Tollman took personal charge of the revamp, changing darker woods and deep red hues to more calming tones to give the suite a more serene feel.
The centrepiece is a gold four poster bed, brought to London from Sotheby's in New York. It is made up with Savoir bedding, famous for its cloud-like comfort.
From here, you can look down on the suite's separate private salon, which can also double as an additional sleeping area, complete with cosy living flame fire and period-style wooden panelling.
Antique furniture and original paintings sourced from the finest auction houses around the world add to an overall feeling of elegant opulence, with ornate chandeliers and custom-made ivory silk curtains providing the finishing touches.
Key pieces include an elaborately-painted dressing table and an Italian Neopolitan style early 20th century decorated and parcel gilt pedestal desk.
A spectacular 20ft bathroom, one of the largest in the hotel, is well stocked with Penhaligons toiletries to use in its deep marble tub and double vanity unit. Thick towels, robes and slippers await you when you step out of the bath or shower.
Large windows offer spectacular views of Hyde Park and period features mingle harmoniously with modern touches as old-school luxury sits side-by-side with inventive modernity.
The Tudor Suite boasts wireless broadband internet access, an iPod docking station, movies on demand and flat-screen televisions. Renowned for offering impeccable service and for its attention-to-detail, The Milestone also offers guests staying in its most luxurious suite a complimentary decanter of sherry, fruit plate, floating votive candles at turndown and complimentary canapés.
It's no wonder that The Milestone has been showered with accolades, ranking as one of the world's finest hotels and currently ranked number 3 on TripAdvisor out of more than 1000 London hotels.
If you would like to be featured as 'suite of the week' on A Luxury Travel Blog, please contact us.