By
Kevin Markham
on Apr 09, 2013 in
Accommodation
,
Adventure Travel
,
Bars
,
Europe
,
Going Out
,
Hotels
,
Leisure Travel
,
Norway
,
Regions
,
Speciality Travel
,
Western Europe
The perfect flakes of snow wandered past the hotel window, descending gracefully, almost reluctantly. They were things of beauty but they did not bode well for the night ahead. It is simply not possible to see the glory of the Northern Lights with snow spilling out of the sky, and we were due to hunt for the elusive Lights in a matter of hours.
In Tromso's tourist office earlier that day we had heard a young Englishman insisting he would only pay to go on an 'Aurora Cruise' if the girl behind the desk could guarantee he'd see the Lights. In as polite a way as possible she explained that the Aurora Borealis was not on a light switch that could be turned on and off for his viewing pleasure. He looked surprised and left.
The Aurora Borealis (or Aurora Australis over the South Pole) is controlled by the sun, and when it comes to deciding how the sun's energy is discharged an English tourist's demands hold little sway.
We were in Tromso, one of Norway's most northerly towns and a place that has blossomed in popularity since Joanna Lumley's visit and BBC programme in 2008. As we stood in Polar Arctica, renting the appropriate clothing from Magne for the nights ahead, he was of the firm opinion that Lumley should be nominated for sainthood. His partner in the business, Kjetil Skogli, was Joanna's guide.
Perhaps she should. Hotels were packed and on the streets it was evident who was local and who was visiting: a young woman in heels ran across the icy road in front of a bus, passing a couple edging each foot forward as if the ground might give way. Many of the streets have underground heating where you can walk freely, but wearing slip-on grips on your boots is advisable.
The town is set up for Northern Lights hunters but you have so many safaris, sledding expeditions and cruises to choose from that it becomes almost confusing. The visittromso.no website is the best place to start. It offers plenty of detail and lists prices. This is not a cheap trip (nor a cheap country), but consider that this is a once-in-a-lifetime trip – even if you have to make it a few times before you see the Lights.
Outside our hotel, the Radisson Blu, Sebastian ushered us onto the Tromso Safari coach. He looked optimistic about seeing the Aurora, but it was hard to tell through the falling snow. Once on board he explained what the next six hours would entail. An hour's drive inland to one of Tromso Safari's base camps would introduce us to a Sami family. The Sami are Norway's original native population and have been herding reindeer for generations. Our host family owned 20,000 reindeer, although we never got to see one… that falling snow again.
Once there, we sat around the fire in the Sami tent until Sebastian called us back to the coach. News from further south reported the snow was clearing. We walked down the hillside, candle-lit lanterns guiding our way. It was enchanting.
It was not romantic but, Sebastian assured us, the car park where we ended up an hour later offered the best chance of success. He poured steaming cups of hot chocolate and filled our heads with stories and myths behind the Northern Lights. The Vikings, he said, believed it was the Valkyrie coming to take the souls of dead warriors up to join the Gods. Others believed it was giants attempting to take over the heavens. It passed the time as we waited in the freezing cold, the only light cast from the occasional passing car. By midnight it seemed our chances had gone. A hole in the clouds had opened, revealing The Plough and Cassiopeia in positions I did not recognise, but of the Northern Lights there was no sign.
It was time to head back for the hotel. We climbed into the coach and began removing the many layers of clothing when a shout from Sebastian saw us scurrying back into the cold. "There", he said excitedly, pointing towards distant mountain peaks.
Slowly they came, like gentle ghosts out of the darkness. Strands slid down across the skyline, hovering on their own until joined by others. Then to the left a more powerful display appeared, a curtain of dancing light that spread wide across the night. It vibrated and pulsed in the palest greens for several minutes before retreating. It wasn't long, nor was it the stunning greens that ripple across so many photographs, but it was the Northern Lights and we had, against the odds, enjoyed its magic.
Tromso
70,000 people call Tromso home. It is a small town spread over two shorelines, the mainland and the island of Tromsoya, and separated by an icy stretch of Norwegian Sea. The airport is a mere 10 minute drive from the centre of town and, as you descend underground, you will probably be informed by your driver that Norway favours tunnels. You may also be told that just 3% of Norway's landmass is available for agriculture. When you see the never-ending stretches of mountains from the airplane window, and step out of the airport to be surrounded by peaks holding up the sky, it is easy to understand why tunnels became so popular.
The island measures 11km long and 3km wide, and the heart of downtown Tromso can be covered on foot in no more than an hour (weather permitting). It adds to the place's charm and warmth (weather permitting). This is where the shops, museums, bars, hotels and restaurants are found, as well as the most expensive residential property. Given its latitude, north of the Arctic Circle, you'll also find the world's most northerly brewery, Catholic church, library, golf course and Burger King. One of the sights you won't see every day is a British consulate sharing accommodation with a brewery. Another such sight is the Olhallen Bar, Tromso's oldest pub opposite the brewery, where you'll be greeted by two polar bears.
Tromso is a place of remarkable contrasts: it is a cold, dark and invigorating place to visit in the winter months; yet for weeks in the summer the sun never sets. Not surprisingly, activities change drastically with the seasons, but the focus is on the Northern Lights and adventures such as reindeer or dog sledding. If you're lucky you can combine the two.
Dog sledding
Our last night took us west, to the island of Kvaloya, where Mathias introduced us to the 270 arctic huskies who pull Tromso Villmarkssenter's sleds all day long. "They love to run", he said, ruffling the neck of one particularly impressive beast. It's what they live for.
Every dog has a small wooden hut in the snow, their name written underneath. Contrary to popular belief, these dogs have an endearing relationship with humans and it was hard to tear ourselves away from the rows and rows of friendly animals. But our 14 dogs were waiting, strapped in and straining to be off. Sasha and Odin were at the front to lead the way, Boru and Svalbard, the powerhouses at the back. These are tough, lean animals and when they run, they run silently. As they pulled us through the darkness, across virgin snow towards the distant lights of Tromso, the sound of snow crumpling under the sled was all we heard. It was an exhilarating and uplifting experience. After half an hour we descended the final hill and were welcomed home by a cacophony of howls.
It was time to return to the hotel but as we made to leave, once again peeling off our layers, a shard of the Northern Lights cut through the night and hovered tantalisingly above us. The dogs paid it no heed, but the rest of us were transfixed until its glimmer waned. It was a brief but fond farewell, and the perfect invitation for us to return.
Top 10 Tromso tips
The tourist website has lots of detail and you'll find most of the information you need on here, including prices. You can also book your trips/activities online. The tourist office is next door to the Radisson Blu hotel.
2. Weather
www.yr.no is Norway's weather service website (it is global, too) and a very useful resource.
3. Drinking water
Bottled water, like most things in Norway, is pricey, so it's reassuring to know that the water from your hotel tap is as good as anything you can buy.
4. Lysnes ferry
Northern Lights cruises are popular and very successful at finding the Aurora by heading away from the coastline. They are expensive, however, so if you want to take a cruise to marvel at the landscape, take a commuter ferry to somewhere like Lysnes. It's a two hour round trip between the islands, with snow covered peaks holding up the sky and occasional red, farmhouses squeezed into the space between land and sea. At 177 Krone, it costs a tenth of the all-in night cruises.
5. Breakfast
Breakfast buffets are popular in hotels so, as most packages include breakfast in the price, it is recommended that you take advantage, eat well and get a good start to the day. It also means you can bypass an expensive lunch.
6. Eating/drinking out
The food in Tromso is good and there are lots of restaurants (and cafes) to choose from, including Chinese and Indian! Fish is a specialty, naturally enough, and you can't walk more than 100 yards from one of the main hotels without passing at least two restaurants. Check the prices though. Drinks in bars (and restaurants) are expensive. A .4 litre beer is 130 Krone, so you might want to pick up somewhat cheaper options in a supermarket. The Mack beer is particularly good.
7. Rent clothes
The pre-holiday dilemma for many travellers is spending money on clothing that may never be worn again. The easiest option is therefore to rent it. We got full outfits (from boots to hats and everything in between) for 475 Krone each, for three nights, at Arctic Polare. Some excursions, e.g. dog sledding, include appropriate clothing.
8. Insurance
If you're planning on sledding or going on a snow mobile excursion, check that your travel insurance covers such activities. Your driving licence is needed for the latter.
9. Camera
Choose carefully before taking your camera: you do not want to spend all your time looking at a screen while the Northern Lights are performing overhead. If you do take a camera, you'll need a tripod, too, as the ideal exposure is measured in seconds and the tripod will avoid camera-shake. It is also worth noting that camera sensors will see the Northern Lights before the naked eye and make them look greener.
10. Northern Lights cycle
October through March is the recommended time to go Aurora hunting, with November and February particularly strong months. The best time of night to see the Lights is between 8pm and 12am (or 9pm and 2am, depending on who you talk to). The sun works through an eleven year cycle. The peak of this cycle was the winter of 2012/2013, but it will remain strong for another couple of years until the weakest part of the cycle is reached in 2018.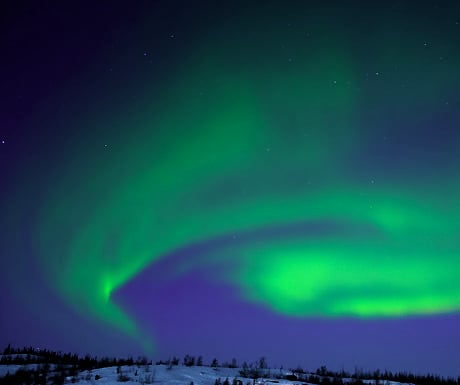 Kevin Markham is Owner of Golf Courses Ireland.
If you would like to be a guest blogger on A Luxury Travel Blog in order to raise your profile, please contact us.