By
Rajul Chande
on Apr 24, 2013 in
Accommodation
,
Bars
,
Europe
,
Food and Drink
,
Going Out
,
Hotels
,
Regions
,
Travel Miscellany
,
United Kingdom
,
Western Europe
While aperitivo has been a longstanding tradition in Italy, it is relatively new in London and other major cities.  A number of bars have opened in the UK capital to reinforce this trend including Il Tempo near Charing Cross and Banca in Mayfair. But you know aperitivo has really arrived now that an establishment like the Baglioni London in Kensington has launched its own luxury version.
I was recently invited to sample it with a panel of other Italophile London-based bloggers including Julie Falconer of A Lady in London, the head of the biggest London Italian meetup group Simon Carroll, and luxury foodie blogger Milla Msa. And I decided to make the most of the opportunity by interviewing the hotel's head barman Marcello Cabiddu as we sampled aperitivo at first hand.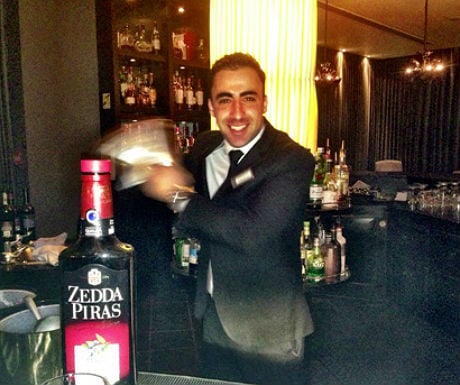 What is aperitivo?
"Aperitivo" is the Italian tradition of an after-work drink with light snacks, designed to help you relax after a busy day.  Although it is most closely associated with major cities like Milan, Rome and Turin, it is widespread throughout Italy.
As Marcello wistfully told me: "In my native Sardinia we sometimes enjoyed aperitivo before lunchtime", confirming that aperitivo is not restricted to a certain time of day.
What are the traditional aperitivo drinks that would usually be served?
"Since aperitivo is regarded as a transition to prepare the palette for dinner, the drinks usually have a slightly bitter taste and are often based on Campari and Aperol.  The traditional aperitivo drinks are the Spritz (soda, prosecco, Aperol) and Negroni (gin, vermouth, Campari), but there are no hard and fast rules.  Sparkling wines and bellinis are also very popular.  And there are also some bitter non-alcoholic drinks like Crodino."
As an experienced barman, have you ever tried to add your own twists to these classics?
"To celebrate the launch of aperitivo here at The Baglioni, I've invented a drink called Bitter Kiss.  It consists of Campari which has been infused for 5 days in berries which is then shaken with Cointreau with further fresh berries added.  I then top it up with Bellavista from Franciacorta and serve."
What sort of food is usually served with aperitivo?
"The key with the snacks is that they should complement the drinks and stimulate but not overwhelm the appetite.  Cheese and cold meats are always popular and here we like to serve the very finest Mortadella, Parmigiano, Mozzarella and other classics, together with regional Italian breads.
"But we also add our own special luxury touches with the snacks – as you can see from the images there was quite a variety.  Moreover we change these frequently so that people have an opportunity to come back and try something different on each visit."
Do you think Italian aperitivo is here to stay?
"Aperitivo is a timeless tradition in Italy and reflects our "slow food" culture and our obsession with the best ingredients.  This trend towards quality is something I see as a permanent shift – I've noticed the foodie culture become very important here in London as well as in other cities.  We're happy at The Baglioni to help bring this taste of Italy to other countries."
Rajul Chande is Owner of London Hotels Insight.
If you would like to be a guest blogger on A Luxury Travel Blog in order to raise your profile, please contact us.