From the mountains of the Andes to the deserts of the north, Argentina is truly a majestic place.  But the most awe-inspiring landscapes I've been privy to witness are found in the northwest corner, near the Bolivian border. Here in the Calchaquí Valley you feel as if you have entered a surreal, almost other-worldly realm, far from civilization but at the same time, still manage to have all the creature comforts of luxury travel.
My wondrous journey took me from the colonial city of Salta into the mystical Calchaquí Valley, exploring the multi-hued canyons of Cafayate, the high altitude vineyards of Taquil and Colomé, the town of Cachi and the Parque Nacional Los Cardones with its giant cacti, through the Cuesta del Obispo and over Piedra del Molino, the highest Andean pass dividing the desert on one side from lush green valley on the other, and then back to Salta.
What's truly incredible about a visit to this region is that it somehow makes time travel seem possible! The desert remains untouched and the local inhabitants seem to exist in a perpetual timeless world, living off what the land provides, unaffected by modern influences. A journey here offers a real insight into life in a landscape shaped by fierce wind and strong sun without the benefit of arable land – a place where condors soar high above and goats (and their related products) are the mainstay of the diet.
On my first foray into the valleys of Salta, I was joined by Fabrizio, my local guide for a whirlwind adventure filled with quaint visits to out of the way places and fascinating locals characters. This journey inspired the following top 4 places to visit in the Calchaquí Valley:
Quebrada de las Conchas and Patios de Cafayate Hotel
We began our journey with a road trip from Salta to Cafayate (about a 1.5-2 hour ride), dressed and ready to ride upon arrival. With a brief stop along the way at the local shop for some water and coca leaves, we made our way to Quebrada de las Conchas. WOW is all I can say! This incredible area is a geological marvel, with multi-hued canyons of varying colors of red clay, green stone, striated by chalk layers.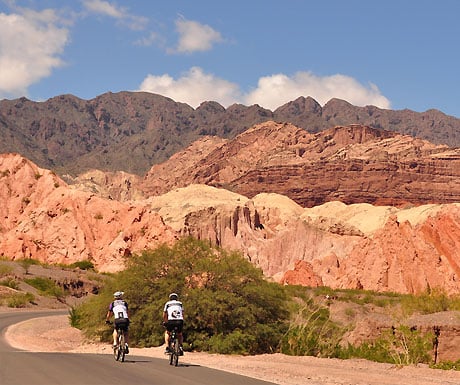 Here we met up with our local guide Adrian and began our ride through the rolling hills of this awe-inspiring gorge. Along the way, Adrian discussed the geography of the region and the explanation for these unique rock formations. Upon completion of the ride, we made our way to our hotel for the night, Patios de Cafayate, a classic Spanish hacienda set among shady courtyards and fragrant gardens – a beautiful oasis set amid the vineyards and within walking distance of town. It was here we had time to relax and enjoy the luxurious spa facility and amazing views of the surrounding grounds. We dined at the hotel's restaurant that night and sampled a selection of wines straight from its vineyard's bodega.
The wineries of Cafayate and Quebrada de las Flechas
The next morning found us off on another adventure – an uphill ride to visit the Yacochuya winery (0ne of the best wineries in the Cafayate area that offers a small production of high quality wine). We met with Cecelia, who opened the winery just for us on a Sunday morning for a private tour. It was an amazing intimate visit which was followed by a personal invitation to lunch with her at her family's home. What a warm and welcoming experience! Cecelia was all hugs upon our departure and I left feeling as if I had a new best friend – a truly special experience. We then biked down from Yacochuya to another tasting at Vasila Secreta, another small and very old winery in the area, before heading off for a scenic ride through Quebrada de las Flechas .
Here we were treated to a breathtaking ride through another other-worldly landscape. The next stop was an impromptu visit to a tiny little restaurant operated by a local family in their home. As we entered, we came upon the owner, Don Florida, who was sitting at a table playing guitar and singing a local folk song. He greeted us and led us out to his patio where he seated us underneath a trellis of grape vines – completely hidden away in his beautiful garden set amid the desert and mountains. Who would have known that such a wonderful secret little spot existed out his back door! As we snacked on homemade empanadas and beer, he showed us his collection of postcards that prior guests had sent him from around the world and shared his collection of various international currencies people had left him. He then pulled out his harmonica and began to play to his 2 person audience. What a unique out of the way experience on a random road stop! Fabrizio really knows all of the local spots to check out! Again, I felt as if I'd made yet another new acquaintance and promised to send a postcard from Boston upon my arrival back.
The high altitude vineyards of Colomé
As we made our way out the las Flechas and wound our way through what seemed like the middle of nowhere up to this incredible oasis set high atop the valley.  Here we found Colomé, and in essence, we found paradise – a jaw dropping experience!  This remote compound is owned by Hess and contains not only a luxury hotel, but the best bodega in the area as well as a museum of James Turrell installations.
There is no way you couldn't fall in love with this spot! And the wines are a perfect match. What an extensive tasting we had! Honestly, the whole Colomé experience is a must! You'll want to spend days here relaxing and enjoying every facet of this wonderful place. Parque Nacional Los Cardones: It is here that some great cycling awaits you at 7500 – 8000 feet! Welcome to the Parque Nacional Los Cardones. Another wow moment. Endless giant cactus line the desert for miles on end. As you ride along this packed dirt road in the middle of nowhere, condors fly high above and a subtle breeze cools your skin – an eerie yet exhilarating feeling. And while not the easiest of cycling (as it contains some challenging climbing at altitude),  it's well worth the effort! Another must to add to the list.
Lunch at Casa de Campo La Paya
After a great ride comes a delectable lunch. Fabrizio took  me to yet  another one of his local favorite spots, Finca de Paya to meet the Ruiz Moreno Family. Set in a garden behind the family's hotel in a village of 100 people, is an amazingly quaint tea room and restaurant run by the family's two sisters. And the meal, oh my! It is an absolutely delicious take on local cuisine. Everything is prepared on the spot from a daily menu that uses only the freshest of local and seasonal ingredients. This perhaps might have been one of my best meals yet. Not to mention, I felt like we were part of the family, dining al fresco in our backyard. A secret spot well worth revealing!
There are so many hidden gems in the Salta region, but I think I'll save some for you to discover on your own! A truly mystical experience in this fascinating corner of Northern Argentina awaits…
Andy Levine is the President/Founder of DuVine Cycling + Adventure Co.
If you would like to be a guest blogger on A Luxury Travel Blog in order to raise your profile, please contact us.