Watergate Bay on the rugged north Cornwall coast is one of the United Kingdom's top beaches, rated highly by locals, relaxing holidaymakers and professional surfers alike. Facing due west out across the vast Atlantic Ocean, the natural beauty of its white sandy beach contrasts dramatically with the towering cliffs of stratified green and purple slate, which themselves in turn capture the red ochre of the sun as it slowly sets into the watery blue curvature of the earth. This photo was taken as dusk was falling and surfers were catching the last waves of the day, perfectly capturing the tranquillity and unspoilt expanse of windswept beach, allowing one's mind to drift, effortlessly, into relaxed contemplation.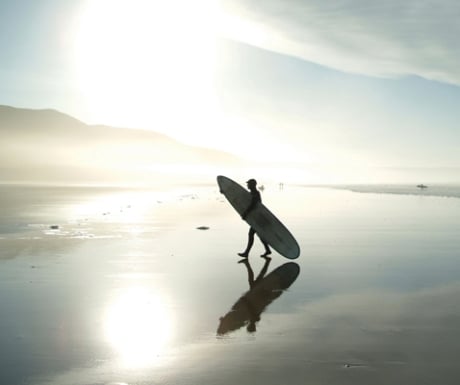 Thank you to the Harbour Holidays for permission to re-produce the image.
If you have a really special photograph you would like to share with  A Luxury Travel Blog's readers, please contact us.