There's nothing we like more than being able to relax on a throne with a fantastic view. Many lodges make the most of their surroundings by making sure guests can see the stunning and dramatic scenery and, so for your own viewing pleasure, we hereby share five of our own favourites:
The bathroom in room 1 is enormous and offers stunning views of a vast expanse of bush making up Meru National Park. Buffalo and elephant graze happily below you on the savannah and you can easily find you've suddenly whiled away a few minutes spent soaking up the view from the loo. Let your mind drift to the time when George and Joy Adamson lived in Meru and carried out their pioneering anti poaching measures and rehabilitated many a big cat.
Tassia has some of the best views of Northern Kenya stretching before it, and the lodge also sits at the same height as the hovering birds of prey so you can enjoy a relaxing bathroom experience looking out towards Samburu. The red dust sends up puffs of cloud below you as elephants joyfully play in the Tassia waterhole and birds soar around you.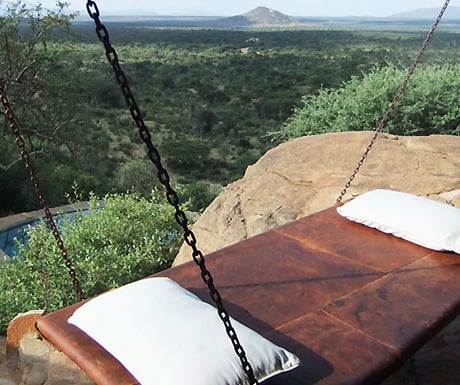 The Zambezi River is one of the most famous rivers in Africa and its might never fails to impress. Fitting for a river of this size it is also full of crocodiles and hippo, which are easily spotted from your throne at Old Mondoro. Hippos are fascinating creatures often providing hours of entertainment as they wallow and make their infamous crowing noise. Elephants can also often be seen splashing in the river.
Uncharted Mobile Camp, Botswana
Uncharted offer an ultra luxurious mobile camping experience through the Okavango Delta and the Kalahari, the tents are opulent and decorated with authentic campaign antiques which make you feel as if you are the first person to explore Africa. Your huge luxury tent comes with an en suite at the back, complete with large open air antique throne, which wouldn't look out of place in a large Georgian mansion! When sitting on your throne you can peak out over the top of the canvas and survey the surrounding bush. As these mobile camps are often in very remote game rich areas you never know what you might see from the safety of your canvas cubicle!
Isalo Rock Lodge boasts huge luxury bathrooms complete with panoramic views of the dramatic limestone formations, which make Isalo National Park such a magical destination. You might even be lucky enough to have a lemur peering in at you whilst you soak up the view from your loo.
Rose Hipwood is Managing Director of Africa Rose Travel Ltd.
If you would like to be a guest blogger on A Luxury Travel Blog in order to raise your profile, please contact us.