Being out in the wilds of Africa is an experience which most people find grabs all their senses and puts them in a dark velvet bag, and shakes them up before handing them on a silver plate – all new and shiny!   For the majority of safari-goers this sensory polishing happens even when they stay in enclosed lodges or tented camps.   How much more exciting though if you sleep outside, under the African night skies, in your very own 'star bed'.
No, I'm not talking about roughing it on a camp-out – though of course this is an option.  A star bed is much more than this.  A star bed is a proper comfortable bed, with good linen and pillows, draped with a mosquito net which of course looks romantic and keeps the bugs off.  Critically though, it is in the wild and you are out there – just you and the stars.
There are a few places where you can enjoy this wonderful experience, and here are four of my favourites which are all very different.
Loisaba Star Beds in Kenya's Laikipia Plateau
Placed on a high wooden platform, with a private bathroom under a thatched roof, your four-poster star bed is wheeled out from under the thatch when the skies are clear.  It is a huge double bed and the view from the bed is just incredible.
Shenton Safaris Elephant Hide, South Luangwa NP, Zambia
If you're an elephant lover, this is definitely the star bed for you.  It is set in the boughs of a huge tree overlooking the Luangwa River at a point where elephants commonly cross, so morning and evening (and evening during the night if the moon is full) you can watch elephants from your bedroom!  Again, it's a proper comfy bed, and you are given lanterns for light, and an armed scout is never very far away.
Lake of Stars Bed at Nkwichi, Lake Malawi, Mozambique
This is pure romance by the beach.  The sleep-out deck is on a private rock island which is 10 minutes by boat from the main lodge of Nkwichi. You're served sundowners on the rocks before a gorgeous evening meal. The staff then return to the lodge and you have the place to yourself (though you're in radio contact if there is any problem).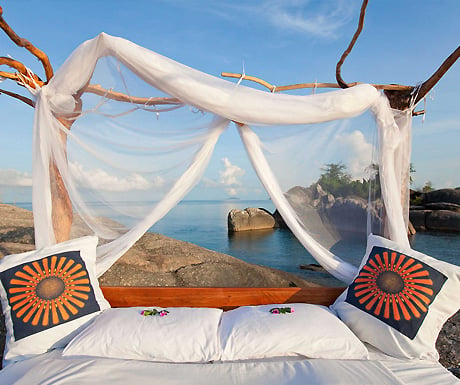 Malori Sleep Out Deck at Tswalu in the Kalahari, South Africa
The plains of the Kalahari stretch out before you. Your king-size bed is on a raised platform partly covered by thatch. There is a bathroom a short distance away, and camping chairs and a cushioned couch for evening relaxation before bedtime.  Your chef prepares you a sumptuous dinner before leaving you for your night under the desert stars.
Amanda Marks is Founder and Managing Director of Tribes Travel.
If you would like to be a guest blogger on A Luxury Travel Blog in order to raise your profile, please contact us.