We've found over the years that some of our best breaks have been when we've self-catered.  Home away from home is sometimes as nice as staying in a hotel, and invariably the space and privacy are second to none.   These are a few of our UK favourites from our travel overs the last year or so:
We stayed here last October for a part week.  The barn actually sleeps 4 people but we had it for just the 2 of us.  It's hidden up the hill from Dittisham in a real 3G/phone signal black spot which makes for the perfect escape from work emails!  We did find that there was reception on a very high windowsill, but actually relished that there was not even wifi access for once.  The view from the garden is stunning, across the hills – there isn't a water view, but the location is only about 20mins from the river.  The owners keep alpacas which are very cute and will be watching for you in the morning over the garden fence!  They enjoyed our carrots, but I think have quite a refined palette so they won't eat any old left overs!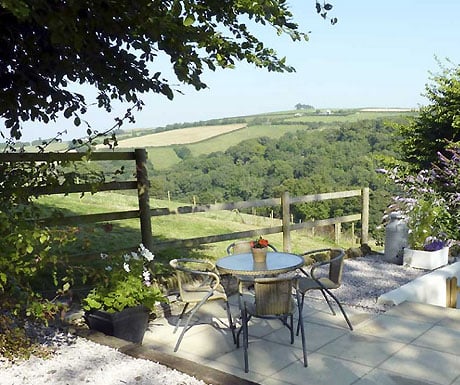 The accommodation has certainly been refurbished recently, but I remember that I wrote in the visitors book that it felt like we were the first guests!  It was really good quality.  Dittisham is a great base to visit Dartmouth and the village of Dittisham has 2 pubs, one right on the water front which is lovely.  Take your walking boots as there isn't much parking in the village so it is easier to stroll down from the house if you don't mind a 20min or so walk.  There is a big garden to the front of the cottage so I think it would be a lovely place to sunbathe in the summer.  We took our bikes and there is plenty of space to store them near the cottage – Devon is more hilly than I expected but we had a great cycle out to Sharpham's winery and back one day.
Yr Hafan, Haverfordwest, South Wales
We stayed here over Christmas a few years ago – it was our first since getting married and we decided to just get away from everything for a few days!  We picked the Pencaer cottage having been recommended it by good friends – in fact as a group of 4 friends from university, I think we have all now stayed there!  The place actually has 2 self-catering cottages and 2 B&B rooms, it would be an ideal base for a group to go away together, but still have privacy too.  We were the only ones staying when we were there but the grounds are big so even with up to 8 guests I don't think it would feel cramped.
There is loads of garden space, I can imagine it would be wonderful in the summer too!  One of the best bits was definitely the location – from Pencaer you see straight across fields to the sea, it's a stunning walk down to the sea along lanes and through a few fields.  The cottage is also done up to live in, so the kitchen equipment is great – we cooked a full roast and the fridge was big enough to hold food and wine for a week!  The piece de resistance in the cottage is the bath,  it isn't full length, but it is really deep.  As a result you can sit in water up to your shoulders and read a book.  There is also ample room on the edges of the bath to stably hold a wine glass!  In a nearby village (Porthgain) is a Michelin * fish restaurant and also a really cute little pub.  This is a really unspoilt part of Wales well off the beaten track.  The proprietors were really helpful and friendly.
Mill House Cottage, Brancaster, Norfolk
I know the north coast of Norfolk incredibly well having spent my childhood summers there. It was a triumph to take my husband there for the first time a few years ago and is somewhere we'll forever return to.  We chose a little cottage in Brancaster rather than staying in one of the many boutiquey hotel/pubs, really because the area does attract a lot of wealth and it is nice to be able to turn off the London chatter by staying in a cottage!
This cottage is walking distance from a great pub and also if you walk out to the golf course you'll see a stunning sunset looking out to see and over towards Scolt Head Island.  When we visited on this occasion we took our dinghy as Brancaster Staithe Sailing Club had an open meeting – sailing here is amazing, the tide comes in rapidly and suddenly you have this massive sailing area, and some big waves to play in.  A great walk is to be had from Burham Overy Staithe through to Holkham and then get the bus back.  Burnham Market is also a great place to visit, the Deli is amazing and the shops really are very classy.  Head over to Burnham Thorpe to visit the Lord Nelson pub – Nelson grew up in the village and the pub is very quirky, it doesn't even have a bar!  Cley and Thornham are 2 other nice places.  There are countless places to stop for meals.  I don't think this part of the country ever gets busy thankfully.  Mill House is very small and quaint, it isn't flash but is has comfy beds, a good kitchen and there's some outside space to sit in the sun.
I almost want to include camping on here, but I think that when 'luxury' is my husband going to McDonalds and bringing breakfast back to the tent, that isn't exactly the sort of advice that lovers of luxury travel will want !