The recent announcement of this year's list of the best restaurants in the world has cemented Spain's place at the top with more Spanish chefs in the top ten than any other country. Not only did the Roca brothers climb to number one with The Cellar de Can Roca in Girona, but Basque restaurants Mugaritz and Arzak stole numbers four and eight on the list respectively. Still, it's not just the chefs from the north of Spain serving up magnificent food; many chefs on the southern coast are also making a splash. Here is a list of some of the best chefs and restaurants from Malaga Province in Andalusia.
Dani Garcia is easily the best known chef on the Costa del Sol and his restaurant Calima, in Marbella, boasts two well deserved Michelin stars. Playing with contrasts and contradictions, Garcia takes traditional Andalusian flavours to a whole new plane of existence and his presentation is second to none.
Jose Carlos Garcia, of JCG restaurant at the new Muelle Uno port development in the city of Malaga is no relation to Dani Garcia, but he shares more than a name in that he also holds a coveted Michelin star. JCG is the chef's follow up to Cafe de Paris, which also was awarded a Michelin star, so Garcia is no new comer to top class cuisine. His newest restaurant was an immediate hit, earning a star within the first year of opening.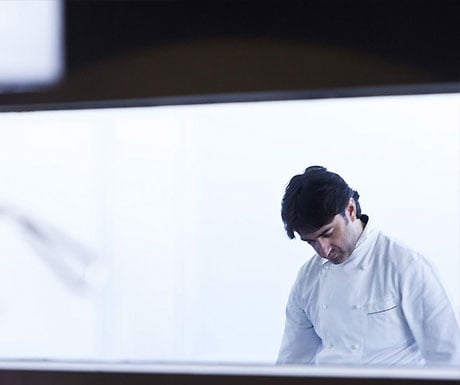 Back in Marbella, Skina restaurant also holds a Michelin star and is a collaboration between two talented chefs, Hideaki Yoshioka and Jaume Puigdengolas. This may be the smallest restaurant to ever be awarded a Michelin star but the food is big on flavour and creativity.
La Consula, in Churriana, does not have a Michelin star but it has trained chefs who went on to earn a star; for La Consula is not really a restaurant but a hotel school set in a beautiful 19th century estate. As such, diners are served by trainees in the kitchen and on the floor, but the elegant food and the spot-on service lack for nothing. This is the best food for the money anywhere in Malaga Province.
Chef Juan Quintanilla, of Sollun restaurant, was the original head chef at the above mentioned Skina restaurant in Marbella. He's taken the road less travelled and headed down the coast to Nerja in an unpretentious location, though with his passion and creativity surely the Michelin star must be soon to follow him.
The self-named restaurant Amador, from Chef Amador Fernandez, sits high above the city of Malaga with fantastic views from the Hotel Guadalupe. With an international flair and an ever changing menu, if the views don't keep you coming back for more the food will.
Med
Situated on the cliffs above the Mediterranean in Torremolinos, the Med restaurant also has views to make any visit worthwhile. Nonetheless, the food is definitely the main attraction here. With a classy tasting menu to defy the locale, Med is a breath of fresh sea air on this part of the coast. (Calle de las Mercedes 12, 29620; +34 952058830)
There are many other wonderful restaurants in Malaga Province, included some unmentioned Michelin star restaurants (El Lago, Marbella, for example); what restaurants would you have included on this list?
Alan Hazel is Owner and Director of Cortijo El Carligto.
If you would like to be a guest blogger on A Luxury Travel Blog in order to raise your profile, please contact us.