By
Paul Johnson
on May 29, 2013 in
Accommodation
,
Bulgaria
,
Eastern Europe
,
Europe
,
Hotels
,
Leisure Travel
,
Regions
,
Resorts
,
Spas & Pampering
,
Speciality Travel
,
Travel Miscellany
,
Videos
Are you tired of the noisy Summer resorts packed with tourists and no space for you to enjoy on your own? Are you looking for a more relaxing holiday, surrounded by pristine nature, fresh mountain air and crystal clear springs? Then look no further than Bulgaria's beautiful Pirin Mountain…
It turns out there's a lot to love in Bansko – known as the best ski resort in Bulgaria – after the snow melts. In fact, Pirin Mountain offers a lot more this time of year than any other season. Hiking, biking and various kinds of excursions for every kind of traveller are the best way to discover the treasures of the region. With a history that dates back all the way to the first antiquity – that's the 1st millennium BC – and after spending years under foreign rule, including Alexander the Great and the Romans, Bulgaria established its first empire and played a major role in cultural development, philosophy, agriculture, language and social structure. Bansko is the perfect starting point to explore this cultural gem and feel the real spirit of Bulgaria.
At Bansko's Premier Luxury Mountain Resort there are superb spa facilities and unique fitness programmes for the traveller looking to relax and rejuvenate. Whether you like a new head start in your life or just to recharge your batteries, this is the place for you.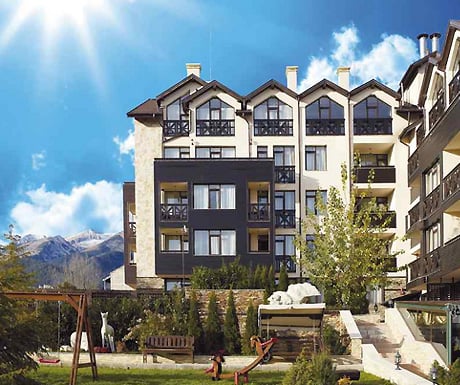 The warm weather, the pristine nature and the alpine character of the Pirin Mountain offer the perfect environment for hiking and biking holidays for all levels. Unique rock formations, lakes, various beautiful hiking routes and the majestic nature call on all mountain lovers to escape from the everyday routine and enjoy the best in life.
You will be surprised of how many things you can do in Bansko during summer! You can choose whether you want to relax, enjoy nature and rejuvenate or have a holiday full of fun and adventure! You can enjoy the opportunity to discover the real spirit of Bulgaria and visit traditional places. Fun, adventure, culture and tradition – you can enjoy it all!