The best high-end vegetarian restaurants in Berlin
Germany
– admittedly – is a big meat eating culture. Traditional German cuisine is heavy on the Fleisch (German for meat), especially pork. If you don't eat meat (or want an easy version of eating kosher while traveling) it can sometimes be hard to find good restaurants. Many travelers tired of the token veggie pasta on the menu or pizza marguerita have asked me for some good vegetarian options. So to make eating out as a vegetarian an easy highlight of the day instead of a disappointing and sometimes downright painful experience read on. Following up on my top 10 luxury restaurants in Berlin, here are my favourite high quality vegetarian and vegan options in Berlin at the moment (and not a pizza marguerita in sight, I promise!)
Cookies Cream
Owned by the same Heinz 'Cookie' Gindullis – a Berlin entrepreneur who opened the Cookies nightclub (an absolute Berlin nightlife institution). The head chef here is Stephan Hentschel – one of Germany's rising celebrity chefs and the kitchen here is worth a five star rating. Here you will never have a lacklustre meal, you can try such diverse dishess such as Pearl Barley Strudel with 'Piet de Mouton' or Swede Cannelloni with Brussels Sprout leaves. A must try is the incredible parmesan dumplings.
Lucky Leek
These folks provide a menu which changes every week to utilise seasonal and regional products. Vegan with a capital V this restaurant does not scrimp on quality. At the moment it is asparagus season in Berlin and you can savour such wonderful delicacies such as Parsley Dumplings with Fried Beelitz asparagus with Beet and Walnut Confit and Lime Hollandaise. They are located in the trendy suburb of Prenzlauerberg, a short cab ride from any of the fabulous central 5 star hotels Berlin has to offer. If you're inspired by their cuisine, they've also just released a cookbook so you can make it yourself when you get home.
Kopps
Another fully vegan option, this recent addition to Berlin's veggie options takes vegan to gourmet heights. Whether it be a lazy sunday brunch or an evening out in the bustling Mitte district, the menu here is packed with the astounding dishes you can create without a single animal product in sight. Whether you're looking for cocktails and finger food at the bar or a full 4 course menu you won't be disappointed here. Fresh seasonal ingredients are the highlight here which at the moment means the delicious white asparagus – the german version of which is only harvested for 2 months of the year and is an absolute highlight of early summer in Berlin.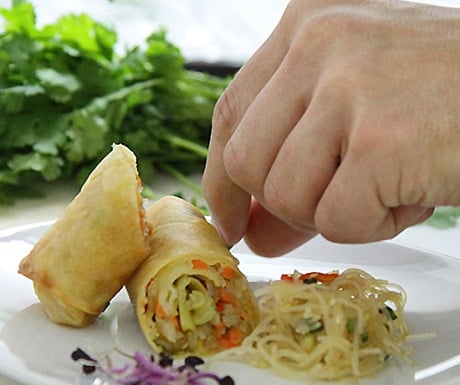 Chipps
A lovely bright, airy space with large windows and a patio for summer eating, this is a perfect option for lunch whilst out exploring the streets of Berlin or dinner after a hard days sightseeing and shopping. Making the most of locally sourced, often organic ingredients, this place is created by the same team who set up Cookies Cream (see above). Perfect if you're with friends who eat meat, as you can order 'with meat' versions of the vegetarian dishes. With a 4 course menu and accompanying wines for 50euro per head, this is vegetarian luxury on any budget (a la carte menu also available). Whether you try the Oven roasted Peppers filled with Bulgur, vegetarian Gulasch or home made pasta with the (at the moment) ever-present white asparagus, cherry tomatoes and herbed marscapone you will not be disappointed here.
Penelope Hassmann is Owner of Berlin Private Tours.
If you would like to be a guest blogger on A Luxury Travel Blog in order to raise your profile, please contact us.
Did you enjoy this article?
Receive similar content direct to your inbox.