UK and Ireland short breaks – 6 very different ideas
Much as my writing seems to indicate a fondness for overseas travel, it wasn't until I was 22 and sailing as part of a crew on a large racing yacht that my desire to leave the
UK
regularly began – even if it was on an easyJet plane with my 22 crew-mates suggesting that every judder of the plane meant the end of the world was coming.  Up until that time I was lucky enough to have divided Summers between visiting family in Cornwall and sailing in the creeks between Brancaster and Burnham Overy Staithe – which remain my go-to places if in any doubt that I need a holiday and don't have the time to think about where;  my husband is now a convert to each.  Some of our best memories and easiest holidays have been in the UK.  Normally for a UK break we load the car up and go self-catering, but we have also had some great hotel mini-breaks too.  Here are some of my favourite places:
The George – Cley, North Norfolk
North Norfolk is my favourite place in the world, despite the wonderful places we've visited overseas that have been superb.  The north coast is unspoilt and empty, even in the summer.  Snobby to say so, but long may it stay that way. 
The George
is the sister hotel of another in Blakeney that my parents often stay in.  Cley is a birdwatchers' paradise too and the sea is but a mile or 2 away – well, the beach is – the sea could easily be a few more miles on depending on tide state!  Each of the rooms here is different – ours was small and comfortable and up in the rafters.  It is essentially a pub with nice rooms and is located in a cute and unspoilt coastal village which has the most amazing deli as well as a bookshop and a few art shops.  We visited when I was poorly and I slept peacefully in our room up in the loft (which has a bit of a view of the marshes) undisturbed by the road which runs around the outside of the property.  There is good restaurant food on offer and also a nice pub garden across the road. In this part of the world you are spoilt for choice for nice places to stay of this ilk, be it
The Ship
in Brancaster or
The Hoste
in Burnham Market to name a few I would like to try in the future for more than lunch or supper or drinks or a whole host of self-catering cottages which are equally good.  I think the George was one of the lower priced nice pub rooms options, but I specifically picked it as it has been there for as long as I can remember – the
White Horse
in Brancaster is a new development but I fancied something older.   There is so much choice in the area if you like fine dining, delicatessens and posh shopping.  Better still are the beaches – they are empty and beautiful. Added together this means you are sorted for UK Summer weather!   It is normally a very long walk to get to the sea, but stunning nonetheless.  There is a regular enough bus that runs along the coast so if you have a day to spare then a great walk would be from Overy Staithe, out to the beach and back along the coast to Holkham with cream teas at the hall before catching the bus back.  Spend a morning in Burnham Market (don't miss the hat shop), visit Burnham Thorpe where Nelson grew up and walk out to Brancaster golf course for sunset on the beach – just a few ideas. We are very much overdue a trip back there. If you do visit this area then do stray off the main road along the top of the coast, the villages are all centred around the road, but to drive straight through and just see that part would be to miss the best bit of the area which is the wide flat salt marshes which go on as far as the eye can see.  If you are a dinghy sailor then there is great sailing (at the right state of tide) and one of our favourite events was an open meeting at Brancaster where the sailing area was above the beach that we had strolled along the previous evening – awesome waves as so shallow!
The Bull – Bridport, Dorset
Happy engagement memories from here!  Bridport is near to West Bay – or 'Broadchurch' as it shall now be known – which is on the Dorset coastline in the area where there are stunning orange cliffs.  Bridport, it would be fair to say, isn't the prettiest of towns, but it is quaint with some cute gift shops and you can certainly walk to the beach (30mins) from
The Bull
.  This hotel/pub with rooms is quirky – each room is different and exotically decorated, full of fancy 4 poster beds and roll top baths and nice smellies. A lovely find – I wanted something that was a bit different to a B&B and this did the job nicely.  The hotel restaurant does good food, and across the road there is a Thai and a nice and hip wine bar a little way down the road. There is a good wine list in the restaurant although we did think that our red-wine was a little cool from the cellar and changed to another bottle which isn't something we have a habit of doing.  It is a great base to see Austen country and there are some lovely walks to be had along the coast.  It's similar to Devon in some ways, but closer – so it's a good option for those heading away to the beach from London as it is much quieter and prettier than the likes of Bournemouth and Poole, but is perhaps 2.5 hours driving time.  The rooms are big – we changed rooms during our stay as it was a last minute booking and so couldn't have the same room throughout.  Both were nice and spacious – although I do think there are some smaller ones.  The hotel is on the main road in the town so there is traffic (although it didn't disturb us) and the front windows do look out onto the buildings on the other side of the road.  Would be a great place for an event – there is a beautiful ballroom and upstairs lounge bar which caught my eye.
The Drunken Duck – near Ambleside, Cumbria
My husband has raved about this place for longer than I can remember and we finally went to stay there a year or so ago.  It is not cheap and they are strict about corkage if you want to bring your own wine.  That said, it is somewhere I always recommend if people are looking for a fancy but rustic chic get away in the Lakes.  Breakfast is amazing, and the room rate also includes afternoon tea which you can take either in the lounge, or in your room at no extra cost.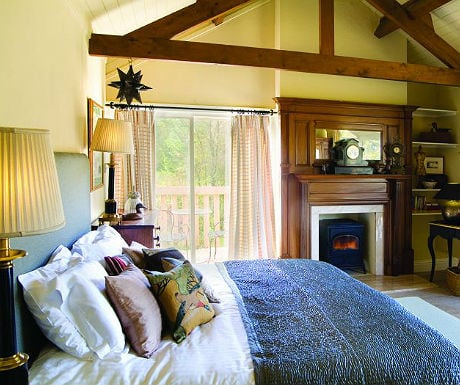 You'll want to meet the resident ducks – in fact they probably want to meet you more!  They followed us out to the garden for afternoon drinks and then back into the hallway of the hotel area.  Our room was on the first floor and in the building that isn't connected to the pub – which I would assume is the quieter location.  There is a complete variation of room types and prices – we went middle of the road and were perfectly happy.  Having looked into one of the most expensive rooms it was notable how much more space hey had and the chairs looked very comfortable; however we used the lounge area in the main building and that was never busy. My only complaint would be that there didn't appear to be a drying room and given that you would typically visit the area to partake in outdoor activities, it would have been useful.  What was useful was the reciprocal membership to a nearby spa hotel – which meant that on a rainy day we could spend a morning using their facilities.  The restaurant is great and very popular with non-guests.  Plenty of choice and a real mix of good solid English meals and the more quirky.  My husband can confirm they have a good choice of whisky!
Aghadoe Heights – Killarney, Ireland
Quite possibly one of the ugliest exteriors of a hotel that I have ever seen… and we arrived in the dark and I still thought that! But all was forgiven when I saw the view over the lake which is just spectacular.  Concierge showed us to our suite when we arrived in the evening and recommended that we leave the curtains open overnight.  As dawn broke we had the most amazing luscious green view I have seen, right across the lake.  We just weren't expecting it especially having arrived in the dark – a view I would never get bored of!  This hotel is geared up for American visitors and it is American spec… so don't expect to need breakfast and lunch! Breakfast was a feast for the senses, and of course it has the view as well, so does the bar and terrace area – you just can't get enough of the view.  We stayed in a suite and it was massive, with windows all down one side, and with unbroken views of the lake. A great base to see the area, I would recommend a day spent driving around the lake with lots of stop-offs to take in the view.  We also enjoyed the beach at Inch.
Chewton Glen – New Forest
A firm favourite as we know them well and relish our visits there.  If you don't want to stay, then the set menu lunches and dinners are a feast for the senses and service is top notch.  We chose a tasting menu for supper and had the wine matched to it – this worked out a better price than had we dined a la carte and also meant that we got the highlights of the menu rather than struggling to choose. I don't think I would be unfair in saying that
Chewton Glen
has maintained something homely with low key luxe that other 5 star hotels in the area have been unable to emulate.  Yes, it is fancy beyond belief, but I felt more than comfortable walking down from our room in my socks to find a pair of wellies for a walk in the rain – felt just like home, just a shame home isn't as like it as I'd like!  Everything about Chewton Glen is perfect – even when you leave.  On departure your car appears and your luggage is packed – and then you get water and biscuits for the journey!  The rooms are stunning – I have seen round some of the more recently refurbished ones and they look amazing.  Am yet to see the treehouses but they are getting wonderful reviews and bring a whole new meaning to glamping – I love the breakfast hamper that is delivered through a hatch each day.
We stayed in a junior suite and it was sufficiently spacious and comfortable.  Room service can be ordered using a tablet computer that is in the room – clever!  The afternoon tea is of course amazing.  The spa is great – we didn't have a treatment but did enjoy the facilities.   There is an indoor pool long enough to do a good length swim in, an outdoor Jacuzzi and all manner of indoor water spa pools to enjoy (I'm afraid I'm not sure what health benefit they have but the bubbles were fun!).  There is a lovely walk through the grounds along Chewton Bunny stream to the beach – wellies and umbrellas provided. What I like most about this hotel is that being one of their younger guests I have never felt out of place – everyone is treated equally from what I've seen.
Coombe Abbey – near Birmingham
I stayed here with work a few years ago and then more recently we stayed for a night because we had a skiing lesson at
Tamworth SnowDome
the next day and it was the nearest rural hotel.  This hotel does seem to be more of a 'venue' for large events and so I think you need some care in when to stay there – we found a Sunday night worked well as whilst it was busy with lunch, it was relatively peaceful in the evening.  I would also recommend that you request one of the rooms that isn't the standard, as I believe the standard rooms aren't in the old building and so you'll miss out on some of the quirks of the place. Afternoon tea was great here – especially because you can choose between the normal afternoon tea and also a cheese one, which comes with cheese as well as warm cheese scones. I was quite stuck with whether I preferred the cream ones or the cheese ones – so we had both to share!  Supper is fun too. The dining room has bird cage style seating in the corners, and I suggest you request in advance to eat in one as it is a great experience and just a little bit different.  On the Sunday evening there was a set menu that was both good value and also very tasty with sufficient choice – we were impressed with what we got for the price.  Extensive grounds – they were busy as it is a country park open to the public – but there is also a garden area for hotel guests. This place is big and whilst it certainly isn't 5 star like the ones above, I would be nervous that if there was a big event you might not get great service.  My favourite bit about this place is just how quirky it is – take time to sit and have a drink in the entrance hall and enjoy all the furniture and wall hangings – a really interesting place, or as the hotel calls itself 'no ordinary hotel'!
Did you enjoy this article?
Receive similar content direct to your inbox.