3 top tips on planning a luxury safari
There are safaris and safaris of course, but what makes a safari a
luxury safari
? Is it the accommodation, the location, the food, the guiding, the vehicles… or something else?  Well, it's all of these things and more, but there are a few key things you can look out for to ensure your safari is very special.
Location
Assuming that a top quality wildlife experience is one of the main reasons for coming on safari, you firstly need to choose the best location. What's the point in spending your hard-earned money going on a luxury safari to a place where you don't have the very best chance of seeing what you want to see?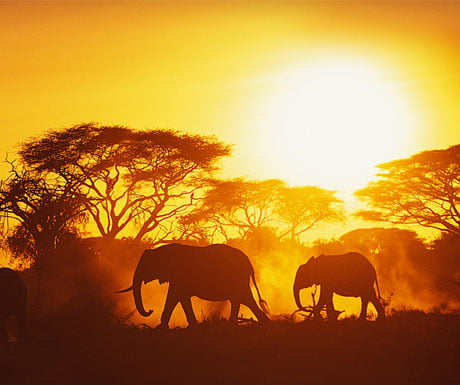 Which reserve or park to choose will partly depend on time of year and partly on what you're hoping to see.  Even when you've chosen the reserve though, there are often some particular spots which are way better than others.  For example, in Selous, a huge reserve in southern
Tanzania
, to be in the thick of the wildlife you probably want to be roughly in the Lake Manze region, or by the Rufiji or Ruaha rivers. Another point to bear in mind is that often you get a more exclusive experience in a private conservancy rather than being in a national park. For example, you might think that being in the midst of the Masai Mara is the best place to be.  Well, it might be, but you could also find that staying in an adjacent private conservancy such as Naboisho gives you the best of both worlds – far fewer people and vehicles in the conservancy yet the ability to go into the Mara itself when you like.
Guiding
A first class guide is top priority on a luxury safari.  Some countries have grading systems so you can tell whether a guide is good or not, such as Kenya with its bronze, silver or gold standard guides. In other countries, such as Zambia, the training system for guides is generally agreed to be excellent, so guiding is mostly top notch there.  Outside of this, however, it can be a bit hit-and-miss. At this point you are reliant on the knowledge of your tour operator to ensure you have someone who really will know his civets from his genets, or his blue-breasted bee-eater from his cinnamon-breasted bee-eater – if that's important to you. But a guide's skill is not just about his field knowledge. You will spend quite a lot of time with a guide so they need to be good people-people, with an ability to quickly gauge what you like. If you're a keen photographer, they need to be aware of this, and be sure to position the vehicle at appropriate angles. Ideally, I'd recommend travelling in a private vehicle with your own guide where possible. This way you don't have to compromise on the experience you want because of other lodge guests travelling with you.
Accommodation
Most safari-goers would agree that a luxury safari requires luxury accommodation. However, in this sphere everyone's idea of luxury can vary greatly.  Some people
must
have solid walls and air-conditioning. A private plunge pool might be a prerequisite just as much as a bath as well as a shower (inside and outside of course).  Of course if this is a priority to you, then this should lead your choice of safari to a large extent, and there are many places which can offer all this and more, such as your own butler.
On the other hand, if you're in the middle of nowhere in a remote African reserve (which is a privilege in itself) most of the facilities just mentioned simply wouldn't be available. Does this mean it's not a luxury safari any more?  Not to my mind. If you choose exclusive small camps which offer the personal touch and a high level of service, you can be in quite a simple tented room and still be getting a top class experience. I do however think that food on a luxury safari must be nothing other than superb – and thankfully, most luxury safari lodges and camps are under no illusion about this.
Amanda Marks is Founder and Managing Director of Tribes Travel.
If you would like to be a guest blogger on A Luxury Travel Blog in order to raise your profile, please contact us.
Did you enjoy this article?
Receive similar content direct to your inbox.