Top 5 luxury excursions in Koh Samui
Travelling to Koh Samui is a once in a lifetime experience so if you decide to give it a go then you should go all out and ensure you enjoy every last luxurious inch of the isle. Make sure your trip is even more memorable than you imagined by choosing from one of our five top luxury excursion ideas.
Samui temple tour
Koh Samui is packed with culturally relevant and fascinating temples. They're just must-see elements of the isle and taking a tour of the finest examples is something you don't want to miss. Begin with Wat Plai Laem famous for its huge Chinese Buddha and then visit the ancient Wat Samret. From here you can go along to the world famous mummified monk at Wat Khao Po and learn his fascinating story. The temples are central to Koh Samui's culture and not visiting them would be a great shame.
Embrace the spirits
Koh Samui is somewhere that anybody with an interest in spirituality can truly experience new levels of enlightenment. Even if you're not you should enjoy the peaceful atmosphere surrounding the island's shrines. Making an offering can be a fascinating experience and who knows perhaps you will achieve the personal dream you've wished for.
Private fishing trip
One of the cornerstones of a luxury experience is the chance to enjoy fascinating experiences in the intimate company of only those who matter to you. You can hire a private Thai fishing boat and relax in a private, designated fishing area where you can watch the locals at work and perhaps catch some fish yourself.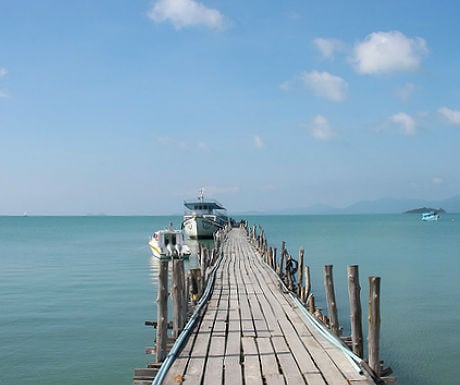 Kamalaya Wellness Sanctuary
This is a must-visit attraction for anybody who wants to reap the holistic benefits of Koh Samui. It's a fantastic spa resorts within a few short minutes of many of the luxury villa options in Koh Samui. Kamalaya is the place to be to enjoy a full detox, relaxing yoga and treatments for stress and burnout. You can finally achieve complete relaxation in an intimate, luxury spa resort.
Diving experiences
One of the activities that you cannot miss when visiting the beautiful isle is the chance to dive. Scuba or deep sea diving is available and for a spot of luxury book your own private charter and dive under the instruction of paid instructors working on your time.
To get the best out of your Thai holiday you simply must enjoy the heights of luxury. You will not be disappointed if you try out these five fantastic excursions.
Mark Cox is Director at Samui Island Villas.
If you would like to be a guest blogger on A Luxury Travel Blog in order to raise your profile, please contact us.
Did you enjoy this article?
Receive similar content direct to your inbox.