Recipe of the week: Simmered halibut with celeriac, shellfish & squid
For a truly inspiring summer dish, halibut offers a light delicate texture naturally infused with a distinctive flavour – perfect for serving at home during the warmer months. This recipe creates an inspiring partnership of shellfish and celeriac for the season. The dish marries delicately cooked halibut with razor clams, cockles and winkle tongues from British coastline. The combination of textures complements the plethora of distinct sea flavours to ensure that guests will experience something subtle and unique.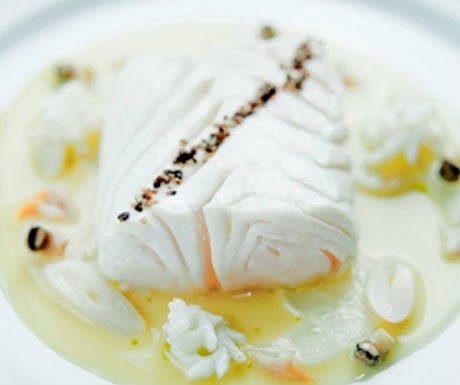 Ingredients
Garnish:
½ celeriac 2 razor clams 16 cockles' tongues 24 winkles' tongues 1 clove of garlic 20 segments of squid
Jus of shellfish:
500g of mussels 1 shallot 1/8 fennel 5 cl of olive oil 20 cl of white wine 1 clove of garlic 1 lemon juice 40g butter Black pepper Cockles jus
Halibut:
4 portions (100g per portion) 5cl of olive oil and lemon condiment Salt flower 1 litre of fish stock Crushed black pepper
Directions
Prepare the garnish
Cut the celeriac in tear shapes of 5mm thick, cook them in boiling water.
Make the Jus of shellfish
'Open' the mussels with white wine, garlic, shallot, fennel and the sprig of parsley (keep the leaves of parsley aside in order to do dices). Keep the jus after passing it through a "mousseline". Mix with the cockles' jus, reduce it if necessary. Add some butter, fresh lemon juice and pepper.
Cook the fish
The cooking process is very quick if you let the fillets out at the order. Season them, cook in a pan with the stock at 85 degrees for 3 to 4 minutes; (take them out at 40 degrees on the probe), glaze them with lemon condiment, do a line with pepper on the top.
Design your plate
In the plate dress nicely the 9 tears of celeriac glazed with butter, add all around the mix of shellfish and sauce. Add 5 stars of squid (cooked in a pan with garlic on a fork and some salt and pepper) on the top of the garnish; add the jug of sauce on the side.
Thank you to Jocelyn Herland, Head Chef at Alain Ducasse at The Dorchester, for the recipe.
If you have a recipe you would like to share with  A Luxury Travel Blog's readers, please contact us.
Did you enjoy this article?
Receive similar content direct to your inbox.