Romance in Provence – spectacularly seductive Èze
Èze is one of the most spectacularly romantic spots in Provence; a French region that oozes romance. Perched atop a cliff, the village of Èze has been likened to an eagle's nest because of its dramatic location 1401 feet above sea level. Its hilltop views over the sea are famous worldwide. The village has seduced celebrities, artists, royalty, writers, tourists and world leaders for centuries.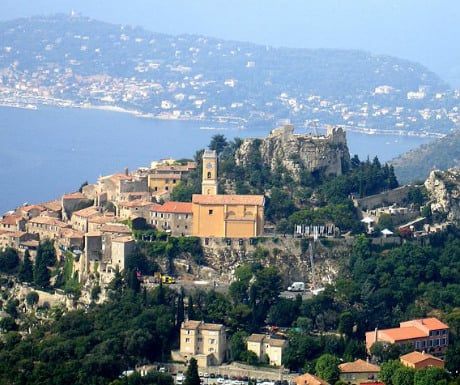 Historically the area can be traced back to around 2000 BC during the Neolithic age. One legend states that the village was named after the Egyptian Goddess, Isis, and that when the ancient Phoenicians occupied Èze, that they constructed a temple dedicated to her. The village emblem is a phoenix, who is perched on a bone, and its motto is Isis Moriendo Renascor – which means – In death I am reborn. Although today there is nothing visible to substantiate the Isis legend, it is said that the Chapelle de la Sainte Croix is in the same spot where the temple dedicated to Isis used to be.
Some of the famous visitors
The seductive village has attracted numerous famous and distinguished visitors. Bono of U2 has a beachfront villa in Èze-sur-Mer and Walt Disney spent quite a bit of time there. The American composer, Samuel Lathan Barlow, restored a property there from 1920 to 1923, and had his own private water supply, before the village had its own 30 years later. Zalto Balokovi, the violinist, bought the Chateau de la Chevre d'Or, which he sold in 1953 to Robert Wolf, who turned it into a restaurant. It was at this stage that more of the rich and famous started visiting. As well as Walt Disney, Prince Rainier of Monaco was a frequent visitor, as were various members of the Swedish Royal family.
The village today
The village is a tangle of ancient cobblestone streets which lead to peaceful courtyards and little squares, unexpectedly tucked away. At the top of the village you'll find the Jardin Botanique d'Èze, which is famous for its cacti, succulents and breathtaking, panoramic views. The medieval, pedestrianised village is filled with shops, art galleries, restaurants, boutiques, and feels a little like an art colony. Shopping treats include herbs, spices, wall tapestries, landscapes by local artists, ceramics, fine French linens and cutting boards fashioned out of olive wood. Today the old village of Èze has very few permanent residents, but is instead a romantic, historic haven for tourists. This does mean that it can be very busy during the high season, especially. If you fancy combining some time in this spectacularly romantic spot, with other highlights of the area – a few minutes drive will get you to Monte Carlo, 4 miles to the east, or Nice, 6 miles to the west.
You'll find some of the world's best hotels in Èze, France
This ancient village, which didn't get its own running water until 1952, has some of the best hotels in the world.
Hotel Château de la Chèvre d'Or
This castle hotel is named after the mythical Golden Goat, who had horns, golden hooves, and some say golden fur. The Castle of the Golden Goat occupies a stretch of Èze, which includes streets, which are bordered by beautiful gardens, with plants which hang over the mountainside. Guests of the
Hotel Château de la Chèvre d'Or
are greeted at the entrance of the village by liveried footmen. They will give you VIP treatment and take you away from the herd of regular tourists to bring you to your magical, fairytale getaway.
Once you arrive there, you'll find yourself drowning in a sea of gorgeous, indulgent escapism. The maze of hotel gardens are enchanting with fountains, cascading waterfalls and exotic sculptures. The location of the hotel resort couldn't be more remarkable, as it precariously clings onto the cliff side. The multi-award winning hotel, which is listed as one of Condé Nast Traveler's World's Best Places To Stay; is also famous for its food. With 2 Michelin stars for well over a decade now, its gastronomic restaurant is truly exceptional in every sense. Under the direction of Chef Fabrice Vulin, guests are treated to sophisticated, indulgent dishes, a poetic wine list and panoramic views. The hotel also has two other restaurants and a café, all serving different cuisine types. Most of the individually decorated 37 rooms and suites have sea views. The trip to your room is a journey through secret, winding paths and both the decor of the rooms and the hotel retain the castle's style. You can expect impeccable service adorned with special touches. Enjoy the awe-inspiring views and be at one with nature at the outdoor pool and jacuzzi. Smell the jasmine in the gardens, walking through the harmony of nature and finding unexpected nooks and crannies. Choose from a list of International pampering treatments, for further peace and relaxation, or feel righteous by exercising in the fitness room, where you can eliminate toxins while enjoying amazing sea views.
Hotel Château Eza
With only 12 luxurious suites and rooms, a
Michelin starred restaurant
and its own private beach,
Hotel Château Eza
is an intimate, exquisite, magical hotel. From this charming castle hotel you can relax and enjoy incredible views over the Cote d'Azur. Each of the rooms and suites are individually designed in keeping with the decor of the castle. Please note that all of the rooms do not have sea views, some have mountain views.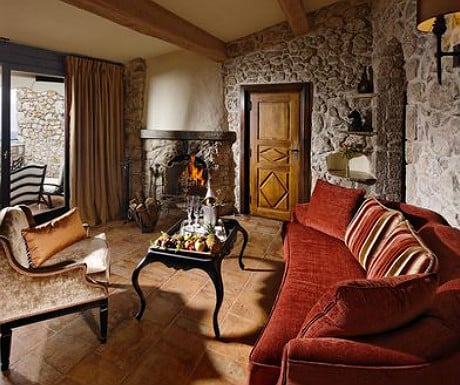 It is no wonder that Prince William of Sweden spent 30 years there to inspire his writing, during the period that the castle was owned by the Swedish Royal Family. It would be impossible not to be moved in this intimate, luxurious place, where you can watch the stars reflecting magically into the vast sea at night. To reach your room, you'll pass by quaint, cave like shops, in the stone passage ways. If you book the right Junior Suite, you could be sipping champagne in the jacuzzi on your balcony; whilst drinking in those seductive, breathtaking views, that are almost impossible to match. Please note that all Junior Suites have jacuzzis, but you need to specify if you want the suite that has the jacuzzi on the terrace. The setting is still authentically ancient, with sumptuous decor, but you have modern conveniences to hand, such as DVD players and iPod docks. The hotel is renowned for excellent service, fit for a king, and wonderful, gourmet cuisine. Try one of their amazing vertical seafood creations. The Michelin starred kitchen has been under Chef Axel Wagner since 2007. Before coming to Hotel Château Eza , he was Executive Chef at the 3 Michelin starred restaurant, of Georges Blanc, renowned French chef in Vonnas. Leisure and relaxation choices include playing tennis, massage, treatments at the beauty centre, as well as the simple, but wonderful activity of doing very little at the hotel's private beach.
Jackie de Burca is Co-owner of Holiday Home Advice.
If you would like to be a guest blogger on A Luxury Travel Blog in order to raise your profile, please contact us.
Did you enjoy this article?
Receive similar content direct to your inbox.