Ooh la la! The 7 best streets to shop in Paris
As the pulsing fashion capital of Europe, if not the world, a Parisian shopping experience will offer everything from luxury haute couture houses to sprawling chainstores. If you're searching for authentic French labels, or eccentric designer stores, you can take your pick of those too. Below is the definitive list of where to part with those hard-earned euros:
Rue de Rivoli
Why go
From boutique bargains to high-end marques, Rue de Rivoli delivers a great shopping experience. The street's store directory reads like a who's who of international brands, including Zara, H&M, Gap and Mango to name a few.There's a huge BHV department store opposite the city's Hotel de Ville, and numerous must-see landmarks are located just off this major street, including Museé du Louvre and the Tuilleries Garden. The old signage of the renowned La Samarataine store can still be seen, paying homage to the Paris of yesteryear. The dessert mecca, House of Angelina, can also be found on this street -boasting what may be Paris' best hot chocolate.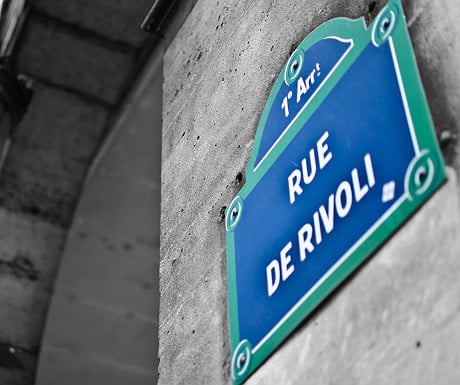 What you should know
There are several tourist shops around the area near the Louvre, selling the usual trinkets and T-shirts, which can become very busy on the weekends. There is a shortage of dining choices on Rue de Rivoli itself but restaurants and cafés can be found in the close vicinity.
Boulevard Haussmann
Why go
For the Galeries Lafayette of course! The upmarket department store located on Boulevard Hausmann first opened its doors in 1895, and has since become a Parisian institute. The store comprises 10 floors, and boasts a beautiful glass dome and a central staircase in a stunning Art Noveau design. Throngs of locals and tourists alike descend on the store for Paris' bi-annual sales (les soldes), where goods are marked up to 70% off.
What you should know
In December, the Galeries Lafayette Christmas decorations become a must-see attraction, with the highlight being the giant Christmas tree, located under the glass and steel dome.
Rue St Honoré
Why go
Rue St Honoré with its sophisticated extension, Rue Faubourg St Honoré, is one of the most upmarket shopping streets of Paris. Dedicated almost exclusively to luxury fashion design houses, from the likes of Hermes, Lanvin, Gucci, YSL and Michael Kors; it promises an immense concentration of 'chic' along its narrow passages. Just a few steps away is the famous square of Place Vendome with yet more of the top names in the fashion industry. For the über -trendy, there's Colette; a lifestyle concept store which sells everything from clothing to gadgets. If you're still not convinced on just how posh this street actually is, it's worth noting that the home of the French president, the Élysée Palace, can also be found on Rue Faubourg St Honoré.
What you should know
Watch out for well-dressed thieves in this area! There have been numerous incidents where well-heeled tourists, oozing the scent of money, have been robbed of their bags, cameras, or credit cards on this strip.
Avenue Montaigne
Why go
The only street to rival Rue Faubourg St Honoré in terms of prominence, luxury and prestige;the Grande Dame of Parisian streets is the Avenue Montaigne. Once upon a time it was called the 'Widows Lane' as French widows would gather there in mourning. As I stroll along thequiet, understated street, I too, find myself mourning; my card's spending limit, that is! From deluxe fashion labels to celebrated jewelers, the regal list includes the likes of Chanel, Valentino, Gucci, Christian Lacroix, Fendi, Harry Winston and Bulgari. The majestic Plaza Athénée hotel is also located on this street, adding to the glitz and glamour already found in spades.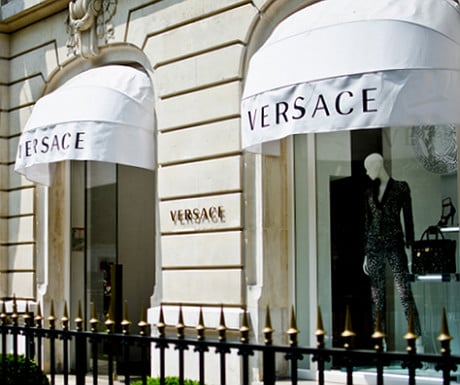 What you should know
The celebrity fly-trap of a restaurant, L'Avenue, is located on Avenue Montaigne. But be warned; some reviewers swear that the beautiful waitresses are a feast on the eyes whilst the food itself, leaves a lot to be desired.
Avenue des Champs-Élysées
Why go
Given the unambiguous honor of being the world's most beautiful street, the ChampsÉlysées is certainly one of the most famous. Marked at its beginning by the Obelisk of Luxor (Concorde), and lined throughout by bosquets of square-trimmed trees, the avenue concludes at the Arc de Triomphe. The City of Paris tried desperately to prevent the 'banalisation' of the street, by attempting to prevent global chain stores from setting up shop, but nowadays the likes of Zara, H&M, Gap and Benneton can be found neighboring designer labels such as Guerlain, Hugo Boss, Lancel and Cartier. The highlight of a shopping expedition on this famed street is a visit to the flagship Louis Vuitton store at 101 Avenue des Champs-Élysées. The shop's window décor, which changes regularly, is often a treat to view in itself. The long line of people waiting for a chance to spend hundreds of euros; is another.
What you should know
The street is exceptionally crowded, regardless of the season. The cafés along the center of the Champs-Élysées are a tourist trap, offering humdrum cuisine at exorbitant prices.
Boulevard Saint Michel
Why go
Unlike the high-end shopping streets of Paris, the Latin Quarter's Boulevard St Michel is a typical neighborhood with a laid-back vibe. Shop the likes of Bennetton, Sinéquanone, and NafNaf, together with relatively affordable French chain stores such  as Camaïeu, Jules and Etam. The street is also renowned for its bookshops – one of the largest being Gilbert Joseph, and shoppers can enjoy a break from their arduous spending in the beautiful Jardin du Luxembourg, a stone's throw away. With La Sorbonne university located close by, the area is awash with cafés and bars catering to the young and hip.
What you should know
Boulevard St Michel connects easily with other famous streets of the Latin Quarter, including Boulevard Saint-Germain (which offers additional shopping choices) and Rue Soufflot which leads to the Pantheon.
Rue de Rennes
Why go
One of Paris' longest shopping streets; Rue de Rennes is certainly made for pavement pounding, bags in hand – Pretty Woman style. Again, the charm of Parisian shopping is that big name designers often rub shoulders with large international chain stores; and Rue de Rennes is no exception. Add to the mix a scattering of quirky boutiques, and you have a shopper's paradise. Located just on the other side of Jardin du Luxembourg from Boulevard St Michel, the street's beacon is the Montparnasse tower (Paris' tallest building).
What you should know
The city's largest FNAC (selling all things electronic and literary) can be found on Rue de Rennes. Take care of crossing the street though, as its sheer width and double-lane traffic in both directions can pose a hazard.
Did you enjoy this article?
Receive similar content direct to your inbox.