As a typical Japanese village, you will find high end accommodation, but perhaps not as you would expect in the United States or Europe. What you will find are superlative Japanese experiences.  Traditional ryokans, or inns, tend to have belonged to the one family for generations, and originated in the Edo period. It is here that you will experience tatami mats, onsens – both indoor and outdoor, spa treatments as well as unparralled Japanese cuisine. There are also boutique hotels, larger hotels and an assortment of guesthouses and houses to rent that are ski in ski out. Don't forget that this is all within a traditional village, with unsurpassed snowfalls and excellent skiing. In no particular order:
Be greeted with green tea and a yukata (a light weight kimino), to commence your experience at this family owned and run ryokan. Located very conveniently to the ski fields, you will have a very Japanese experience. You can select from either a Western or a Japanese room, and you can access the indoor and outdoor onsens, as well as the sauna. There is nothing like sitting in a very hot onsen set in a beautiful Japanese garden as the snow falls on your head. The breakfast is both traditional and western, though you would be hard pressed going past the Japanese offerings, which are explained to you. Similarly, despite the abundance of restaurants around, an extraordinary dinner can be had at the ryokan.
Again, another family run ryokan that defines their ryokan as being akin to "the personal service and relaxed atmosphere of a Bed & Breakfast with the pampering found in a day spa". The Kiriya Ryokan is located in the historic district of the village and just 3 minutes walk from the moving footway that takes you directly to the Hirage slopes. Similarly, to the first ryokan, you will see great attention to detail and to service, and also excellent food is offered as well as onsen facilities, spa treatments and saunas.
This hotel offers good sized rooms by Japanese standards, and is about 5 minutes walk from the moving footway which takes you directly to the slopes. This hotel also offers both indoor and outdoor onsens. As a guest of the village you can utilize the public onsens that the locals use. You may notice a difference! Remember that Nozawa Onsen is built on the natural hot springs that are an integral part of daily life, and a great relief to muscles after skiing. The hotel has interesting Japanese and contemporary architecture, which is a nice fusion. Again, the dinner is certain to entice you at least once during your stay.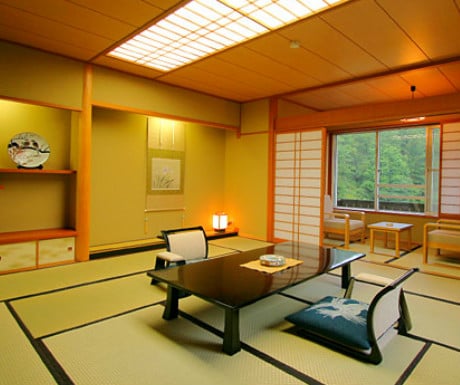 This ryokan remains popular with people and its name means 'relaxed and comfortable'. The rooms are spacious and clean and the breakfast plentiful. Yukatas and slippers are provided for guests to help you relax and enjoy your Japanese stay. You can get your Kirin beer on tap at the bar, not to mention the locally produced saki, and also avail yourself of the 9 course dinner, with explanations. Remember that there is not a lot of English spoken in Nozawa Onsen, so it is nice to have each dish explained to you. Some of the meals are not what are possibly normal for westerners.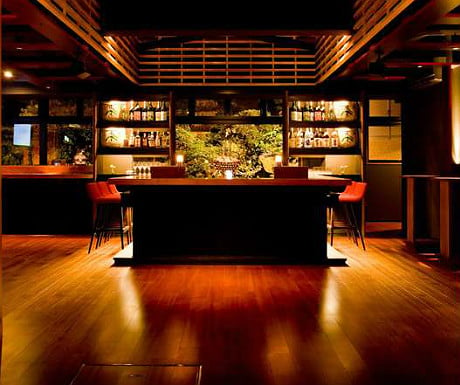 Nozawa Cottage and Nozawa House
Consider renting your own accommodation. The village abounds with restaurants and also a lot of fresh food, so that you can choose to dine out or cook for yourselves. Any other services that you require can be organised with the owners Mark and Yoshiko.  This option gives you space, privacy and a fantastic location.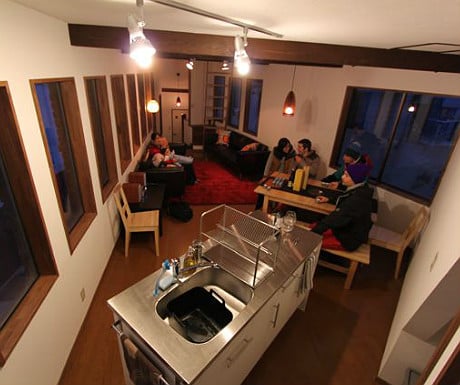 Nozawa Cottage is indeed ski in ski out, and you can watch the ski jumpers from your window as they tackle the Olympic jump course. The cottage is a funky triangular shaped building that can house 6 people.  This cottage is just 400 metres from the village centre and metres from a public onsen.
Nozawa House has arguably the best position in the village as you can ski into your front room (should you choose). Here you overlook the village and the forests, with a babbling mountain stream next to you. This house can comfortably sleep 8, and has all of the facilities that you require. Again, your hosts Mark and Yoshiko can organize practically anything else you need and give you great advice and information about the village and the ski fields.
In conclusion
Nozawa Onsen is a traditional Japanese village, and that is such a treat to be able to embrace and experience daily life in Japan, with some luxurious and delightful bonuses. These are a few of the accommodation options on offer to you, and are by no means definitive. The snow speaks for itself and the experiences that you can choose at the ryokans, hotels and houses, are just totally unique – in a very good way.