Melbourne – a smug little city
Melbourne is a suave and chic destination. It is also smug. Renowned for its food, bars, appreciation of art and culture, you can fully expect a memorable experience. There has been a long standing rivalry between Sydney and Melbourne, and many claim that is why Canberra,
Australia
's capital city, was placed in the middle. Melbourne does not have the natural beauty of Sydney so it makes up for it, by its intensity. The rivalry is absurdly funny, and truth be told, everyone likes both cities for different reasons. However, people from Melbourne do consider that they dress better, have better restaurants and a more modern take on the arts and culture.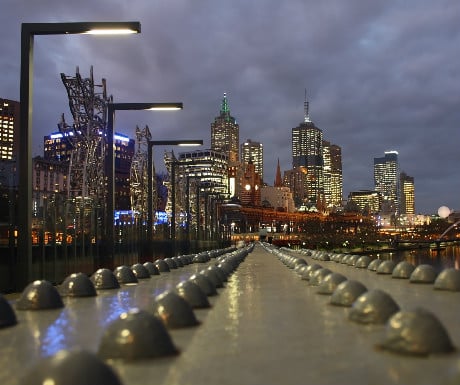 Melbourne has a bohemian edge to it. It is known for its excellent food and where coffee, and very good coffee at that, is all-consuming; street performance is a stock standard expectation and football is a religion as opposed to a sport; trams are a necessity and there are 4 seasons in every day, so be prepared. Melbourne is exceptionally easy to navigate around as it is laid out in a grid-like pattern. Streets going across go like this – Collins St, Little Collins, Bourke St, Little Bourke, Lonsdale and Little Lonsdale – easy. Those running down are mostly named after royalty; King, William, Queen and Elizabeth – simple. And it works for visitors. Of course, as you go outside of the immediate CBD, there are variations. If you drive, you must master the 'hook' turn (not for the faint hearted), or walk or tram it. People who visit Melbourne like to eat, shop, see the sights and to hit the bars, the theatre and music venues. All of these are very well catered for.
Coffee
Walk through the Botanic Gardens on your way to get a proper coffee. This is not hard as Melbourne abounds with baristas. Any of the "little" streets, some cobble stoned are really worth a visit for the 'first' fix of the day.
Eating
Food is a serious business in Melbourne. The Greeks of which Melbourne has one of the largest populations outside of Greece, dominated Lonsdale Street, but now have a big hold over Oakleigh, Northcote and Fairfield. The Italians own Lygon Street.
China
Town, of which every capital city in the world seems to have one, has some seriously good food. Thai and Vietnamese food can be found all over the place. For very serious foodies, MoVida is a very highly considered Spanish tapas venue, whilst Cumulus Inc, Vue de Mond, Flower Drum as well as newcomer Brook are all stars. Indian, Japanese and any other cuisines you desire can be easily found in Melbourne. It is worth the tram ride to the beach side suburb of St Kilda for the cakes found in Acland Street.
Shopping
Whatever you are after you will find it. High end? Have a look at the Chapel Street precinct, South Yarra for designer and cutting edge couture, as well as Collins Street. For bohemian chic, Brunswick St in Fitzroy is well worth going to, and seeing some of the avant-garde art and street theatre as you browse. Southgate and the Docklands are also highly popular. The Melbourne Central shopping Centre is popular and interesting as it built around the historic Coops shot tower and has an enormous glass dome over the top.
Sightseeing
Take the City Circle Tram to have a look around Melbourne and the commentary provides you with very interesting information, and then start walking, which is very easy as it is flat. There is a lot to see. Federation Square in the centre, is a hive of performance art as well as various exhibitions and wine and food tastings. The
National Gallery of Victoria
has the latest international and national exhibitions as well as the superb static displays. The Old Melbourne Gaol where Ned Kelly, the (in)famous bushranger ended his days with the immortal words "such is life" is an interesting historical visit.  Melbourne abounds with markets and the
Queen Victoria Market
is a favourite, for fresh food as well as handicrafts and other unique stalls.
If you like your cricket have a look at the
MCG
, the Melbourne Cricket Ground. For tennis buffs the
Rod Laver Arena
is a great venue, and for those who like the Grand Prix,
Albert Park
will satisfy. Look anywhere and you will be reminded of the fixation on football. Oh, and the Melbourne Cup, the horse race that stops the nation, is held at
Flemington Race Course
.
Entertainment
Melbourne is home to many forms of theatre and these are all well publicised. Melbourne also has a very active comedy scene as well as being a great venue from established and emerging musicians. The city prides itself on being able to embrace all forms of the arts disciplines, and it does.
Staying in Melbourne
Melbourne has some very luxurious and boutique hotels like
Como
,
The Prince
,
The Cullen
, and the
Mansion Hotel and Spa
set in fabulous gardens, all aimed at making your stay as enjoyable as possible. The concierge services in acquiring tickets and providing good local knowledge is invaluable. Melbourne is a very likeable city. It is a little smug and precocious in a good way, and considers itself to be a little less showy, but more avant-garde than its rival, Sydney.
Did you enjoy this article?
Receive similar content direct to your inbox.