Allegrini Wine Dinner at Rossini's, Sheraton Grande Sukhumvit, Bangkok
Rossini's, the Sheraton Grande Sukhumvit's Italian restaurant
, is based on the concept of a Tuscan villa and certainly offers all the charm, comfort and warmth you could want from one. But it also offers monthly wine dinners where some of the world's greatest chefs create menus to complement a selection of equally great wines. Dave (husband and camera-bag carrier) and I recently sampled a five-course menu prepared by Rossini's consultant Chef Alfredo Russo, Michelin-starred chef of Il Dolce Stil Nuovo in Turin, together with wines from the Allegrini estate in the Valpolicella region. Before going into dinner we were welcomed with a selection of Chef Alfredo's savoury bites together with a glass of Prosecco (Corte Giara, Treviso 2011). This is a great idea – not only does it give you a chance to chat to other guests before going in to dinner, but it also gives you a bit of leeway for your arrival in case you're caught in Bangkok's notorious traffic. The Prosecco was crisp and clean, with a pleasant lemon tang. Time to go in – but not straight into the first course, as first Chef Alfredo and then the wines were presented to us. We were told something of the background of the wines, with a few useful pointers to what we might expect from each of them. Thoughtfully, there was a menu card by each place setting which doubled as a wine notes form on the back, together with a pencil. Another good idea. Now for the first course! John Dory with sweet garlic sauce, broccoli and crispy Brussels sprouts. We'd been told that Chef Alfredo believed in letting the food's natural flavours come to the fore, relying on just a little twist in presentation to put his own distinctive mark on it. As you can see from the photo, the crispiness was added by fried individual sprout leaves. The John Dory was simply cooked as promised, and beautifully moist. And the broccoli had the peppery spiciness which brassica vegetables naturally have when it's not driven out of them by overcooking. Allegrini's 2011 Soave Classico was the accompanying wine and combined fruitiness and smoothness with a zing towards the finish. Lovely!
Our next course was a pasta dish, tortelli stuffed with artichokes, goat cheese and crispy bacon, which arrived in a creamy sauce. As it happened, the crispy bacon took the form of a dusting of very fine bacon bits rather than being part of the stuffing, so it was a hint of flavour rather than "bacon garnished with a little cheese, artichoke and pasta". The pasta of the tortelli was little more than a wrapper for the artichoke and cheese inside. Artichoke is a big favourite of mine anyway; I'm ambivalent about goat's cheese, but this was creamy and subtle, not pungent. I could happily have eaten more of these! Valpolicella Superiore 2010 was the Allegrini accompaniment. This was the fresh expression of Valpolicella, by contrast with the Amarone we were to be drinking with the main course. There was a strong berry flavour to it, but of cherries rather than, say, blackcurrants, and also (I thought) a hint of vanilla. Then it was on to the soup. It was described on the menu as potato soup with foie gras, black truffle and aged Parmesan cheese. But it was unlike any potato soup I've had before. The potato flavour was certainly there (and enhanced rather than drowned out by the Parmesan flavour, which was subtle), but there wasn't any solid potato – instead there was a light, frothy liquid. The large crumb in the middle – which was topped with slivers of foie gras and black truffle shavings – was similarly light and airy, and concealed a good deal more foie gras below. Allegrini's Palazzo Della Torre Veronese IGT 2009 was a pleasant accompaniment – smooth, but with notes of raisin and even a little coffee-like bitterness to lift it a little. The
pièce de résistance
– as far as the food was concerned, anyway – was the lamb chops with creamed corn, nutmeg and lavender.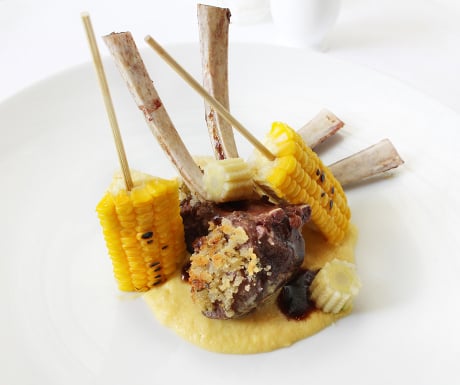 The lamb was succulent, moist and fragrant, with the nutmeg and lavender a gentle hint in the background rather than the contents of a maiden aunt's pot-pourri bag. You'd expect a superb dish like this to be accompanied by an equally sublime wine, and we weren't disappointed in the least by Allegrini's Amarone della Valpolicella Classico 2008. Amarone's a doubly unusual wine – it results from the complete fermenting out of must prepared for recioto, which as we'll see is a red dessert wine (but I'm getting ahead of myself, so I'll go into that a little later). It's a
very
full-bodied wine with an almost sticky, treacly mouth-feel and a dry finish. Not a fruity wine by any means. This was something special! It would have seemed a bit of an anticlimax to have dessert immediately after this majestic main course. Fortunately our hosts had organised a charity auction of several of the wines we'd been drinking this evening and one or two we hadn't, including a bottle of Château d'Yquem 1978. Plenty of good-humoured banter and hilarity ensued. By the time it was all over, UNICEF were several thousand baht better off, and we were ready to be wowed by Chef Alfredo's dessert, which was gianduia parfait with hazelnut mousse and crunchy hazelnuts. Never had gianduia? It's a blend of chocolate with about 30% hazelnut paste. It was gorgeous.
Back to that dessert wine! We've all had white dessert wines (haven't we?), but red ones are few and far between. The Recioto Classico Giovanni Allegrini 2009 was syrupy, but without being in the least sickly thanks to its fruitiness. Recioto's very unusual in that its grapes are dried to concentrate the sugar content, as the Greeks and Romans used to – and Amarone is said to have resulted when someone accidentally failed to stop the fermentation of a barrel of recioto but instead let all the sugar be fermented out. Both are well worth keeping an eye open for – if you see a bottle, grab it. You won't be disappointed! The evening was rounded off with
petits fours
and coffee or tea, as Chef Alfredo and Rossini's resident head chef, Chef Paride Noviello from Trieste, took a little time to wander around the tables and chat to their (by now very contented) guests.
Did you enjoy this article?
Receive similar content direct to your inbox.