3 of Thailand's best kept secrets
With Bangkok expected to be the world's most visited city in 2013, you might think that Thailand would be the last place in the world where one would expect to find a remote, pristine island. But the little-known paradise of Koh Yao Noi located near Phuket in the Andaman Sea remains as unspoiled as they come, proffering hidden coves, verdant hills and the chance to experience Thailand as it was before it became the tropical mecca it is today. Yao Noi is still a well-kept secret on the world travel circuit, but those in the know have discovered that this tiny island offers some of Thailand's most stunning beach resorts, with deserted stretches of white sand and up close views of the jutting rock formations in world-famous Phang Nga Bay. Here, we offer you the island's three most luxurious hideaways.
Six Senses Yao Noi
Perched high atop a limestone cliff overlooking Thailand's spellbinding Phang Nga Bay is the
Six Senses Yao Noi
. This resort is as chic as they come with a collection of 54 thatch roof bungalows unfurling over pristine beaches, the only footprints made by the industrious crabs sauntering to and fro in the sand far below.
Perhaps it's because the resort is in direct competition with the dazzling view of the bay, that its activities, restaurants and services are a wonder of lavish hospitality. Take dining for example; handmade ice cream cools during the day while menus at the private Hilltop Reserve restaurant spice up the night. With Executive chef Anthony Reynolds' inventive Thai cuisine like prawn soup with lemongrass and turmeric or deep fried baby sea bass served with red chili salt, gourmands will find the Six Senses Yao Noi a culinary heaven on earth. To spend a day at the Six Senses Yao Noi is to be wrapped in tropical indulgence, where your to do list goes something like this: lounge the day away by private infinity pool. 
Get massage at a world-class spa utilizing fresh, local ingredients. Oceanfront Muay Thai lesson after in-room Champagne breakfast served by private butler.
A floating cinema, French patisserie and well-stocked international wine cellar are additional reasons that many guests visiting the Six Senses never even leave the property.
The Paradise Koh Yao Boutique Beach Resort and Spa
Located on the jungly north side of Yao Noi,
the Paradise Resort
feels remotely exotic. As you arrive by speedboat to the resort's private pier, you're greeted with a large, hand painted sign boasting, "Welcome to Paradise". It's so true. Set on a private emerald lagoon surrounded by towering limestone karsts, the Paradise Resort offers one of the most spectacular beach views on the island.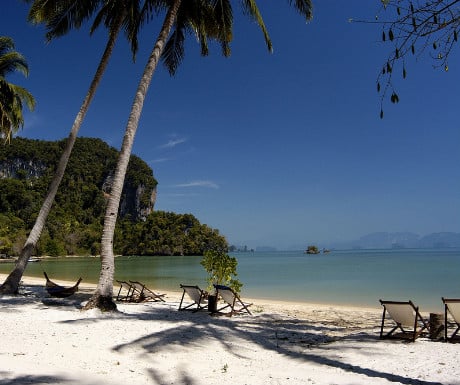 Whitewashed bungalows dot the property, some with private plunge pools or Jacuzzis. Each room offers a luxurious outdoor shower and lounge area, with pillow-clad swing to laze away an afternoon as the waves crash on the golden beach below. On the dining front, a collection of restaurants serving up savory Thai dishes line the beach, but to celebrate a special occasion, the hotel can arrange a romantic table on the water's edge – bring on the Champagne! Sunrise yoga on the beach, sumptuous spa treatments like the herbal steam cave or Indian head massage and a perfectly manicured pool ensure that the Paradise truly lives up to its lofty name.
Villaguna Residence
Located amidst a tropical garden, along a pristine stretch of beach on the sunrise side of Yao Noi, lies the
Villaguna Residence
. Although it feels less a resort than simply your own private holiday rental, you'll still get top-notch service at this indulgent retreat. Each of the spacious villas is elegantly decorated with Thai art and boasts tile floors, high ceilings, kitchens, outdoor showers and private lanais with plunge pools. Careful, you may want to move in!
If basking in the sun by the resort's glamorous pool or walking along the adjacent beach become too humdrum, arrange for a private fishing trip amongst the limestone karsts of Phang Nga Bay or an excursion to nearby islands in the resort's private catamaran.
Did you enjoy this article?
Receive similar content direct to your inbox.