By
Juan Villarino
on Sep 11, 2013 in
Accommodation
,
Attractions
,
Caribbean
,
Colombia
,
Going Out
,
Hotels
,
Regions
,
Restaurants
,
South America
,
Spas & Pampering
,
Speciality Travel
Cartagena is known as the jewel city of the Caribbean, a showpiece within Colombia and one of South America's fast emerging destinations. No wonder when you have coral reefs and sandy beaches just a stone throw away from a fortified colonial citadel. The cobblestoned alleys of the walled city recreate a nineteenth Century feel but don't get this wrong, there`s enough sophistication around for those destined to appreciate it. If you want to give yourself a treat, the city offers plenty of choices ranging from the resort to the boutique options. If you follow our shortlist you won't be disappointed!
Hotel Las Americas: the resort experience
Located in the seafront and a five minutes taxi ride from the airport, Hotel Las Américas may well be the most luxurious resort in town. It lodges 279 rooms, 5 restaurants, innumerable bars and a convention center. However, each room is a serene and modern space overlooking the blue ocean and provided with the latest technological amenities. There are five pools in which you can cool down the tropical heat while indulging on freshly squeezed mango or passion fruit juice. Las Americas is an all-inclusive but also plays host to Erre restaurant by Ramón Freixa: one of most revered chefs in Colombia and owner of two Michelin stars for his other establishment in Spain. The restaurant has 800 square meters dedicated to good taste and impressive views of the Caribbean. Las Americas is connected by a fast driveway to Cartagena's charming old city but, be warned, the hotel poses such a microcosms you will more than once be tempted to stay.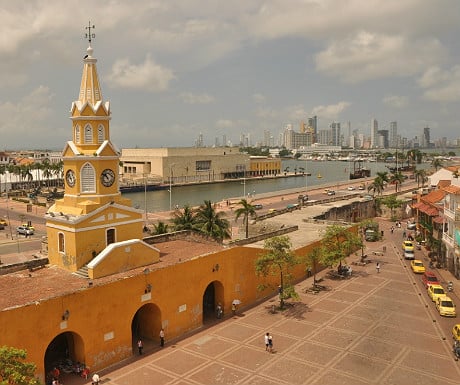 Isla del Encanto Hotel & Spa: the private island experience
There can hardly be a more thrilling experience than switching from picturesque Old Cartagena to a private island sixty minutes off shore within a National Park. Isla del Encanto delivers exactly that. It offers 8 well equipped rooms, with air conditioning, flat-screen satellite TV and internet. The quiet complex boasts a splendid beachfront location which makes it ideal for a romantic escapade. Sipping a fanciful coconut lemonade cocktail by the pool or snorkeling over eerie looking coral are just about all you can be busy with here. All meals are included, so if you want to dive not only in the surrounding clear waters but also in the Caribbean gastronomic culture, don`t miss out on the local lobster dishes.
Il Santisimo Restaurante: the gourmet experience
When we say Cartagena is walkable we mean the walled city is compact. But this also means you will walk a lot, so be ready to find a distinguished place to refill! Il Santisimo lies in the heart of the old town. The venue is sober and contemporary, with spacious, large dining rooms with high ceilings, at the same time warm and well matching the surrounding charm. Owner Federico Vega has incorporated a wise dosage of the French influence he acquired at Paris' Cordon Bleu into the local cuisine. There`s a prix fixe for around 50 USD including three courses and all you can drink for two hours. The menu is varied, but note that they are reputed to serve the best salmon ceviche in town.
Charleston Santa Teresa Spa: the spa experience
A luxury treat designed to boost wellness and equilibrium from top to toe, and deconstruct the tensions smuggled in from your urban haste. Santa Teresa Spa is nestled in an early 17th Century convent with a curious history (it subsequently housed a jail, an all-girls school and a pasta factory). The Spa seems maliciously aimed at spoiling mortals and features hydrotherapy, Turkish bath, and all sorts of infusions of tropical fruit and typical Caribbean herbs. Its rooftop pool affords one of best views of the Bay of Cartagena. Starts at USD 100 for 90 minutes.
Cesareo Jewelry: the luxury shopping experience
The Cesareo family has a goldsmith and jewelry background dating back centuries ago. This entire lineage landed in the Caribbean in 1916 when José Cesareo immigrated to Colombia. Three generations of the Cesareo family have ever since been passionately working to consolidate the most exclusive jewelry brand in the country. The house creates original designs for each costumer. While the prolific mines of Colombia in Boyacá Department have produced some of the world's most renowned emeralds, the city is plenty of street vendors offering dubious quality stones and risky deals. So this is the place to buy safely a gift to be remembered.
The chariot experience!
Few seem to have noticed that Cartagena may well congregate the highest density of working 19th Century horse drawn chariots on Earth. And they are all for rent! Exploring the old city with its unrivalled architectural wealth in a guided tour will only set you back USD 20, so let`s say it's an affordable luxury experience you won't want to miss!
Cartagena is a welcoming city beyond these first class experiences. Explore it, walk its streets, talk to its people. Colombia is a much safer place than it used to be and has rebuilt its image accordingly to a new push on tourism. For more inspiration, check out the Brand Colombia official website.