Recipe of the week: Seared sesame tuna with lemongrass and lychee coulis
This delicious recipe is packed full of fresh and zingy Asian summer flavours. Combining ginger with coconut milk and kecap manis, an Indonesian sweet soy sauce with a powerful aroma and treacle-like flavour, the dish is paired with a lightly acidic and mildly sweet lemongrass and lychee sauce which complements sesame crusted tuna wonderfully. Serves 4.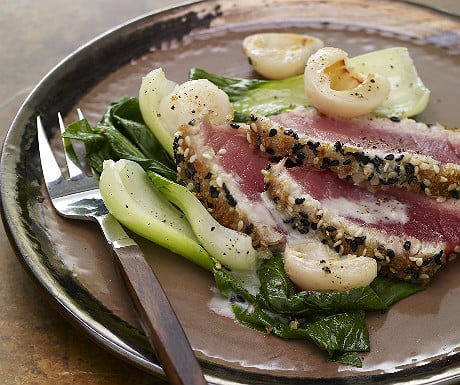 Ingredients
Lemongrass and lychee coulis
50ml (2fl oz) coconut milk 2 stalks fresh lemongrass, outer layers removed, and then cut into thirds 100g (4oz) fresh or drained tinned lychees, halved 2 tsp lime juice 1/4 tsp ground ginger 1/4 tsp Kecap Manis or soy sauce
Tuna steaks
2 tbs Japanese Panko breadcrumbs 4 tbs sesame seeds 4 tuna steaks (approx. 2.5 cm thick) 1/2 tsp sea salt Black pepper 2 tbs oil 275g (10oz) pak choi, separated into leaves 100g (4oz) fresh or drained tinned lychees, halved (about 1/2 cup)
Directions
1. Prepare the lemongrass and lychee coulis. Microwave the coconut milk in a small microwaveable bowl on high for 20-30 seconds. Add the lemongrass pieces and leave to stand for 10 minutes. 2. Place the coconut milk, lemon grass and remaining coulis ingredients in a blender. Cover and blend for 30 seconds or until the lemon grass is shredded. Strain the mixture, pressing the solids with a spoon to extract any liquid. 3. Mix the breadcrumbs, Sesame Seeds and Sea Salt on a large plate. Grind generously with black pepper. Moisten the tuna steaks lightly with water and coat the tuna on both sides with the sesame seed mixture, pressing firmly so that the mixture sticks to the tuna. 4. Heat 1 tbs oil in a large griddle pan on a medium-high heat. For medium-rare tuna, cook for 1 – 1½ minutes on each side. Set the tuna aside and cover loosely with foil to keep warm. 5. Heat the remaining oil in the same griddle pan on a medium-high heat. Add the pak choi and lychee halves and cook for 1 minute, stirring or just until heated through. 6. To serve, slice the tuna into thin slices. Arrange the pak choi and lychees in the middle of each serving plate and top with the tuna slices. Season to taste and then drizzle with the lemongass and lychee coulis and serve immediately.
Thank you to Schwartz for the recipe.
If you have a recipe you would like to share with  A Luxury Travel Blog's readers, please contact us.
Did you enjoy this article?
Receive similar content direct to your inbox.