Day 3 of leg 8 of the Silk Road Trail 2013 – Pokhara #SilkTrail2013
A handful of us got up early this morning in order to see sunrise from Sarangkot, the highest point of Pokhara. On a good day, you can see Annapurna I, the tenth highest mountain in the world and among the world's most dangerous to climb. (From Pokhara itself, you can see Pokhara II, III and IV, and Macchapucchre, also known as Fishtail Mountain.) After a 4.45am start, we drive throught the streets of Pokhara at around 5.30am and are suprised at how many people are up already, and how much activity is going on. Unfortunately, today was not a good day. There is rain and lots of cloud and, as we wind our way up the mountain, we're pushing it to make it there in time for sunrise. We make it to Sarangkot but can't seem to get parked – we thought we'd be the only ones mad enough to get up at such an unearthly hour, but the world and his wife are already there.
Eventually we find somewhere to pull up (well… kind of!). The cloud is sufficiently thick that we didn't miss anything as far as the sunrise was concerned, but the view, although limited, was still worth it.
Later in the day, we visit Pokhara's rather grandly titled
International Mountain Museum
where there's an interesting exhibition on the world's highest mountains along with information on some fascinating people who have scaled them. Next up is a visit to the Davis Fall waterfall, so named because a Mrs. Davis fell to her death there in 1961, and Gupteshwor Cave beneath it.
After lunch, we relax on a boat trip on Phewa Tal (or Few Lake). A single oarsman at the back of the boat steers us in the direction of an island with a temple on it. The birdsong coming from the forests on the far bank is suprisingly loud and the lake re-assuringly calm. Pictured is our guide, Robin, on one of the boats.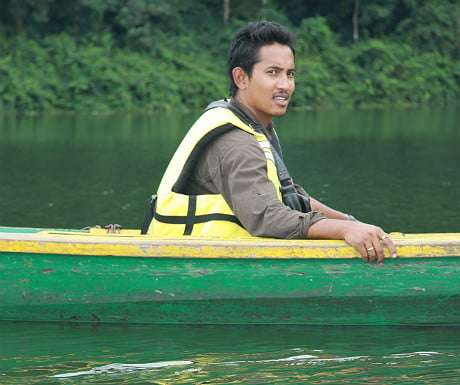 In the evening, we go to Boomerang Restaurant in Pokhara. There's traditional Nepalese dancing and music, not that anyone is paying it a great deal of attention. I like to try the local cuisine when travelling so opt for the Nepali fish curry. Jaz, one of the team here with family in
India
, warns me that Nepalese curries are like Indian curries, only hotter.
I give it a go anyway – it's not the heat that's a problem. It's the chewiness and the bones. I'm not sure what kind of meat it is – that's masked by the toughness, the curry sauce and the dim lighting – but it certainly isn't fish…
The Silk Road Trail 2013 is a 16,000 kilometre expedition across some of the world's most challenging roads, passes and trails, and the final development drive for the new Range Rover Hybrid from Land Rover.
Did you enjoy this article?
Receive similar content direct to your inbox.