The
Gstaad Palace
is
Switzerland
's only family run five star hotel and has a reputation for the finest luxury service and attention to detail, your intrepid reporter was about to find out if the Palace lived up to it's regal billing. I was going to make the most of my stay here. I was booked in for one night as part of my fact finding mission to find the best of the best in the ski resorts of Switzerland. Gstaad was new to me, I'd never been before but I was impressed. The skiing in Gstaad is superb with enough variety to suit every level of competence, the town itself is picture postcard pretty with some seriously high end shopping opportunities, it's obviously a very wealthy resort, the surrounding scenery is breathtaking too. One day could never do this place justice but it was the hotel I was interested in and that's why I'd come to Gstaad.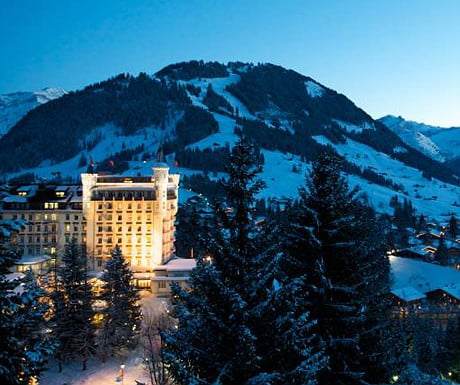 There's service, there's five star luxury service then there's Gstaad Palace deluxe service. I believe the staff here would have ticked my feet with a feather boa had I requested, luckily for them it remained a humorous thought as I watched them bend over backwards to make everyone feel like the most special and treasured guest who ever stepped over the threshold. This kind of service and attention can go to a persons head and it does, I witnessed a middle aged, obviously very wealthy couple take full advantage of the service on offer by being slightly ridiculous and precious about how the cheese was being cut and served, I have to say the waiter dealt with the situation beautifully, with patience and humility, kudos to you Manuel. (Fawlty Towers reference there).
I'd have loved to have stayed in the Penthouse suite as there are huge terraces where the magnificent scenery can be enjoyed to the full in comfort and some style. I'd have loved to have been booked in to the south side as the views are reckoned to be better but I certainly wasn't disappointed with the aspect from my north facing windows. I was slightly disappointed with the slightly twee decor in my room though. Don't get me wrong, it's all very classic and it all appeared to be pristine and box fresh, it's just that I felt like I was visiting a wealthy aunt with old fashioned sensibilities and a dodgy taste in wallpaper. That criticism is unfair because it's subjective and personal, after all my aged aunt loves this kind of stuff. I've come across this style in many a hotel and the odd care home on my travels, it seems to be pretty universal so maybe it's me that's out of step. But I think where the Gstaad palace scores heavily is in the front of house and customer service department. Sometimes the customer service schtick can be a little overbearing and unctuous but here it felt natural and unforced, there was a sincere friendliness pervading the place that felt very welcoming. The bar prices were horrendous, the dining was fine, the service really was second to none and the half hour feather boa feet tickling session was heavenly.
Rebecca Taylor is Director at SkiBoutique.
If you would like to be a guest blogger on A Luxury Travel Blog in order to raise your profile, please contact us.
Did you enjoy this article?
Receive similar content direct to your inbox.