5 great European short breaks by private jet
There's a saying; 'It's not the destination, it's the journey getting there' – but with a short break by
private jet
, you truly can have the best of both worlds. 
Weekends away often sound appealing, but when you have factored in travelling time, antisocial airline timetables and queues, you find that it can take a day to get there – and another one to get back. Hardly relaxing.
Within Europe there are over 3,000 airports that private aircraft can use compared to only around 300 commercial ones. You can travel at a time and date to suit you – not the airline, from an airport close to both home and your destination, and maximise your time away. Suddenly that weekend away seems much more appealing. Here's a selection of five great European destinations that are easier to visit when flying by private jet:
Rovaniemi
The capital of Finnish Lapland, there are many reasons to visit Rovaniemi, but it's not always easy to get there. The month-long midnight sun in Summer or Aurora borealis in winter may appeal, but it's at Christmas when it comes in to its own. Tucked just inside the Arctic Circle, Rovaniemi is the official airport of Santa Claus.
Put on your thermals on board, step out of your private jet and meet your escort for the day – one of Santa's very own elves! Go husky sledding, obtain your reindeer driving licence and visit the great man himself before jetting back home.
St. Moritz
At 1,707m (6,500ft) above sea-level, Samedan Engadin Airport is one of the highest airports in Europe. It is also considered one of the most challenging airports in the world because of its difficult topography, winds and because of the thinness of the air at its altitude. But for those who choose to use the airport rather than flying commercially to Zurich (125 miles away), they can expect to find the glitz and glamour of St Moritz – one of the best-known and most prestigious ski resorts in the world and home of the Cresta Run.
Florence
Florence Airport is located just 4km from the city centre and accessible by small jets. Larger commercial jets have to use Pisa, which can take a good hour to transfer by train or taxi. With its artistic and architectural heritage, history, culture, shopping, restaurants, museums and art galleries, Florence makes for the perfect short break by private jet as you can spend far more time exploring the city than travelling to get there.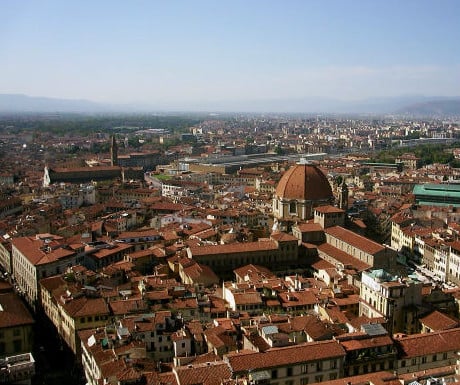 Champagne
For a special celebration, what better way to celebrate than with a trip to Champagne? By private jet you can even do it as a day trip. Fly to Chalons Vatry, just south of Reims from where you can explore the region's finest Champagne houses, Michelin starred restaurants and sumptuous hotels should you prefer to stay. 
Gibraltar
Worth a visit, even if it's just to experience the landing! Opened in 1939 upon the territory's racecourse, Gibraltar Airport is a civilian airport that serves the British overseas territory of Gibraltar, a tiny peninsula with an area of only 6.8 sq km. The lack of flat land on Gibraltar means the airport's only runway is bisected by its busiest road, the Winston Churchill Avenue that heads towards the land border with
Spain
. Barriers close vehicular traffic every time a plane lands or departs.
In January 2012, Gibraltar was selected as one of the 'World's Scariest Airport Landings and Take-Offs' in the travel section of The Daily Telegraph due to its relatively short runway which extends into the sea.
Andrew Loyd is Founder and Chairman of The Bespoke Travel Club.
If you would like to be a guest blogger on A Luxury Travel Blog in order to raise your profile, please contact us.
Did you enjoy this article?
Receive similar content direct to your inbox.