An award-winning, hidden treasure in Kilkenny, Ireland
We may not always get the weather, but we do have an abundance of genuinely friendly people, delicious, locally sourced food and luxury accommodation in country estates and castles. Us Irish are waiting to give you a really warm welcome, after all
Ireland
is the land of "a céad míle fáilte" – a hundred thousand welcomes. As a first time visitor you may be tempted to go to Dublin, and you really should, however there are also many other beautiful spots to soak up a luxurious Irish holiday. In fact one of Ireland's best luxury estate hotels, Mount Juliet, which is home to a Michelin starred, award winning restaurant, can be found in County Kilkenny. Kilkenny is located in the South-East, about one hour's drive from Dublin. The city of Kilkenny is now ranked the friendliest European city by Condé Nast readers and the ninth friendliest city in the world. Once you've been to Kilkenny, you'll understand why. The locals have the reputation of being charming, proud folks who are always greeting you. However the city's charm doesn't finish with its people, but has many layers to it, that comfortably rest against each other. You can weave your way through its medieval heritage and architecture, enjoy the colourful shop facades on Kilkenny's High Street or learn about the Irish sport of hurling, the fastest field game around. There is no shortage of must see attractions such as St. Canice's Cathedral and Round Tower, an integral part of this vibrant medieval town – as well as Kilkenny Castle, Black Abbey and the Woodstock House and Gardens. The city hasn't succumbed to the typical 21st century high street chains like many others have, so it retains an authentic Irish town feel. Of course if you want to be sure about this, then you may feel the need to wander into a Kilkenny pub, to really soak up some friendly "craic". An Irish bar is always a good test of how friendly the locals are, but so are our hostelries; be it a simple bed & breakfast or a luxurious 5 star country estate hotel. Many visitors to Mount Juliet will agree with me, I believe, when I say that the staff there strike the perfect balance between exquisite, attentive service with a warm, friendly attitude.
Mount Juliet Hotel
 is one of the top country estate hotels in Ireland and is also home to the 2013 winner of the All Ireland Award for the Best Hotel Restaurant. Located just 20 minutes from the city centre, Mount Juliet in Thomastown is an award-winning 5 star estate hotel that specialises in equestrian, fishing, golf, spa, activity and family breaks. It's a hidden treasure in an amazing setting, with the perfect choice of accommodation types, plenty to do and superb gourmet cuisine.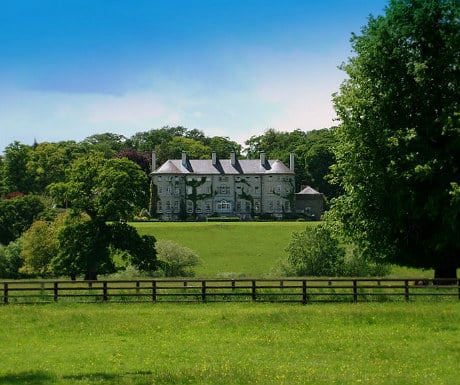 Accommodation choices include:
Mount Juliet House
In the main house, you'll find 31 sumptuous rooms, each of which has a name that gives you a clue about its unique history. Each bedroom balances its own personal story against the beautiful proportions of light, subtle luxurious decor and the very latest in technology.
Clubhouse Rooms
On the edge of Mount Juliet's Jack Nicklaus golf course, are 16 guest rooms which offer a haven to visitors. These bright, comfortable rooms are perfectly located for a short trip to the swimming pool and health club.
Rose Garden Lodges
These lodges which look out over gorgeous parkland views offer seclusion for guests who yearn for more privacy. Each Rose Garden Lodge has a fully equipped kitchen, a lovely lounge and two en-suite bedrooms.
The Chauffeur's Lodge
This is the ultimate sanctuary with its own private sun terraces. The Chauffeur's Lodge is a luxury cottage which stands alone, with a bespoke kitchen, a superb lounge and two bedrooms that are filled with light. For families, there is an excellent Kids Club at Mount Juliet which has both indoor and outdoor activities laid on for the younger family members. These include cinema nights, picnics, orienteering, treasure hunts and more. The hotel also offers a babysitting service. The Jack Nicklaus design team came in preparation for the 2002 WGC American Express Golf Championship, and once more in 2004, when they instigated some new features and extensions to the course. The third hole is probably the one that sticks in the memory of most players, but it's a tough competition between the third, the tenth and the final hole. The course welcomes all levels of golfers and tuition is available.
Brown trout and wild Atlantic salmon are the delights of those who seek game angling at its very best. On the estate's own fishing lakes, guests can enjoy a generous yield from the waters of the relatively unexploited Kings River and River Nore. Tuition is available, but please contact the hotel in advance. Guests can also do equestrian masterclasses, cross country, trail riding and trekking as well as normal horse riding lessons. The setting of Mount Juliet lends itself perfectly to the equestrian lifestyle. You can even experience a laid back introduction to the ancient skill of archery, which is something that can be enjoyed by all members of the family over 6 years old. Clay pigeon shooting is available to individuals as well as groups of up to twelve people. The spa is a haven for the ultimate in relaxation and rejuvenation, with plenty of treatments on offer to pamper the body and soothe the soul. The Mount Juliet Health Club complements it with a gym, sauna and steam rooms, plus a 15 metre swimming pool. Finally, there are three dining options at Mount Juliet. For the most informal, there is an all day food service at the President's Bar or for French classics you can dine at Kendals Restaurant. However it would almost be a crime to visit Mount Juliet without eating in the Lady Helen Restaurant. In September 2013 it was announced that the Lady Helen Restaurant had been awarded a Michelin star for the 2014 Michelin guide. Naturally enough, the young Executive Chef, Cormac Rowe (30 years old) and his team were delighted. The new Michelin star sits proudly alongside the restaurant's 3 AA rosettes, as well as the All Ireland Award for the Best Hotel Restaurant, awarded earlier in 2013 by the Irish Restaurant Association. However let's face it, the reality is that it is not the Michelin star alone that makes the Lady Helen Restaurant special. The Lady Helen's setting within Mount Juliet means that this really is the full package. It is a little piece of Irish heaven, in splendid surroundings within the grandeur and elegance of the estate hotel on 1500 lush acres. This panoramic setting is then combined with delicate, innovative International dishes which are created from locally sourced ingredients, including herbs which are plucked from the earth of the estate itself. Cormac Rowe came to Mount Juliet when he was 22 years old. His imaginative creations, which are lovingly created with carefully chosen local ingredients and cooked to perfection, have rightfully earned the Lady Helen the reputation of being one of the best fine dining experiences in Ireland. In an interview with The Kilkenny People, Cormac makes it clear that this success is a true team effort, in particular the fruit of a special focus over the last three years. The team is headed up by Cormac Rowe, along with Head Chef, Ken Harker, Sous Chef, John Kelly, Pastry Chef, Patrick O'Meara and Restaurant Manager Agnieska Kubinska, The opulent ambience of the setting on the River Nore is perfectly matched by the gourmet offerings of this tight team, who serve exemplary cuisine which should impress the harshest critic. Diners can choose from the signature Tasting Menu or the Table d'Hote Menu. The Tasting Menu costs €75pp on a Monday, Thursday, Friday and Saturday, but on Wednesday it is on offer at €55pp. Please note that all guests at a table must choose the Tasting Menu, which consists of 8 courses. Wine pairing is an extra at €29pp during the Wednesday special and €35pp on the other nights. The Table d'Hote 2 course menu costs €55 and the 3 course is €65. Examples of starters are seared scallops with cauliflower, sea lettuce and apple and chicken consommé, or the pan roasted foie gras with poached champagne rhubarb, candied ginger and liqourice jus and spiced bread. Main courses include loin of rabbit and langoustine, with fennel purée, marsh samphire, pickled watermelon radish and fennel pollen gnocchi, or squab pigeon with almond milk, medjool date purée, York cabbage and pomme almondine. These are just a few of the mouth-watering, fine dining offerings available currently, however the menu is changed regularly at the Lady Helen, to keep it seasonal, fresh and innovative.
Jackie de Burca is Co-owner of Holiday Home Advice.
If you would like to be a guest blogger on A Luxury Travel Blog in order to raise your profile, please contact us.
Did you enjoy this article?
Receive similar content direct to your inbox.