By
Andy Levine
on Dec 20, 2013 in
Accommodation
,
Austria
,
California
,
Canada
,
Croatia
,
Eastern Europe
,
Europe
,
Hotels
,
Italy
,
Leisure Travel
,
Netherlands
,
North America
,
Regions
,
Road Travel
,
Spain
,
Speciality Travel
,
USA
,
Western Europe
,
Worldwide
As an avid cyclist, I love my bike, and I spend a significant amount of time with it. I love traveling to places with amazing rides and cyclist friendly accommodations. There's nothing better to me than finding a hotel in an exotic location that caters to my cycling frame of mind and offers fantastic riding from its grounds. For all fellow cyclists, here are a few incredible cyclist-friendly hotels.
Being an avid cyclist, Mallorca has become one of my favorite destinations. There's nothing quite like the climate, scenery, and immaculate roads. Appropriately, the island has become a popular destination among cyclists and active tourists alike. Cap Rocat provides an unbeatable location to start a bike trip, with both mountainous and flatter sea-side options for riding. Away from the hectic tourist spots, the hotel provides seamless access to the peaceful and quiet side of Mallorca, with the mountain sports, caves and pretty villages. With these attractions, who wouldn't want to take their bike to Mallorca?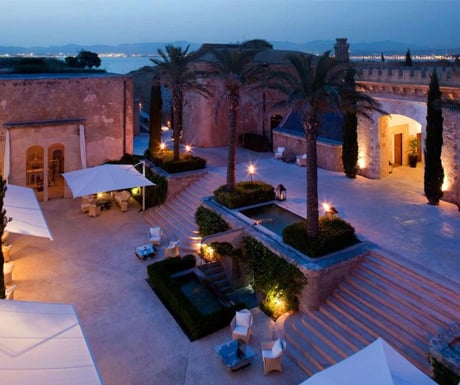 Eight Hotel Paraggi, Cinque Terre, Italy
The Paraggi is perfectly catered to active travelers, and more specifically, to cyclists. Located in the center of stunning cliffs, it gives cyclists everything they'd want from a cyclist-friendly hotel. Just a stone's throw away from amazing cycling roads and picturesque scenery of the Italian Riviera, guests can even ask the concierge where they should head on two-wheels. The friendly staff will be happy to oblige.
Moraine Lake Lodge, Rocky Mountains, Canada
There's this thing about cyclists; we love being active. You have to if you're going to spend hours riding in crazy weather conditions. Being active is essential to our lives, and this is why the Moraine Lake Lodge is perfect. This low-key hotel nestled in a spectacular valley in the Canadian Rocky Mountains provides the ultimate accommodations for cyclists who want dramatically beautiful scenery to ride in and fun hikes to embark upon. The lodge is ideal for nature lovers, cyclists and tourists alike.
H2hotel, Healdsburg, California, USA
The only thing I love more than cycling is wine. That's why heading to California wine country has always been one of my favorite experiences. The H2hotel is a stylish retreat located in Sonoma. If you'd like to hit the road and explore the wine country, the elegant fleet of Public Bikes built down the road in San Francisco will certainly help you get there. The hotel concierge is always happy provide four mapped-routes to pedal through the vineyard ranging from 12 to 40 miles, perfect for riders of all levels. Wine, vineyards and cycling? Now that's what I call an ideal vacation.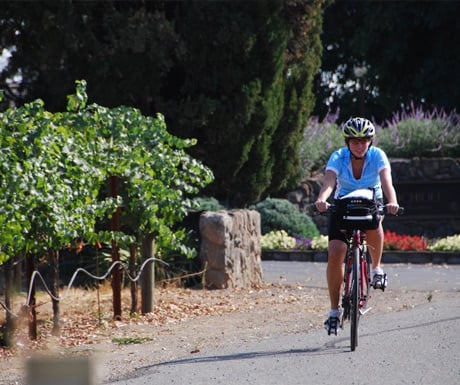 Hotel Richard Lowenherz, Wachau, Austria
The people of Austria love cycling and the Hotel Richard Lowenherz in Durnstein is a perfect example. The immaculate property is right along the pristine river landscapes in Europe, tucked into the green hills of the Waldviertel ("forest district") and Dunkelsteinerwald ("dark stone forest"). With beautiful, terraced vineyard paths, a car-free bike path along the famous Danube River, and unparalleled hotel service, cyclists will no doubt enjoy their stay at this estate.
Bicycle Hotel, Amsterdam, Netherlands
There are many things I love about Amsterdam but as an cycling enthusiast, the sheer multitude of cyclists here (400,000+) makes it that much more appealing to me. I find that the best way to travel around Amsterdam is by bike, and luckily the quaint Bicycle Hotel is the perfect place for like-minded cyclists. Didn't bring your beloved two-wheeled friend? No problem! The hotel rents city bikes with handbrakes. Get a free map from the concierge and explore the city, your way.
Hotel Osejava Makarska, Croatia
Croatia is an exotic location whose beauty, I find, is magnified when on two wheels. Luckily, the Osejava Makarska is everything you'd want from a bike-friendly hotel and more. Standing at the foot of the majestic Biokovo mountain where the stones of Markarska touch the blue sea, cyclists and tourists alike will be swept away with its luxury. Surrounded by pine forest on one side and the stunning ocean on the other, cyclists can take a quick stroll towards some of the best cycling roads in the world. With an ever pleasant climate and scenery to die for, Croatia should not be missed…
To all the cyclists out there, there's no need to worry when you're traveling the world. These hotels will appease even the most finicky rider.
Andy Levine is the President/Founder of DuVine Cycling + Adventure Co.