By
Anna Macsai
on Dec 24, 2013 in
Attractions
,
Bars
,
Going Out
,
Leisure Travel
,
New York
,
North America
,
Regions
,
Restaurants
,
Speciality Travel
,
USA
,
Vermont
'Tis the season to escape the big city for snow-covered peaks, to clear our minds after a busy year and recharge our batteries. New England is not only rich in history but also home to great ski areas, many of which are close to large metropolitan areas like New York and Boston. The best way to beat the traffic to these resorts is by chartering a private helicopter as it significantly reduces travel time and makes for a wonderfully hassle-free experience. The following is a list of great ski areas that are within a 2-hour helicopter flight from Manhattan.
Whiteface is known for having the greatest vertical drop in the eastern US (3,430 ft). The mountain has hosted some of history's greatest athletes such as American Phil Mahre who won silver here in the 1980 Winter Olympics. The Olympic Sports Complex is just down the road at Lake Placid with some great shopping opportunities. In addition to 87 trails, Whiteface offers a unique dining experience with 6 restaurants. Enjoy the gourmet meals and signature desserts of Boule's Bistro Fine Foods and Creperie with a scenic view from the mountain, or a freshly brewed latte with homemade pastries at J. Lohr Vineyards & Wines Café & Wine Bar.
Nearest airport: Lake Placid
Flight time from Manhattan: approx. 2 hours, 5 minutes
Route 86
Wilmington, NY 12997
Mount Snow is Vermont's closest mountain resort to most of the Northeast's major metropolitan areas. Having significantly invested in powerful snowmaking and advanced lift technologies, the mountain offers more than just a skiing experience. The picturesque Grand Summit Resort Hotel is home to naturspa, a holistic wellness center known for its unique rejuvenating treatments. After an exhausting day on the slopes and 1,700 ft vertical drop enjoy a mouthwatering treat at the Waffle House or fantastic live music at Cuzzins Bar & Grill.
Nearest airport: Mount Snow
Flight time from Manhattan: approx. 1 hour, 25 minutes
39 Mount Snow Road
West Dover, Vermont USA 05356
The 3,050 ft vertical drop and seven mountain peaks have rightfully earned Killington its nickname 'The Beast'. The area receives an average natural snowfall of 250 inches throughout the year, making it suitable for a wide variety of activities besides skiing. Recharge your mind and body with a signature treatment at the Killington Grand Spa or embark on a behind-the-scenes adventure with the resort's snow groomers in your very own snowcat. For a complete Vermont experience visit the Ovations At The Killington Grand Hotel serving homestyle American classics.
Nearest airport: Rutland
Flight time from Manhattan: approx. 1 hour, 45 minutes
4763 Killington Road
Killington, VT 05751
One of Vermont's largest ski areas, offering 97 trails for the enjoyment of skiers and snowboarders of all levels. Nearly a third of the trails is classified as advanced. However, travelers don't flock to Stratton for the mountain only. The charming, recently rebuilt Stratton Village boasts well-known retailers such as North Face and Burton, a day spa and on-mountain dining spots. When you're not on the slopes, bask in the fun atmosphere of The Sushi Bar or enjoy locally raised meats at Verdé.
Nearest airport: Mount Snow
Flight time from Manhattan: approx. 1 hour, 25 minutes
5 Village Lodge Road
Stratton Mountain, Vermont 05155
With a quarter of its 116 slopes classified as 'expert', Stowe is a paradise for winter sports enthusiasts. Stowe Mountain Lodge has been recognized as one of the greenest and most luxurious mountainside lodgings in the world, attracting travelers in all seasons, not just winter. Dine in the midst of pristine New England vistas at the rustic Cliff House Restaurant or enjoy live entertainment at The Den.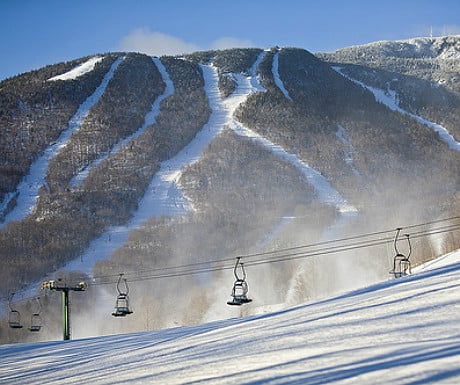 7416 Mountain Road
Stowe, VT 05672
Nearest airport: Morrisville-Stowe
Flight time from Manhattan: approx. 2 hours, 20 minutes
Anna Macsai is Director of Finance and Marketing at Wings Air Helicopters.