We are always on the hunt for new and interesting things happening in Africa, and always have our finger on the pulse which is why we're delighted to bring you our top five hot luxury safari ideas across Africa for 2014 – all of these can make the perfect addition to a safari, or can be done by themselves:
Selinda Canoe Trail
The Selinda Canoe Trail in Botswana has to be the World's most unique canoeing holiday. Here you will traverse gin clear channels in pristine wilderness – vehicles and people have never been in this stunning area and as a result the game viewing is also sensational. You spend leisurely days drifting down the Selinda Spillway, getting out to explore if you see something of interest, and staying overnight in your private fly camp. All of this guided by Botswana's best safari guides.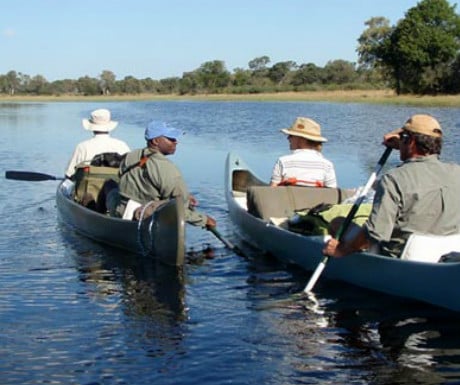 Ibo Island Dhow Safari
Everyone loves to island hop but the islands in the Quirimbas Archipelago seem to hold more jewels than most. These beautiful islands are the perfect place to unwind in between, after, or before a safari – the traditional African boat, the dhow, is perhaps one of the most peaceful and relaxing ways of getting anywhere, and this fly camping island hopping safari ends up with a couple of nights of luxury in the Ibo Island Lodge.
Western Tanzania
We bang on about Western Tanzania all the time but that's because it really is one of the most unique places in Africa. Katavi offers vast unexplored wide open spaces, rivers, hills and lakes – all of which is surrounded by abundant wildlife. Here you really are experiencing Africa as it was 50 years ago. There are still huge herds of elephant and buffalo, predators everywhere and vast tracts of land without a track or road in sight. Fly camping and walking here is one of the most humbling and life changing experience in Africa, as you realize just how small we really are. Combine this with the Mahale Mountains, famous for its chimpanzees and remote lakeside beaches – it's hard to find great chunks of wilderness as beautiful or as game rich as this.
David and Robyn Foot and the people to know in the Makgadikgadi Pans at the moment. They have teamed up with famous fifth generation Botswana guide Ralph Bousfield and are now offering the chance to explore the vast Makgadikgadi Salt Pans on horses, from Ralph's ultra luxurious camps Jack's and San Camp, or simply ride out onto the pans and fly camp. The star gazing here is amazing and riding here is truly what it would feel like to be on the moon.
Mobile safaris
Once again apologies, I know we often promote mobile safaris but that really is because they are by far the best way of doing a safari – they take you into any area there is game, all with a private guide and a private camp, equipped with chef, camp staff and luxury en suite tents. The best of these are in Tanzania, Kenya and Botswana where you can really get off the beaten track and into some very remote areas.
Rose Hipwood is Managing Director of Africa Rose Travel Ltd.
If you would like to be a guest blogger on A Luxury Travel Blog in order to raise your profile, please contact us.