Polo is a sport steeped in history from all corners of the globe, with a reputation for its glamorous events and high-end hospitality. In 1985, a winter variation was introduced in St Moritz where the playing field took the form of a frozen lake covered in compacted snow.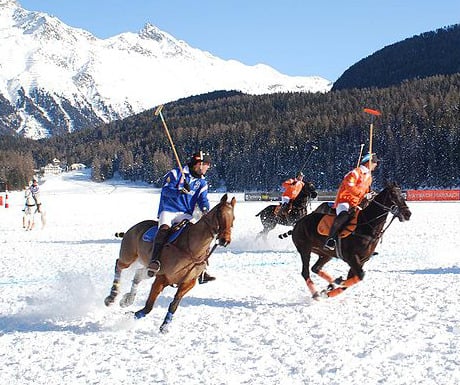 Since its first induction twenty-eight years ago, winter snow polo has gained much popularity across Europe. Though still remaining relatively exclusive in its culture, the number of tournaments being held each year continues to rise as more people take interest in this exciting sport.
A standard game comprises of four seven-minute periods known as chukkers, with three players on each team. The aim is to score goals by pushing the ball down the field and into the opposing team's goal using wooden sticks. Due to the game being played on snow, the ball is usually bright red in colour and the horses are fitted with special shoes to give better traction.
As the winter season approaches, numerous events are held at some of the best ski resorts in the region. In keeping with tradition, the St Moritz Polo World Cup takes place on the frozen Lake Moritz and is a grand occasion for all who attend. The tournament itself is played as a round robin, culminating in the buzz and excitement of the third place playoff, as well as the final, on the last day.
The Valartis Bank Snow Polo World Cup is hosted each year in Kitzbuhel, from the 16th to 19th January. For three days this reputable Austrian resort town becomes the home of action packed polo matches and endless parties, including the highly sort after Polo Player's Night VIP party.
One of longest running events is the BMW Polo Masters Tour. Taking place throughout January and February, the tour makes its way across the majestic French Alps, stopping in the towns of Val d'Isère, Megève and Courchevel. This large-scale event bathes its destinations in a unique atmosphere of celebration and festivity, bringing the whole region to life. Each town hosts the tour for three days, with one or two games being played daily, accompanied by limitless entertainment and joviality.
Celine Renaud is Head of Sales for Leo Trippi.