Visitors to Florence don't usually see its true architectural legacy as they wander the cobbled streets. That's because so much of the city's artistry and opulence remain discreet; tucked-away like long-held secrets behind unadorned walls of stucco and stone. Even a treasure like the Four Seasons Hotel Firenze blends so faultlessly with adjacent structures that you might walk right past without even noticing it. Only upon entering the soaring frescoed courtyard do you realize you've arrived somewhere absolutely extraordinary.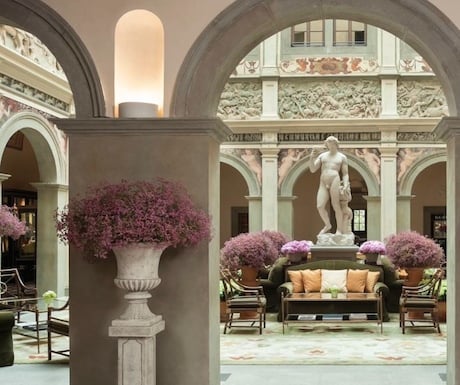 Dating to the fifteenth century as the Palazzo della Gherardesca, the historic portion of this visually stunning property includes a 116-room palazzo, its surrounding 11-acre landscaped garden, and a sixteenth century convent now transformed into a 36-room guesthouse and meeting space. Opened in 2008 after seven years and untold millions in restoration, the Four Seasons Hotel Firenze could rival any small museum in its abundance of original frescoes, bas-reliefs, oil paintings, antiquities, and exquisite architectural details.
A short stroll through the hotel and grounds reveals a seamless intermingling of art history and modern luxury that is so characteristic of this hotel group's collaboration with designer extraordinaire, Pierre-Yves Rochon. Throughout, one sees bountiful use of luxuriant materials and fresh flowers. Fabrics are lush, seating plush, colors lustrous, and spaces vaulted and vast. Yet, amidst all the grandeur, a sense of comfort and warmth prevails. Multi-lingual staff is relaxed and friendly. In the dining room, servers seem to read minds with uncanny accuracy.  Savvy concierges faithfully curate guests' most idiosyncratic wishes. And, as at all Four Seasons properties I've stayed, thoughtful amenities and state of the art technologies are impeccably woven into the mix.
The eleven sumptuous suite styles would impress even a Medici. Many are resplendent with gem-toned upholstery, precious antiques, glistening Murano glass chandeliers, tall arched windows, and original frescoes harkening to a period when the Medicis actually did own Palazzo della Gherardesca. Bathrooms are scaled for giants, often with decadently deep, freestanding tubs beneath crystal chandeliers. Simply touring these suites left me with a raging case of bath envy from which I may never recover.
Of course, the "regular" bathrooms are nothing short of fabulous either, thanks to their roomy dimensions and divine cabinetry. And even the smallest guestrooms are oversized (approximately 39 m2), decorated in gracefully traditional motifs. Neutral colors accented by soft shades of yellow or green are a perfect compliment to most rooms' views of the verdant botanical gardens. And, oh, such gardens they are! This peaceful sweet-scented oasis, which doubles as an open-air gallery, would be reason enough to stay here if there weren't already dozens more. Sculptures by renowned contemporary artists are placed along the park's winding paths amidst fountains, ponds, follies, and an assortment of rare vegetation. I found myself returning often to the gardens even in the dead of winter, mesmerized by the array of painstakingly chosen, emotionally rich works of art.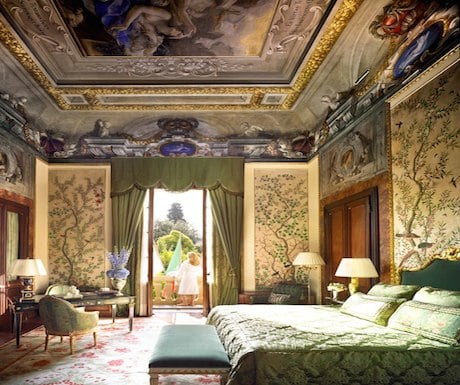 Almost hidden among towering trees are the property's thoroughly modern additions: an outdoor pool and terrace restaurant (closed during winter), the award-winning two-story spa, and the exceptionally well-outfitted, multi-level fitness center which, I regret to say, I didn't utilize often enough. (I was in Florence, after all.)
The Four Seasons hotel group is dedicated to designing unique custom guest experiences, and Florence is an ideal place to sample some of their best ideas. For couples with romance in mind, intimate dinners can be arranged at two of the palazzo's most breathtaking spots: the gilded and frescoed former chapel, and the itty bitty roof terrace with staggering 360-degree views of the city, where you're sure to have a singular "oh my!" moment. For families with young children, there are "kids visits" to museums and Pinocchio Park. And, especially for Dan Brown fans, the hotel has created an "Inferno Tour." As if following in Professor Robert Langdon's footsteps, guests view the Renaissance art and architecture central to "Inferno's" mystery.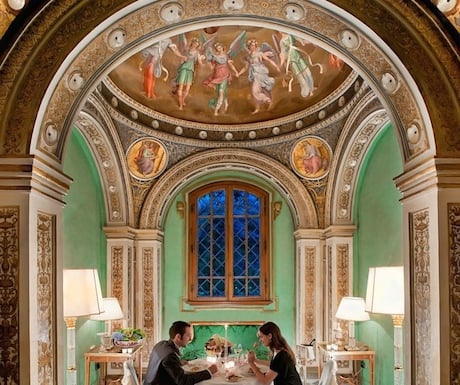 Even "everyday" experiences at this hotel are distinctive. If private dining isn't to your taste, the gorgeous Il Palagio restaurant will easily feed cravings for romantic elegance. Chef Vito Mollica's fresh artisanal cuisine has earned Il Palagio a place among the surprisingly small group of Florentine restaurants to attain a Michelin star. Just as importantly, his menu promises to dazzle even the most discerning of locavores.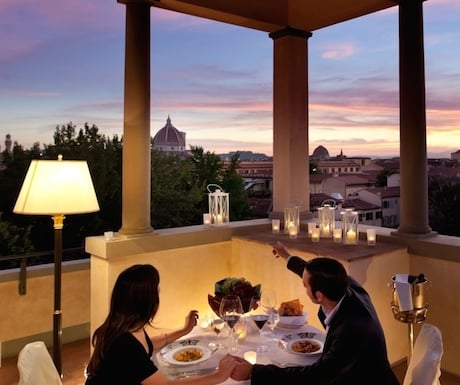 On the casual side, the Atrium Bar is your airy, all-day meeting place for light bites, cocktails, or afternoon tea. At night, I highly recommend a plate of pasta, a glass of Tuscan wine, and a double serving of glamorous people watching, as the Atrium is a hot spot among fashionable Florentines, too.
Four Seasons Hotel Firenze is located slightly outside the museum cluster in a charming residential section that offers welcome relief from tourist-clogged streets. Yet, you're just a brisk 10-minute walk to Il Duomo. And when your soles demand a break from the cobblestones, a dedicated hotel shuttle will transport you in comfort, morning to evening.