Cartmel Priory on the southern fringe of the English Lake District and the northern shore of the notoriously treacherous sands of Morecambe Bay is currently undergoing some of the greatest restoration work since its foundation in 1188, making it a fascinating time to go and visit. In order to preserve this magnificent national treasure for future generations, initially the roof was to be re-slated but during the early stages of the work it became evident that there were signs of damage to some of the timbers.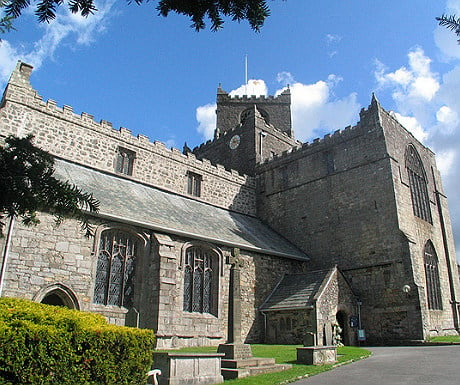 Originally it was thought that five of the beams needed replacement but that figure has now risen to twenty-one. Consequently the Priory now boasts what could be described as one of the most spectacular pieces of modern art using scaffolding, but this has not deterred the use of the building either for worship as witnessed by the regular increasing congregations and also the hundreds of those attending services over the Christmas period or the thousands of visitors who visit this sacred and special place.
Now many of the beams have been removed it is probable that the trees were acorns germinated in the reign of Queen Elizabeth I, possibly before the Spanish Armada. Early indications show a pattern of growth rings suggesting a recorded known period of warm wet summers, good for trees and lethal for peasant farmers in the decade before they were felled. This combined with local records of successful and unsuccessful farming at the time means that some of the timbers can be dated. The Diocesan archaeologist is being consulted and more information will emerge shortly.
The outside scaffolding that was erected for the original work was in place in June 2013 with the work expected to be completed by September. With the increased work however the external supports have had to be reinforced with a "roof" of its own and the work is now due to be finished in May 2014.
"Come and See" is an invitation to all. It is a fascinating time in the life of this ancient treasure and an interesting time to pay a visit.