There is a great variety to be found in Europe: from mountainous sceneries to stunning beaches, from bustling cities to picturesque villages. The fact that there is something for every budget makes it a great continent to travel to; however, there are destinations in Europe that mostly cater to those who seek luxury and opulence. Lavish hotels, fine dining restaurants and high-end shopping, combined with white, sandy beaches, make these destinations the ultimate place to go to in summer.  Let's take a look at some of Europe's best luxury destinations.
Monaco
If you have the desire to be surrounded by the jet set along the French Rivièra, Monaco might be the place for you. Multi-millionaires show off their fast sports cars and luxury yachts in the harbor, while tourists splurge on fine dining and high-end shopping. Thankfully, there is also a plethora of sightseeing to do. Monaco-Ville still feels like a medieval village in many ways, as it mostly has pedestrian streets, and a guided tour through the Prince's Palace and the Prince's car collection will leave many astonished. Is this too much culture and history for you? Those who want to sunbathe can head for the beach and opt for a cocktail or two at one of the trendy lounge clubs afterwards.
Ibiza
When it comes to traveling to Ibiza, you can make it as expensive as you would like. While there are many options to make a holiday to Ibiza affordable, spending a lot of cash is not difficult either. Ibiza has countless luxury boutique hotels with stunning views, as well as trendy restaurants and clubs where Ibiza's jet set is seen after sunset. It is a popular hotspot for those in the movie, music and fashion industry and people come here to flaunt. Even though Ibiza's jet set scene is prominent, the island also attracts a wide variety of people who enjoy things like water sports, music festivals, great food and relaxation.
Saint-Tropez
Before the 1950s, Saint-Tropez was a serene fishing town that no one found worth visiting, but when Brigitte Bardot came here for her movie And God Created Woman, this instantly changed. Since then, the town has attracted many millionaires and large numbers of tourists, who gasp at the wealth that this town showcases with its luxury yachts in the harbor, chic boutiques and fine dining restaurants. For a small town like Saint-Tropez, the possibilities are endless. On warm summer days, the beaches with crystal clear waters are an easy occupation, but the cobblestone streets of Saint-Tropez and its neighboring towns are a charming variation of scenery. History lovers adore this jet set fishing town because of its historical and religious sights.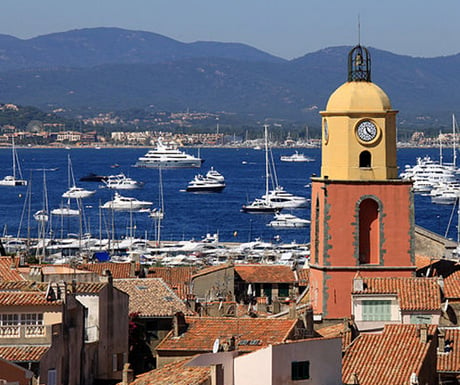 Capri
Although tourism to the Italian island of Capri has tremendously grown over the past decades, it has remained charming. In the 1950s, the island transformed into a jet set destination after Jackie Kennedy and Sofia Loren visited, but compared to other luxury destinations in Europe, Capri is modest.
Luxury yachts and expensive sports cars are seen sporadically; however, luxury is certainly present. Capri is home to high-end shopping, and the excellent dining scene makes the island a favorite for foodies. For the young and sophisticated, there is a lively night scene in Capri Town, and the mountainous heart of the island is a way to incorporate some activity into a relaxing holiday.
Over the past years, the Greek island of Mykonos has gained a reputation of a party island, but it is in fact a holiday destination for the international jet set. In the 1960s, Jackie Kennedy Onassis and Aristotle Onassis frequented here and since then, Mykonos has become a favorite destination for high-end fashion designers and celebrities. With stunning beaches, a trendy night scene and some of the finest restaurants of Greece, Mykonos is a hotspot in summer, but even in winter it attracts plenty of tourists. Cooler seasons on Mykonos are generally sunny and warm, compared to other parts of Europe, and it is a great way to benefit from Mykonos' glamour at a lower price.