Tallinn is the capital of Estonia, the northernmost and smallest of the Baltic countries (comprising Latvia, Lithuania and Estonia).  However the city, which was awarded the European Capital Culture award in 2011, more than makes up for its small size in cultural impact with a great many museums, galleries and other attractions for discerning tourists to occupy themselves with. Today we're taking a look at a few of the must-see sights if you're in Tallinn on a short city break.
Kumu is the largest museum in the Baltics, and one of the largest in Northern Europe. Former winner of European Museum of the Year, Kumu opened in 2006 and houses a vast collection of Estonian art from the 18th century onwards with both permanent collections and temporary exhibitions.
Tallinn Old Town
A UNESCO heritage site, Tallinn's medieval old town is known around the world for its well preserved, authentic, Hanseatic architecture as well as its multitude of museums, galleries, cafes, bars and restaurants. This will undoubtedly be the hub of any trip to Tallinn with a great many things to see and do for tourists, including the particularly impressive Town Hall and Town Hall Square. Some buildings even date as far back as the 11th century.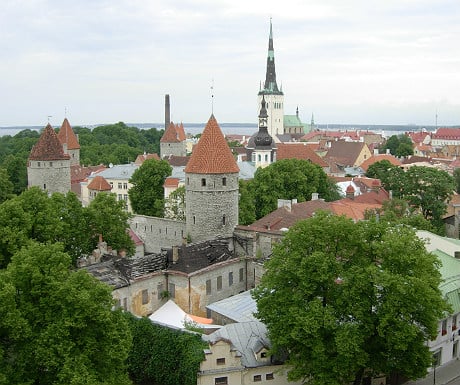 The biggest Russian orthodox church in Tallinn, the Alexander Nevsky Cathedral is lavishly decorated and is home to Tallinn's most powerful ensemble of church bells with a total of 11, the largest weighing an incredible 15 tons. Construction was completed in 1900 but the building has been extremely well maintained over the years so can still be appreciated for its great splendour.
Tallinn City Walls
The defensive border which protected the heart of the city from its construction in the 13th century, by the 16th century it was one of the most robust in Northern Europe. Today around 1.85km of the wall remains, including 20 towers and 4 gateways, with some of it accessible to walk along offering beautiful views over the old town.
The Estonian Maritime Museum is located in "Fat Margaret", an old cannon tower. Its exhibition provides an excellent overview of Estonia as a maritime country. Over four floors you will see a variety of items related to the sea – old-fashioned diving and fishing equipment, various items found on the sea bed, maritime charts and more.
Kristi Rorison is Director of Outgoing Business at IntoRussia.
If you would like to be a guest blogger on A Luxury Travel Blog in order to raise your profile, please contact us.