The only thing better than a tasting of good, complex wines, is paring it with perfectly matched, delectable cuisine. Add in a scenic backdrop of rolling vineyards, blue skies, and charming hilltop villages and you have one incredibly enjoyable day on your hands. It's no wonder why I love to include tasting lunches on several of our bike tours. As I am heading off to Italy next week, I thought I would share my top 5 favorite Italian wineries that not only provide tastings, but also a delectable meal to go along with them.
Cycling in Umbria is absolutely beautiful. And what makes it better is I often find myself cycling towards the winery owned by good friends. The Tili Winery, owned by my friends Maria Palma and Pietro, is a small-scale, homegrown, organic winery that takes the viticultural experience to the next level. During a tour at the Tili winery, the two will often cook a homemade, authentic meal that pairs perfectly with the wines of their choosing. Just sit back and let them create the meal, I promise you won't regret it.
Located along the way from Licodia Eubea towards Lake Dirillo, lies the stunning Gulfi Winery. Cycling along the fruit orchards and olive groves made me work up an appetite and I was pleased to enjoy a wonderfully prepared lunch paired with wines specifically selected to complement the meal. A must-visit in my opinion.
Villa Delfini/La Guardia Winery, Piedmont
Piedmont has become famous worldwide for its extensive array of satiating cuisine. Known as the birthplace of the Slow Food movement, the European food haven is a must-see for travelers everywhere. Not many people will turn down a private dinner in this food sanctuary and I am no different. Visiting the La Guardia Winery, you'll feel like you belong. Three sisters own the place and will cook a mouth-watering dinner paired with their own wines. Because they know their wines so well, they are able to enhance its flavors with the seasoning of the food, making the meal one to really savor.
Constanti Winery, Tuscany
Tuscan food has made a name for itself by being some of Italy's finest. Pair that with the bold red wines of the region and you're sure to have a meal that keeps on giving. I'm lucky enough to have spent a significant amount of time in Italy, making lifelong friends along the way. One of those amazing people is Andrea Constanti, the wine maker and owner of the Constanti Winery. Andrea Constanti and his wife host a lunch in the historic villa in the Montalcino Brunello wine region featuring fresh picked tomatoes from the garden. Just a few minutes into the meal and you'll know you're experiencing something truly wonderful.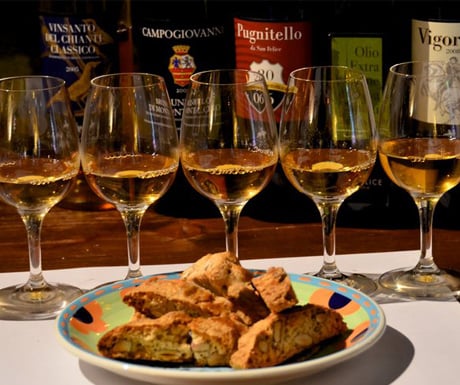 Much to the delight of wine enthusiasts everywhere, the Buglioni Winery is a winery that also includes a top-notch restaurant. By opening the Bugiardo restaurant as part of the winery, they take tasting to another level. Rather than simply tastings wine, they want you to savor all of the flavors from Verona and the Valpolicella in one delicious meal. This is a secret too good to be kept.
Andy Levine is the President/Founder of DuVine Cycling + Adventure Co.
If you would like to be a guest blogger on A Luxury Travel Blog in order to raise your profile, please contact us.