This dish unveils perfectly the natural taste of the sea bass. The extremely fresh fish is cooked in its own juice, without thick sauces, to keep it pure and delicate. The components like tomatoes and rosemary perfectly refresh the flavour of the dish and ham and potato make the taste a bit more replete.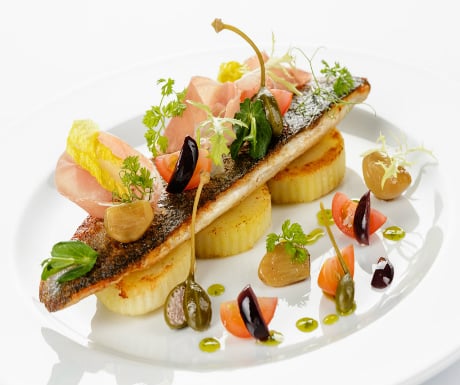 Ingredients
120g Fresh sea bass fillet
150g Grilled potato (rounds 2cm thick)
25g Parma ham (thinly sliced)
50g Garlic confit
20g Red cherry tomatoes, quartered
20g Caperberries
25g Extra virgin olive oil
30g Lemon juice
20g Lime juice
5g Shallot onion
2g Parsley (chopped)
20g Pesto sauce
2g Rosemary
5g Butter
1g Sea Salt
1g Ground pepper
Directions
Sea bass
Put salt, pepper and lemon juice on seabass. Heat a non-stick pan quite hot. Pan-Fry skin side of the fish with olive oil before crunchy colour, turn the fillet and add some garlic butter. Turn off the heat.
Potato
Cut into 3 round pieces 2 cm thick. Put it in vacuum bag with rosemary, garlic, chicken stock, add some salt and pepper and boil at 90 Celsius degrees.
Garlic confit
Peel garlic, put it into vacuum bag with thyme, rosemary, olive oil and boil it at 90 Celsius degrees before it will be soft.
Citrus pesto sauce
Pesto sauce with lemon juice and lemon peel.
Salsa
Cut cherry tomato into ¼'s add capers with handle, olive oil, chopped parsley, chopped shallot onion, lemon juice, salt and pepper.
Decoration
Romaine baby leaves, frisee, chervil, celery root cut into thin straws, fry it in oil and make a ball. Put lime and lemon slices.
Presentation
Put poached potato on the plate, put sea bass on top of the potato. Place Parma ham slice on top of the fish. Put garlic confit and dressing around the fish and water it with the pesto sauce. Place salad leaves, celery balls, lemon and lime slices for decoration and put some chermoula sauce.
Thank you to Taki Panayotakos, Head Chef at the InterContinental Moscow Tverskaya Hotel, Russia, for the recipe.
If you have a recipe you would like to share with  A Luxury Travel Blog's readers, please contact us.