Jordan was often viewed as the somewhat awkward middle brother of neighbours Egypt and Israel; where Egypt had ancient wonders and the sprawling Nile, Israel had modern architecture and a booming economy. However in recent years, Jordan has been slowly demanding more attention. The combination of natural wonders, exciting history and increased stability has lead the Jordanian government to push for increased tourism. As a result, new visitor centres and shiny hotels have started springing up across the country.
So now is the time to visit, and there are plenty of sights to see.
1. Wadi Mujib
Nestled next to the Dead Sea, Wadi Mujib gorge is something of a natural water park. Seven tributaries flow through it to the Dead Sea bringing with it a vast array of biodiversity. It's a great place to spend a day hiking trails both dry and wet while keeping your eyes peeled for vultures and wolves.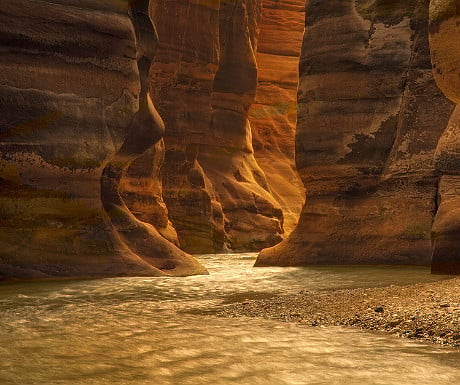 2. Dana Nature Reserve
Between Petra and the Dead Sea lies Dana Nature Reserve, Jordan's largest reserve at 300 sq km. An overnight stay at Feynan Ecolodge is well worth it – especially to lie under the stars and test your astronomy skills in eerie silence.
3. Aqaba
Jordan's only Red Sea resort at the very southern tip of the country, Aqaba is less popular with tourists than Egypt's Red Sea resorts or Israel's upmarket Eilat making it a prime diving spot. It's also steeped in history, having been one of Ancient Rome's greatest sea ports.
4. The Dead Sea
As the lowest land spot on Earth, the Dead Sea is one to add to the Bucket List, if you haven't already. There really is no experience like effortlessly floating in the salty water, but be careful – if you've any cuts or grazes from days exploring the desert, you'll soon find out! Jordan's Dead Sea coastline is currently only populated by a handful of resorts, making it much more relaxing than the Israeli side.
5. Petra
Famed for being the setting for Indiana Jones and The Last Crusade among many other film appearances, it isn't hard to see why Petra is often contested as a Wonder of the World. The site itself is extensive, and little prepares you for the awe-inspiring sight of the treasury as it appears at the end of a long walk in the Siq. For those of you accustomed to hiking, the arduous hour-long vertical journey to the Monastery some 1,100m above sea level is well worth it.
Images: Shutterstock