Rio de Janeiro is a popular destination, mainly due to its beautiful beaches and exotic landscapes, but when it comes to planning a holiday here, many customers forget there is a thriving city and fascinating culture to explore too. The tourism industry in Rio is developing fast, as demand is growing prior to the FIFA World Cup 2014 and the Olympic Games in 2016. There are currently a range of services at your disposal, from classic day tours to more authentic experiences, such as visiting a Samba School rehearsal for a taste of Rio Carnival, visiting a favela and interacting with the local community, or taking a helicopter tour to admire the beautiful landscapes the city has to offer.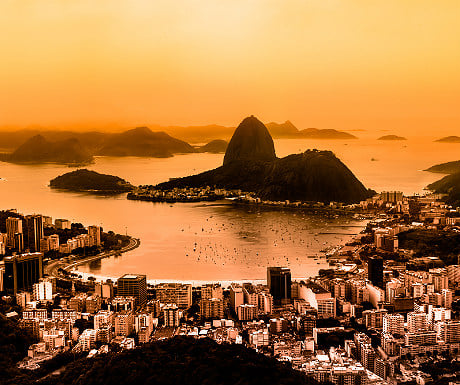 Travellers visiting Rio should, however, keep a few days free in order to enjoy the beaches and surrounding attractions, such as Buzios, one of the trendiest resorts, located just two hours from Rio with different types of accommodation to suit all budgets, but for those who don't have enough time to spend the night outside of the city, booking a day tour to Buzios would be preferable. Two other destinations you can visit in a day from Rio are Ilha Grande and Petropolis, the former capital of the Portuguese empire, complete with all the glamour and architecture of the European capitals.
Tips and advice
If this is your first holiday in Rio de Janeiro, bear in mind that there are a number of differences between how things function there and how they function in Europe and North America. They even differ to the way of life in other Brazilian cities, like Sao Paulo and Brasilia. Our first tip, therefore, would be to take it easy carioca style, as the pace of life is a lot slower in Rio, so try to accept this. Rio's inhabitants are agreeable people, but losing your temper if you don't agree with their behave will do nothing but upset them.
Planning your itinerary in advance is highly recommended, as Rio is such a vast and exciting city and you don't want to miss out on anything important. However, strict itineraries leave little room for improvisation so it's better to be a little more flexible.
It is important to take into account the fact that most tours in Rio de Janeiro will require you to be available for the entire day, as heavy traffic can often cause delays.
Book your tours with a responsible company that understands your needs. Local companies have a tendency to think like locals, whereas you're probably used to receiving attention more quickly.
Find a tour company that speaks perfect English, but also try and learn some basic Portuguese words and phrases, as even in the tourism industry, most people do not speak English. Cariocas are more accustomed to hosting Spanish-speaking visitors, so they are more likely to know Spanish than English.
Book a private tour. If you have high expectations, or are simply looking for an exclusive experience, then there is no doubt that you should opt for private guidance in Rio. Most of the day tour services are of high quality and the guides are professional, but the standards still vary from one country to another, so they may be lower than what you are expecting. By booking a private tour, you can rely on a service that is 100% professional and reliable.
Booking tours in Rio de Janeiro is easy with RdJ4U.com, a website for independent travellers, which contains the largest catalogue of travel services in Rio de Janeiro. All these tours are available to book via the website using a credit card and with a quick and professional English-speaking customer service.
Images: Shutterstock