Sitting like a jewel in the crown, Over Yonder Cay is the crowning glory of the necklace of islands known as the Exumas in the Bahamas. Its priceless gem-like qualities are plain for all to see; but it is only when you venture ashore that you really realise what a truly rare and exceptional jewel the Over Yonder Cay truly is!
The owner's mission in creating this island haven was simple – to maintain what nature had already created; to uphold the pristine natural beauty…beauty that took nature and the passage of time many thousands of years to create, and what no amount of money could ever recreate. With this philosophy in mind, he has succeeded in turning a remote outpost into an unspoiled eco-friendly private haven for those seeking authentic barefoot luxury. The 72 acre island is the only Bahaman Island to run entirely on renewable energy, made possible by the 3 wind turbines and the 1.5 acre solar field with battery backup.
Golf is a significant feature of this private island, and golf fanatics hunting for something totally unique will not be disappointed. The nine-hole par three course delivers challenges for the most skillful golfers and total novices alike. Designed by professionals at Tour Greens, the inspiration and challenge was to provide players with a game that can't be found anywhere else in the world, and a game that would prove challenging and rewarding to players of all abilities. And playing golf amongst the exquisite azure waters and white sandy beaches on your own private islands offers an experience like no other! (Tennis courts provide a welcome alternative for those who think golf spoils a good walk!)
Much of the owner's inspiration in creating this island has derived from his lifelong experience as a sailor and yachtsman, and his ownership of numerous craft from a 16ft sailing dinghy to a 200ft mega yacht. This passion for yachting has inspired many of the features of Over Yonder Cay, and even the island staff are ex. crew members from his yachts; the island manager is a super yacht captain! This unique angle ensures the very highest standards of service for any guests wishing to "charter" this permanently "moored" 72 acre mega yacht island!
A private deep water marina capable of docking multiple yachts up to 180ft in length continues this inspired nautical theme, and you could even charter a decent sized yacht to moor in your private marina for the duration of your stay. Sailing enthusiasts can take advantage of the trade winds and get aboard the resident 28ft classic sloop, or there are numerous smaller day boats and Laser dinghies. Adrenaline seekers can opt for wakeboarding, water skiing, kitesurfing and windsurfing, or tour the area on the fleet of jet skis. Then there is the underwater scuba diving to experience…. And of course the island has its own private water plane (with pilot!) so if you fancy popping back to civilization for some shopping and nightlife, you can be back at Nassau within minutes.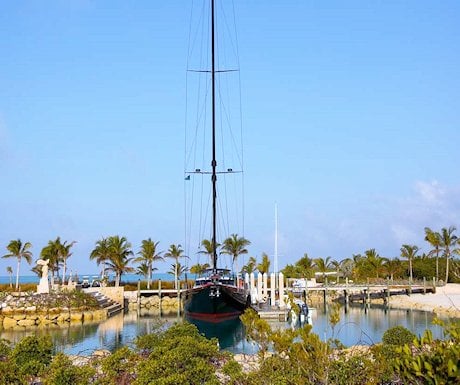 Luxury accommodation comprises of 4 villas sleeping 28 guests. The main villa is perched on the island's central hilltop, giving panoramic views of the surrounding turquoise waters and views of the Exuma Cays on the horizon. As you would expect, the villa accommodation is second to none – over 11,000 sqft, including a state-of-the-art gym, sauna & steam with wraparound infinity pool and hot tub, movie theatre, massage suite and beauty salon, conservatory with Steinway Grand Piano…this list of luxury is almost endless!
Over Yonder Cay is available to rent from half a million US dollars per week, including accommodation, catering, bar, all island facilities and boats, sea plane transportation, taxes, staff, and tips.
Daniel Barber is Director of AquaCruise Yacht Charter.
If you would like to be a guest blogger on A Luxury Travel Blog in order to raise your profile, please contact us.