Putting the dark days of the Khmer Rouge firmly behind it, Cambodia's seductive charm, colourful cuisine and ruinous temples are tempting travellers away from its neighbours. For the foodie, the two principal centres of gastro renaissance are Siem Reap, gateway to the 8th Wonder of the World, Angkor Wat, and the intoxicating city of Phnom Penh. Thanks too to the largest freshwater lake in Southeast Asia, the Tonle Sap, fish features heavily on the menu. Here we look at what to eat and where in this increasingly popular Southeast Asian destination.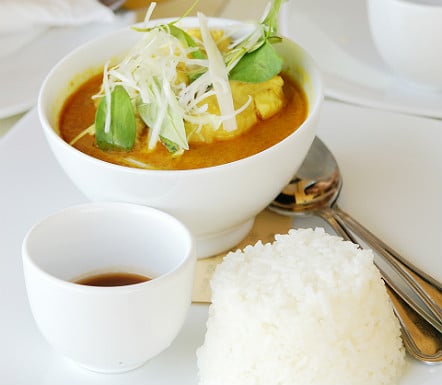 Amok (the national dish) is a fish mousse wrapped in banana leaves infused with fragrant coconut and lemongrass. Another dish to try is the Khmer red curry, a mild coconut-based affair with chicken, meat or fish, green beans, and lemongrass kroeung (curry paste). Nom banh chok (Khmer noodles), a delicious mix of rice, fish based curry, lime, mint, beans and banana, is typically eaten at breakfast. Finally if you head to Kep on the south coast, don't miss the delicacy of kdam chaa, fresh crab prepared with Kampot green pepper. The best place to sample this is at the beach-chic Kep Sailing Club where you can also enjoy happy hour cocktails and a glorious sunset.
Siem Reap's lustrously revived French Quarter boasts some of the best cuisine in the greater Mekong region. Abacus Restaurant offers a sophisticated menu of French-accented dishes, with entrecôte, the Gallic classic, sitting alongside more intrepid options such as ostrich. The Touich is a diminutive popular Khmer restaurant celebrated by expats for its specialities like grilled snapper, Mekong prawns or frog with ginger. Outside town, elegant Cuisine Wat Damnak offers aromatic alfresco dining next to its herb garden or within its earthy interior; the menu is broadly contemporary Khmer and is attracting rave reviews. Set in an old wooden villa Sugar Palm is an alluringly romantic restaurant and recently enjoyed a visit from Gordon Ramsay who came here to learn to cook amok.
With its 1.3 million population, skyline of dragon-crested temples, dervish of tuk-tuks and buzzing markets, Phnom Penh is unforgettable. Thanks to a new moneyed middle class, restaurants are opening like flowers throughout this former French Indochinese hub. A favourite for any visit is the Foreign Correspondent's Club, with its quasi journo-chic ambience, chocolate leather sofas and black & white war photographs recalling the city's late twentieth century experience. Add to this its Asian Fusion menu, crackling atmosphere, and sunset views over the river just inches away. Located in a lovely revived French villa in peaceful gardens, Romdeng Restaurant serves traditional Khmer fare with almost 40 different dishes, and its impeccably mannered staff are all former street youth. Based in the British Ambassador's old residence Friends is another gastro option with a conscience and offers a varied menu of tapas and healthy dishes. New kid-on-the-block Common Tiger engineers a contemporary twist on classics like peanut-lime crusted sea bass with jasmine rice disks. Finally, the top restaurant for authentic Khmer cuisine, Malis, is a stylish place to dine outdoors in its courtyard patio.
If you're keen to learn to cook Khmer style, Siem Reap's one day courses, Cook 'N Tuk Tuks and Le Tigre De Papier involve trips to the market to buy fresh produce and are highly professional.
Image #1: Shutterstock
Melissa Matthews is Director of Operations at Red Savannah.
If you would like to be a guest blogger on A Luxury Travel Blog in order to raise your profile, please contact us.